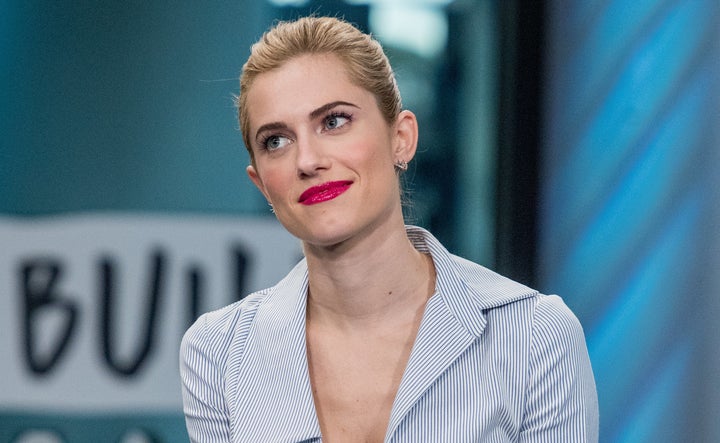 Allison Williams is a self-identifying "Bachelor" superfan. The "Get Out" and "Girls" star has followed the franchise for years, her entire family is on a "Bachelor"-related group text, and she even flew herself out to LA on short notice to appear on the official "Bachelor" after show last year.
But even the most dedicated of fans have their grievances with the show. So when Williams joined HuffPost's Here To Make Friends podcast this week, she made her concerns known. 
Williams is distressed that there seems to be a lack of two items in "The Bachelor" mansion ― and perhaps the entire "Bachelor" world: water and tissues. 
"Is there no water anywhere in this house? Because it's all anyone needs ― water," said Williams. "Secondly, what is with the lack of tissues? I brought this up with Chris Harrison, [and] it thudded to the floor. He wouldn't address it. I've had a suspicion for years that there are no tissues offered to [the contestants] ever, especially in the limos after they get cut." 
Fair questions, especially because anyone who has watched "The Bachelor" knows that when contestants leave the show, they cry ― often a whole lot. And even the most delicate and restrained criers probably want a tissue eventually.
"Viola Davis is the only person alive who can elegantly cry all the tears while speaking without a tissue," said Williams. "No one else can do that. They're not actresses, they're not professionals. They're just people crying... If I were on that show, I'd use the bottom of my fuckin' dress." 
Chris Harrison et. al., are you taking note?
For more from Allison Williams and about "The Bachelor," check out HuffPost's Here To Make Friends podcast below:  
Do people love "The Bachelor," "The Bachelorette" and "Bachelor in Paradise," or do they love to hate these shows? It's unclear. But here at "Here to Make Friends," we both love and love to hate them — and we love to snarkily dissect each episode in vivid detail. Podcast edited by Nick Offenberg.
Want more "Bachelor" stories in your life? Sign up for HuffPost's Entertainment email for extra hot goss about The Bachelor, his 30 bachelorettes, and the most dramatic rose ceremonies ever. The newsletter will also serve you up some juicy celeb news, hilarious late-night bits, awards coverage and more. Sign up for the newsletter here.
Calling all HuffPost superfans!
Sign up for membership to become a founding member and help shape HuffPost's next chapter
BEFORE YOU GO
PHOTO GALLERY
Tweets About "The Bachelor" Season 21, Episode 10