Friday's terrorist attacks in Paris triggered, again, all-news television's most ironic and inescapable dilemma.
It magnifies a story even as the reporters and anchors work to put it in perspective.
And even as another major part of television, the entertainment divisions, work just as hard to stay out of a real-life story's way.
Almost from the first reports out of Paris, Fox News, CNN and MSNBC went wall-to-wall with the tragedy, and stayed there through most of the weekend.
That's what all-news channels do.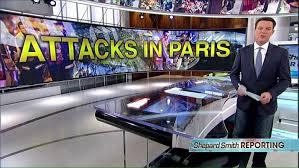 So anyone who turned to any of those three, and let's assume that included a larger number of viewers than usual, saw the images and the reports from correspondents, public officials and witnesses.
And saw them and saw them and saw them.
By definition, any story as stunning and complex as this one presents enormous challenges for reporters. It takes hours, or days, or longer, for the basic facts -- what, who, when, why -- to start coming into focus.
In the olden days, even with most big stories, viewers tuned in once or twice a day. This gave news organizations a chance to round up many hours worth of information, sort it out and give an updated status report.
Watching in real time, most of the information arrives in untidy fragments that still need to find a home in the larger puzzle. It's frustrating. Much of the time it builds more anxiety than it alleviates.
There's also the rumor problem, and while the news channels were wisely cautious this weekend about giving credence to every passing bit of speculation, they're also in competition, which means there's constant pressure to air something that moves the story forward.
So we heard reports and adjustments that collectively inched the story forward, but rarely along a clean linear path. Through no fault of the reporters or anchors, most of the updates weren't.

So a viewer who just left the television tuned to an all-news channel for six hours heard the same awful reports 15, 20, 30 times.
And there was no way around it.
The programming mission of all-news television, particularly in a breaking-news situation, is to ensure that within minutes of the time a viewer tunes in, he or she will get the essence of what's going on.
So the top story, like the number-one song on top-40 radio, gets repeated over and over -- even though, for someone who's been watching all along, it becomes a jackhammer.
If you're receptive to the idea that the whole world has gone to hell, hearing a terrible story like this over and over for hours can easily feel like your proof.
Meanwhile, in executive offices over in TV's entertainment divisions, the trick this weekend was not to program anything that would make some viewers say, "With what's happening in Paris, can you believe they're showing this?"
HBO cancelled a live U2 concert from Paris.
NBC's Saturday Night Live opened with a short statement of sympathy and solidarity, delivered in French and English by Cecily Strong.
NBC cancelled Friday night's planned live episode of Undateable, saying a half hour of live comedy wasn't appropriate.
The network released a picture of the cast holding pictures of the Eiffel Tower and peace signs.
CBS pulled Monday night's episodes of Supergirl and NCIS: L.A., because both had plots dealing with terrorism in cities. In each case, the network was able to swap in a later episode with a different plotline.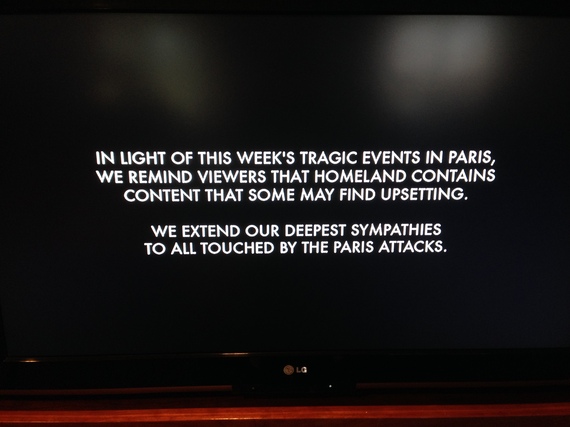 Showtime's Homeland and ABC's Quantico didn't have the option of swapping episodes Sunday night, since both are built on sequential terrorism stories. Both opted instead to open with on-screen messages acknowledging the real-life slaughter in Paris.
For some viewers, particularly of cable news, the weekend had been about little else.
Calling all HuffPost superfans!
Sign up for membership to become a founding member and help shape HuffPost's next chapter