Over the weekend, the first Austin Food & Wine Festival breezed through town, bringing with it a myriad of cooking demos, all-star chefs, parties, and flavors from the world over. With a lineup of talent like Masaharu Morimoto, Gail Simmons, Marcus Samuelsson, Andrew Zimmern, Michelle Bernstein, Tyson Cole and, of course, Top Chef Texas winner Paul Qui, it was like the cooking shows came to life in the heart of downtown Austin.
For the festival Auditorium Shores was outfitted with 10 big white tasting and stage tents and, despite some pushback from Mother Nature via wind and dust, the conditions were sunny and pleasant. The majority of the day was a schedule packed with demos from the star chefs on informative topics like how to perfectly gut a fish and plate sashimi with Morimoto, master wine 101 basics with Ray Isle, create divine tapas with Michelle Bernstein, bake a transcendent cornflake chocolate chip marshmallow cookie with Christina Tosi and grill a steak to perfection onsite with Tim Love.
Expensive ticket prices ($250 weekend/$850 VIP) lent the event to a higher-end experience and crowd of 3000 each day, who was there mostly to enjoy learning from the Masters, in addition to sampling Texas wine and eats. While some chose to primarily just kick back in the sunshine, enjoy the weekend as a two-day cocktail party (ticket purchase included open bar beer and wine) and hold out for the tastings, the demos attracted full crowds of spirited food lovers, there with a beverage in hand, to see extraordinary culinary talent and charisma in live action.
In return, the experts did not disappoint. Iron Chef Morimoto, for example, demonstrated his awe-inspiring skills and surprisingly bold personality at the festival on Sunday as he sang a Japanese ballad with gusto on two different stages, hacked a branch off a nearby tree for sushi garnish, waxed poetic about fish cuts and prices (albeit in a way that was charmingly hard to understand), shouted "TEXAS!" repeatedly to rowdy applause, joked with the audience, sliced into a red snapper with hypnotizing fluidity and chopped ingredients to smithereens with his eyes closed. Like many of the chefs at the festival, he was a true showman and it was both captivating to watch him cook and hilariously entertaining to experience an animated version of him that does not appear in Kitchen Stadium.
As for the food and wine tastings, they were limited to a few hours each day, during times that did not conflict with the demos, where attendees could navigate through three tents full of local food and wine. Highlights from the onsite samples included the Golden Eggs from Walton's Fancy and Staple: a nutmeg cake, painted with butter, and rolled in cinnamon and sugar; the cocktail from Veev made with the Acai spirit, fresh lime juice, simple syrup, topped with raspberry, blackberry, mint or basil and cleverly served in a small mason jar; the St. Germaine Texas Sipper made with grapefruit juice, Tito's Vodka, grapefruit soda and topped with mint; and the homemade Maple Bacon ice cream from Amy's that was shamefully delicious and once again proved that in Texas and beyond bacon goes great with everything.
The VIP tasting events, which took place mostly offsite in the evenings, offered additional celeb chef samplings set to live concerts from bona fide talents Lucinda Williams and Mayer Hawthorne. On Friday night, Republic Square Park hosted The New Taste of Texas event, featuring creations from Paul Qui and Sarah Grueneberg of Top Chef, in addition to other James Beard Nominees and "Best Of" restaurant winners like David Bull, Laura Sawicki and Bryce Gilmore. Standouts from that night included Sarah Grueneberg's house marinated sardines with orange and olives on toasted rye, and the fatty brisket served at the booth next door that the came straight from heaven by way of Aaron Franklin.
The Saturday night VIP event was also a highlight of the festival, as the established greats competed in a Rock Your Taco competition judged by Top Chef's Gail Simmons and Andrew Zimmern of Bizarre Eats. Memorable offerings were Michelle Bernstein's crispy sweetbread taco and Morimoto's tar tar interpretation, but the deserving title went to Uchi hometown hero Tyson Cole for a moo shu pork jowl creation that seamlessly fused spot-on Asian flavors in trademark form.
From demos to tastings and beyond the Food & Wine festival was a delicious weekend and a smooth production (especially for a first year endeavor). It was also an affective way of building local excitement for the culinary arts and I learned so many things like how to use the finger test for perfectly cooked meat and what kind of rice works best for risotto. The gathering provided a great outdoor occasion for food lovers to dork out, exchange tips and tricks, and especially with all the culinary momentum of Texas, it proved a welcome addition to Austin festival spectrum and great way to celebrate the evolution.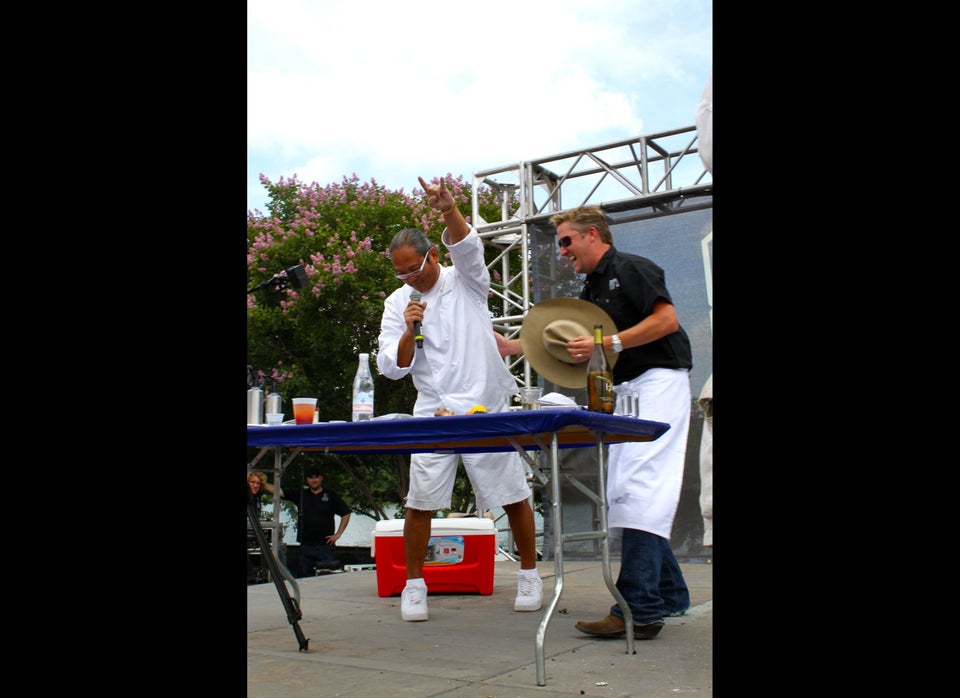 Popular in the Community