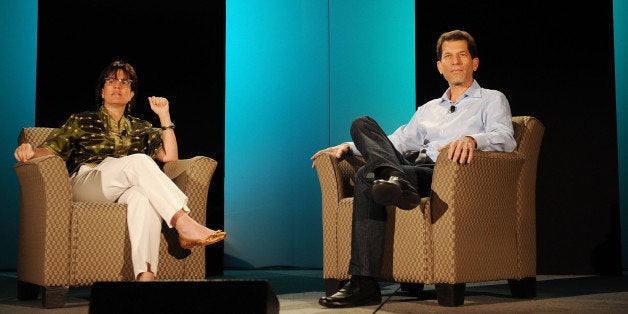 SAN FRANCISCO (Reuters) - Veteran technology journalists Walt Mossberg and Kara Swisher have unveiled "Re/code," a technology news site and conference business to succeed AllThingsD which they founded and built into a premier tech media brand within News Corp.
Mossberg and Swisher, who agreed in September to sever a 10-year relationship with News Corp, said on Thursday their new venture will be backed by Comcast's NBCUniversal and Windsor Media, the investment company headed by former Yahoo! Inc Chief Executive Terry Semel.
Mossberg and Swisher will hold majority ownership in the venture, with NBCUniversal and Windsor Media sharing a minority stake.
"It says a lot about NBC in particular that a big media company would take a small share of a startup, provide plenty of funding without trying to control it," Mossberg said by phone. "In order to grow, we needed a fully independent structure."
Mossberg declined to discuss financial details of the deal or the valuation of his new company, but said Re/code will share editorial resources with NBCUniversal.
Re/code's journalists, which include many former AllThingsD staff, will appear on programs such as CNBC and NBC News, while sites such as msnbc.com will run their work. Re/code will also partner with CNBC to host conferences.
Both long-time Wall Street Journal reporters, Swisher and Mossberg founded AllThingsD in 2003 as an annual technology industry gathering.
The blog launched in 2007 and in 2007 News Corp acquired Dow Jones, and with it the profitable AllThingsD. With the dissolution of AllThingsD's relationship with News Corp, the site will remain online but the brand will be phased out.
In the absence of AllThingsD - and with the introduction of a new competitor - the Journal has announced a new technology section complete with gadget reviews (formerly written by Mossberg) and beefed-up coverage from its San Francisco and bureaus in Asia and Israel.
But neither the Journal nor Re/code will inherit the crown jewel of the AllThingsD brand - the lucrative annual conferences that regularly drew names like Steve Jobs, the late Apple Inc chief executive.
The Journal said it would begin hosting its own tech conference called WSJD in late October in southern California.
Mossberg said the same team that produced the AllThingsD conference will produce a rebranded event called the "Code Conference" during the same week and at the same hotel.
Re/code is just one of several new arrivals in the crowded tech media arena.
Earlier this year, Jessica Lessin, another Wall Street Journal reporter, also defected to launch The Information, a premium, subscription-based tech news site. Yahoo is also preparing a consumer tech site with David Pogue, the former New York Times gadget reviewer.
"Tech sites and tech conferences are areas that people think are in demand and can be both journalistically valuable and financially successful," Mossberg said. "We're obviously hoping the same."
(Editing by Patrick Graham and David Holmes)

Related
Popular in the Community