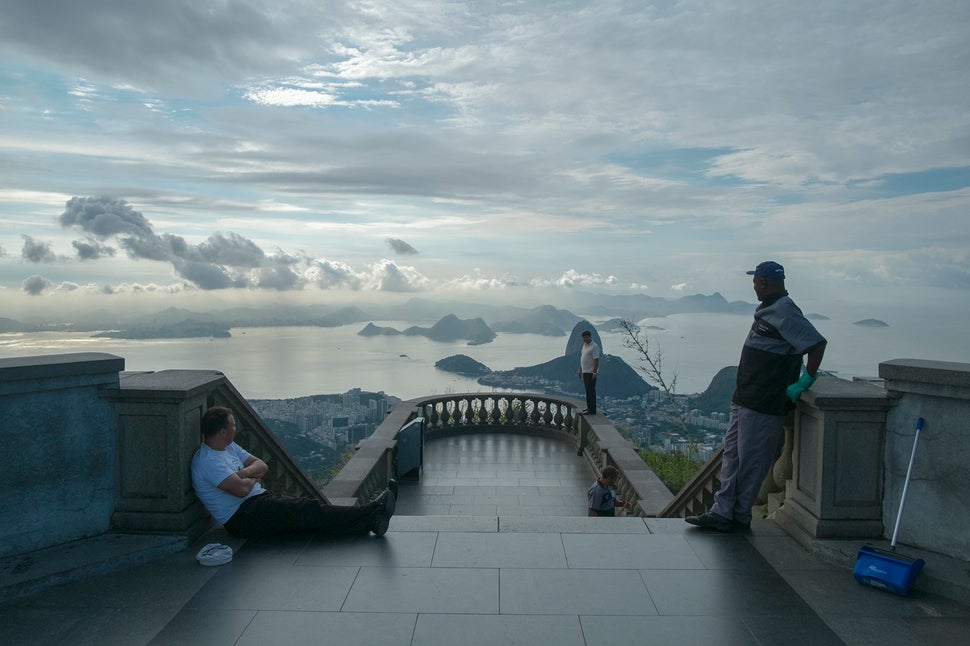 When you think of Christ the Redeemer ― Brazil's best-known cultural landmark ― you probably think of a massive white monument, arms splayed wide in an open embrace. The status is so massive and symbolic that it'd be difficult to overlook. In movies and travel books, it towers over Rio de Janeiro, soaring skyward.
But what is it like to actually visit Christ the Redeemer? Are there vendors shilling pocket-sized versions, lining the entire walk up? Is the spot so jam-packed that it's hard to appreciate the intent of the artwork? Or is it one of the few man-made monuments that's worth the visit, living up to its larger-than-life reputation?
When cinematographer Oliver Curtis visited the site, he snapped pictures, just like any other tourist. But instead of focusing on the towering subject he was there to visit, he turned his camera toward the bustling scene that surrounded it. In one image, three men gaze out at the awe-inspiring seascape before them. One stands nonchalantly on the balcony's edge, like he's done it a thousand times before. Another leans back, holding himself up with his gloved hands, his broom leaning beside him.
"Yes, the vista is probably as photogenic, if not more so than the statue behind the camera, but what this view reminds us is that a monument is also a place of work, of labor," Curtis told HuffPost. "On top of that, the fact that these people will have seen this view countless times in their working lives adds to a sense of contemplation that is at odds with the hurried moments afforded to the tourist whose coach awaits to whisk them off to the next important place on the itinerary."
The image is part of Curtis's "Volte-Face" series, a collection of photos united by a similar premise: when he visits a tourist site, Shaw faces the attraction, turns around 180 degrees, and snaps what he sees. Some of the resulting images are breathtakingly beautiful, while others portray sales kiosks, swarms of tourists clutching their phones or landscapes suffering from foot traffic.
"Everything that I depict was probably seen by every other tourist, but deemed uninteresting or not photogenic," Curtis said. "By making these views the subject of my photographs, I hope to reveal another dimension to a place that would otherwise remain ignored."
In another of his photos, a woman gazes at the artwork that's hung opposite the Mona Lisa in the Louvre, engaging in a quiet moment of introspection rather than muscling to see the more renowned work.
The one thing that unites all of his images is that they each celebrate the human element of tourism; crowds stand in awe of Mao's Mausoleum, and couples hold each other near the Statue of Liberty.
"Of the 45 images to be included in the book, about half include people. Yet even when absent, the impact on the landscape of human activity, both ancient and recent, is very evident," Curtis said.
"I have tried not to be judgmental about tourism. After all, even though my objective was different from most visitors, I too am thrilled to have visited these historic sites," he added. "However, I am trying to encourage a broader perspective, both visual and conceptual, to the relative myopic one employed in most sightseeing.  By turning away from the obvious focal point one can learn considerably more about a place."
[CORRECTION: An earlier version of this article attributed the photos to Alex Shaw, not photographer and cinematographer Oliver Curtis.]
Calling all HuffPost superfans!
Sign up for membership to become a founding member and help shape HuffPost's next chapter
BEFORE YOU GO
PHOTO GALLERY
Vintage Air Travel Photos