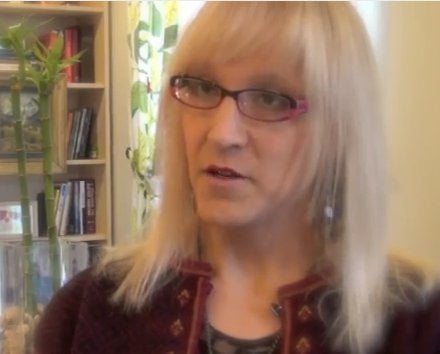 History was made last week with the appointment of Allyson Robinson to serve as the executive director of the newly united OutServe-SLDN (Servicemembers Legal Defense Network) organization. What was historic about it? That Allyson Robinson happens to be a trans woman, and this appointment makes her the first trans executive director of a national LGBT organization. I know this because I have been tasked by a network of gay donors from the eQualityGiving community to raise gay consciousness about the dearth of trans board members and staff of national LGBT organizations.
I want to make one point perfectly clear, and it is critical: Allyson was chosen because she is qualified to do the job. That she is trans is noteworthy, and that the appointment is historic is due to the fact that this military organization is the first national LGBT organization with the courage to hire a trans person to lead. But she is not an affirmative action hire. To reiterate, Allyson is qualified for this position, and she happens to be trans.
The stars aligned now because SLDN accomplished the major piece of its life work of the past two decades two years ago: the repeal of "don't ask, don't tell." The job clearly is not complete, even for gay and lesbian servicemembers, but today the biggest political obstacle facing the LGBT community in the military is discrimination against trans servicemembers. There was disappointment within the trans community as the push to repeal DADT was in full bore, disappointment at being left out. But we were left out because our situation was radically different: We were banned because we were classified by the military as being mentally ill, suffering from "Corporal Klinger disease." The repeal of DADT had no impact on that reality, just as its passage in 1993 was irrelevant to the trans community.
That situation has now changed. The American medical community now has depathologized the state of being trans; "gender identity disorder" no longer exists. The American Psychiatric Association, in the DSM-5, the soon-to-be-released revision of its diagnostic "bible," has removed the stigma of mental illness from transgender persons. It has taken too long, given that the American Medical Association, the American Psychological Association and the World Professional Association for Transgender Health had long ago learned to respect the inherent humanity of trans people, realizing that being trans was an innate variation of human sexuality and not a disease. Today, finally, the American Psychiatric Association, the official arbiter of mental illness on this continent, with influence around the world, has gotten on board. And that removes the foundation from the military's archaic anti-trans policy.
However, the military being what it is, with a different legal system, requires a different approach. SLDN and OutServe have committed to that task, and following a great story in the OutServe magazine in January on current trans servicemembers, they have embodied that commitment in the person of their new executive director. As a military brat, a graduate of West Point and a decorated officer with multiple deployments, Allyson has what it takes to be respected by the top brass, and as a minister she has a powerful story and the ability to tell it effectively to win over hearts and minds.
On a personal note, Sue Fulton deserves a great deal of credit for having the smarts and courage to lead on this appointment, as do former SLDN executive director Aubrey Sarvis, OutServe co-founder Josh Seefriend and the boards of the uniting organizations. They've made history, and while they undoubtedly will take flack over this appointment -- not only a trans person but a woman! -- I'm confident they will handle it with dignity.
There is one corollary to this appointment: the Human Rights Campaign (HRC), for whom Allyson worked prior to this appointment, no longer has an open trans person on staff. That situation is representative of the general state of the union: Though we have succeeded in elevating trans persons to boards of state equality organizations (though with only one executive director, another military veteran, Denise Brogan-Kator, formerly of Equality Michigan), we are way behind with national boards and staffs.
There is no longer any excuse for this poor showing, as this particular glass ceiling has now been shattered. Qualified candidates are not hiding; they are in plain sight. There are qualified leaders out there who happen to be trans, and they can make all organizations function more effectively for the benefit of all. OutServe and SLDN have recognized that in their case. Now it is time for the rest to follow suit.