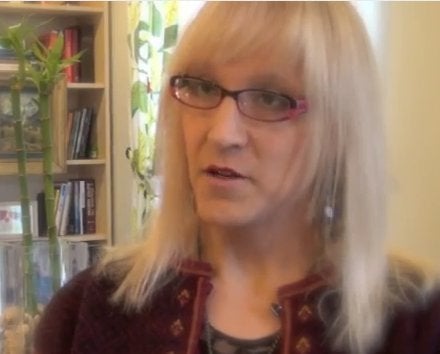 WASHINGTON -- In a move that may signal the next major battle over equality in the armed forces, the newly combined groups that represent gays in the military have chosen a transgender graduate of West Point as their new leader.
Allyson Robinson will lead the Servicemembers Legal Defense Network and OutServe when they formally merge this weekend. An Army veteran and a 1994 graduate of the U.S. Military Academy, Robinson commanded a Patriot missile unit in Europe and the Middle East before resigning her commission in 1999 to become a Christian minister.
Her selection -- more than a year after the end of the Pentagon's "don't ask, don't tell" policy allowed gay and lesbian troops (but not transgender servicemembers) to serve openly -- is seen as an indication that activists consider their work unfinished. Along with the inclusion of transgender men and women, the major stumbling block to full equality for the LGBT community in the military is the federal Defense of Marriage Act, which bars married same-sex couples from receiving the same benefits as their straight peers.
Robinson and her wife of 18 years and their four children live in Gaithersburg, Md., where gay marriage is on the ballot Nov. 6.
"Allyson Robinson is exactly the right person at the right time to be our leader and voice in Washington in the fight to achieve full LGBT equality in the military," said a statement from April Heinze, a retired Navy captain and co-chair of the SLDN board of directors. "She comes with an exemplary military background, strong political and policy acumen, and a deep commitment and vision for bringing about the changes needed to carry forward the work we began with the repeal of 'don't ask, don't tell.'"
Robinson, a native of Scranton, Pa., earned a master's of divinity degree from Baylor University in 2007 and was most recently the first deputy director for employee programs at the Human Rights Campaign Foundation Workplace Project, where she advocated for inclusion of LGBTs in the workplace.
She replaces SLDN leader and Army veteran Aubrey Sarvis and OutServe founder Josh Seefried, an Air Force officer who anonymously began the group of active duty gays and lesbians while DADT was still in effect. The new, combined group says it now has 6,000 members nationwide.
Said Robinson in a statement signaling her priority as executive director: "We cannot stop until we reach the day when all qualified Americans who wish to wear the uniform of our armed forces have the opportunity to do so with honor and integrity -- and without fear of discrimination or harassment -- whether they are gay, bisexual or transgender."
Calling all HuffPost superfans!
Sign up for membership to become a founding member and help shape HuffPost's next chapter
BEFORE YOU GO