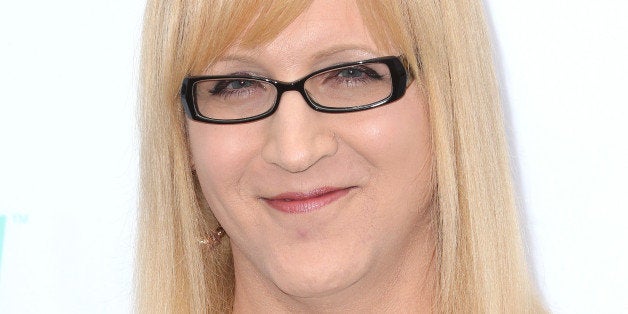 Now that President Obama has signed an executive order banning workplace discrimination against LGBT people among federal contractors, transgender activists are wondering if he'll get around to doing something else he could do with the stroke of a pen: ending the the ban on transgender people serving opening in the military, which is simply a Pentagon regulation, not a law that would require a vote by Congress to repeal. And they're wondering if the rest of the LGBT movement, and its leadership, will hold our political leaders' feet to the fire on the issue.
"It's important to remind folks that the repeal of 'don't ask, don't tell' (DADT), the 1992 law that prevented gay and lesbian people from serving openly in the military, was just the beginning of our work for equality in the military, not the end, as so much of our movement, and frankly, the country, seems to see it," said transgender activist Allyson Robinson, formerly the executive director of OutServe-SLDN, a group that fought to repeal DADT.
"Transgender people are still prevented, by a series of outdated, obsolete medical regulations, from serving openly in the military," she said in an interview with me on SiriusXM Progress. "[This is] despite the fact that an estimated 15,000 trans people are serving in the military today. Our panel was not only about reminding the Netroots Nation attendees of that, but also about what we can do about it."
Vice President Joe Biden addressed the attendees this year, and he spoke emphatically about his support for LGBT rights and specifically the work he's done to promote marriage equality. Transgender activists are interesting in knowing what he and other potential 2016 presidential contenders will do to advance transgender rights.
"I'm not even going to try to hide it — I'm a big fan of Vice President Biden," Robinson said. "It's hard to deny that he has played a pivotal role in the way that LGBT rights have advanced over the course of this administration. It didn't get quite as much press as his comments about marriage equality, but the vice president has actually been out there on transgender rights as well, as least with his rhetoric... [He has] said, 'Transgender rights are the civil rights battle of our time.' I'm kind of at a place where I'd like to see some meat on those bones. Let's talk about issues that specifically impact trans communities. When [former GOP senator] Chuck Hagel was nominated [as defense secretary], we heard a lot of rhetoric about how he had grown and evolved on LGBT issues. In those days, when we were watching, we pushed back. We said, 'We want to hear more than rhetoric. I'd like to see some more meat on the bones. Let's talk about more than ENDA when we talk about trans communities.'"
And Robinson expressed the concerns of many transgender activists who are questioning whether political allies, as well as the rest of the LGBT movement, will push hard on the specific issues important to transgender people, such as equality in the military, after rights such as marriage equality are fully won.
"I think the fear of a lot of transgender people is that we recognize that we're very close to accomplishing the tent poles of our community's work," she commented. "I think a lot of trans people are beginning to feel like, when those issues are off the table, most of the rest of the issues are our issues. Are our allies — whether they be movement allies and organizations, political allies, people in elected office — are they going to move on to the next big thing? Are we going to be left in the lurch here? I think those are legitimate fears. I'm doing a lot of thinking these days about what the movement looks like after marriage equality. It would be really, really interesting to ask some people who may be considering a run for the big job, 'What do you think? What are the big issues that impact LGBT people? What are you going to be doing for LGBT people once marriage equality is something in the history books?' It's a good question."
Listen to the interview here: