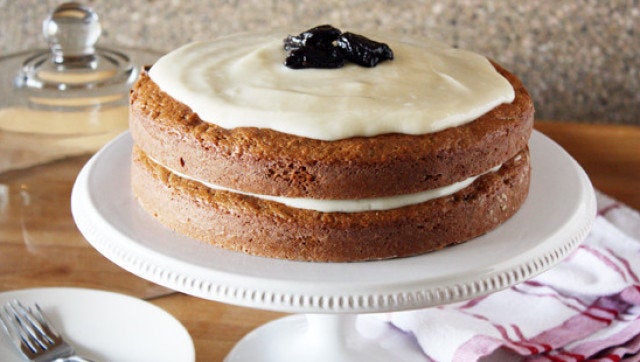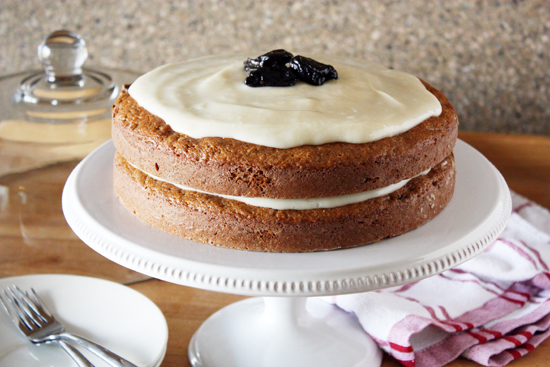 Just when I think I've found a recipe that can only be reserved for That Place Where Recipes Go To Die, it resurfaces into something fresh, unique and worthy of a second chance. For me, this often happens with old family recipes -- ones that either didn't turn out so well at my hand, like Grandma's egg soup, or ones that simply no longer hold up to the a-changin' times -- and I either decide it's best to leave them in the hands which first created them or give them a rest for a few years to see if my palate, my skills or the current taste trends of society will catch up.
That said, I'm not sure prune cake has ever caught up to a state in which society as a whole will welcome it with open arms ("prune cake" generally isn't something people react to with "oohs!" and "aahs!", I've noticed). But my mother, an avid baker herself, hadn't stopped talking about it since her great aunt Alma first made it for her when she was younger -- that is, until she made it once for my father early on in their marriage and, in his immaturity of both palate and understanding of appropriate reactions for a happy, healthy union, promptly put his fork down and told her he wasn't as much of a fan.
Fast forward to today and, with many years' of marital experience under his belt and a more well-rounded palate now than anyone else in my family (he's the one who fills his Thanksgiving plate with the gizzards, requests head cheese at the German deli and slurps calamari tentacles with abandon), when my mother brought up The Prune Cake Incident at a recent family gathering, my father requested a second tasting. At that, I promptly volunteered to take on the challenge -- because for one, there can never be enough cake in my house and also, I wanted to spare my poor mother's prune cake-loving heart another potential rejection.
There's nothing like revisiting a cake that's been in your family for generations (in this case, 80 or more years and across continents). You immerse yourself in the recipe's writing and imagine just what it was like being Alma who, with a reckless love of dried plums, couldn't help but toss them into her solid spice cake recipe one day. She baked it up and, drunk from the aroma of cinnamon and cloves and sweet, warm prunes, whipped up a coffee-tinged frosting with a wooden spoon firmly in hand and a bowl tucked into the crook of her elbow and spooned it over her creation. Then she watched with subdued glee as her own family licked their plates clean of every last morsel. That Alma, whose recipe, along with her sweet tooth and hospitable heart, carried itself through the years into my own kitchen where I, too, watched my family -- including my father -- indulge happily in something that tasted comforting and familiar, like a recurring dream.
Among our kin, it seems prune cake is in again.
Prune Cake with Coffee-Cream Cheese Frosting
Yield: 8 to 10 servings
Ingredients:
For the cake:
1/2 cup granulated sugar
1/2 cup light brown sugar
1 stick unsalted butter, room temperature
2 eggs
1 8-ounce container sour cream
3/4 cup whole wheat flour
3/4 cup unbleached all-purpose flour
1 1/2 tablespoons cornstarch
2 teaspoons baking powder
1 teaspoon baking soda
1 teaspoon ground cinnamon
1 teaspoon ground cloves
1 cup pitted prunes, chopped
For the frosting:
2 cups powdered sugar
1 8-ounce package cream cheese, softened
1/4 cup milk
2 teaspoons brewed strong coffee or espresso
Directions:
Preheat oven to 350 degrees F and lightly grease and flour 2 8-inch or 9-inch round cake pans.
In a large bowl or bowl of a stand mixer, cream together sugars and butter until light and fluffy. Add eggs one at a time, add sour cream and stir to combine.
In a separate large bowl, whisk together flours, cornstarch, baking powder, baking soda, cinnamon and cloves. Add dry ingredients to wet ingredients and stir to combine. Fold in chopped prunes.
Divide batter evenly between 2 prepared pans (batter will be thick). Bake until a toothpick inserted in the center of each cake comes out clean, about 30 minutes. Remove cakes from oven and let cool 10 minutes in pans. Carefully remove cakes from pans and cool completely on a cooling rack.
To make the frosting: In a large bowl, beat together powdered sugar, cream cheese, milk and coffee until combined. Frost top of one fully cooled cake; stack second cake on top and frost top.