Leeuwarden, capital of Friesland, produced Rembrandt's beloved wife Saskia Uylenburgh, along with Mata Hari and M.C. Escher. But there's another native son who's been largely forgotten since his heyday in Victorian London. "Alma-Tadema: Classical Charm" at the Fries Museum hopes to change that with a dazzling retrospective on the distinctive 19th century painter (October 1, 2016 to February 7, 2017).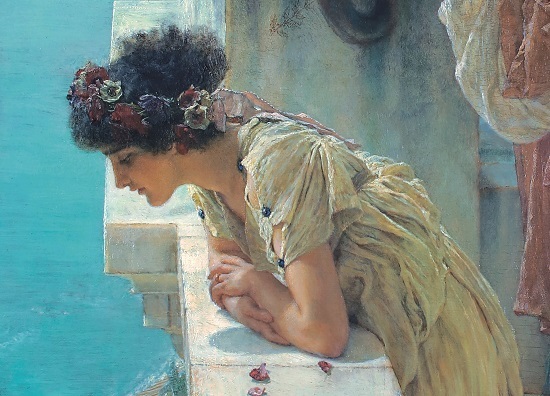 Sir Lawrence Alma-Tadema, Coign of Vantage (detail), 1895, oil on canvas, 58.88 x 44.45 cm, Collection of Ann and Gordon Getty
Eighty paintings have been assembled from private collections and museums around the world by curators Elizabeth Prettejohn, Head of Art History at the University of York, and Peter Trippi, a New York-based independent scholar of 19th century British art. "Alma Tadema: Classical Charm" is organized chronologically -- from a teenage self-portrait to his late masterpiece The Finding of Moses which sold for a record smashing $36 million in 2010.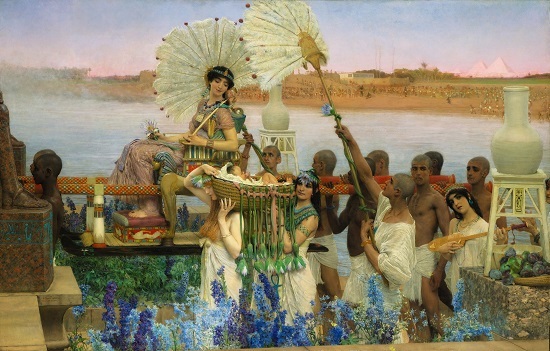 Sir Lawrence Alma-Tadema, The Finding of Moses, 1904, oil on canvas, 137.7 x 213.4 cm, Private Collection, courtesy Christie's. Photo © 2016 Christie's Images Limited
Born in the village of Dronrijp in Friesland in 1836, Lourens Alma Tadema moved to nearby Leeuwarden with his Mennonite family at age three. After studies at the Royal Academy of Fine Arts in Antwerp, the ambitious painter set up a studio in Brussels. It was on his honeymoon to Rome and Pompeii in 1863 that he fell in love with antiquity.
Within a year or two, Alma Tadema was producing his first Roman-themed paintings. Inspired by the ruins of ancient Rome and Pompeii, his everyday scenes took on a mythic quality. The artist owned over 160 volumes of photographs of Greek and Roman antiquities. A selection of the antiquities he collected and his Italian sketches are on view.
In 1870, recently widowed with two young daughters, Alma Tadema relocated to London where his Belgian dealer had a gallery. Roman antiquity was highly fashionable, and many English and American collectors were smitten by his exotic, seductive evocations of the classical world. He changed his name to Lawrence Alma-Tadema. The "Sir" followed in 1899 when he was knighted by Queen Victoria.
The painter's second wife Laura Theresa Epps, and his daughter Anna Tadema were also artists; the show features 18 of their works, along with dozens of drawings, prints, and studio objects. Many were gifts from Alma-Tadema and his daughters to the Fries Museum. There are also watercolors and drawings of Alma-Tadema's costume and stage designs for London productions of Coriolanus and Julius Caesar.

Sir Lawrence Alma-Tadema, Amo Te Ama Me, 1881, oil on panel, 17.5 x 38.0 cm; 42.2 x 57.6 cm (frame), Collection Museum of Friesland, Leeuwarden
In the 1880s, the close-knit family moved to a stunning 66-room house and studio in fashionable St. John's Wood. Decorated from top to bottom in Roman style, this "enchanted palace" attracted frequent guests and clients. A Hall of Panels featuring gifts from friends, including Sir Frederic Leighton and John Singer Sargent, has been reassembled.
Reproductions of his works helped make Alma-Tadema famous internationally. A portrait of the etcher responsible, Leopold Löwenstam, recently resurfaced after more than a century on the BBC television program Antiques Roadshow. After Löwenstam fell in love with Alma-Tadema's nanny, the artist gave the painting to her as a wedding present.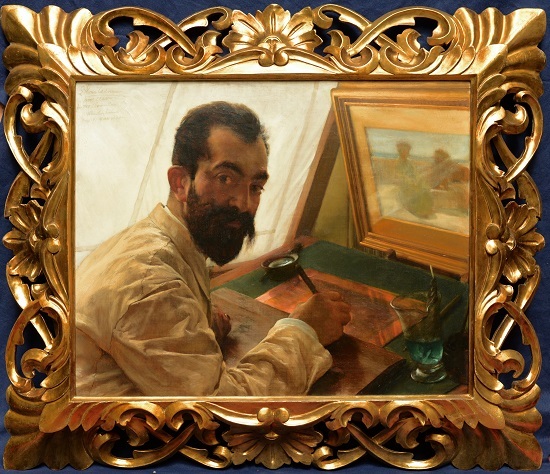 Sir Lawrence Alma-Tadema, Portrait of Leopold Löwenstam, the etcher, 1883, oil on canvas, 52.1 x 64.7 cm, Private Collection, England
When Alma-Tadema died in 1912, the celebrated 74-year-old artist was buried at St Paul's Cathedral. Shortly after his death, he abruptly fell out of favor. Art historians considered his paintings kitschy, but filmmakers were inspired by the luxe scenes of ancient Egypt and Rome. Hollywood directors Cecil B. DeMille, William Wyler and Stanley Kubrick looked to Alma-Tadema's décor and costumes for their blockbusters Cleopatra, Ben-Hur, and Spartacus. More recently, director Ridley Scott studied Alma-Tadema for Gladiator. This connection is vividly illustrated in a spacious gallery where film clips play directly above Alma-Tadema's colorful paintings.
"Alma-Tadema: Classical Charm" travels to the Belvedere in Vienna next year (February 23 to June 18) and Leighton House Museum in London, former home and studio of Sir Frederic Lord Leighton (July 7 to October 29). The exhibition kicks off a calendar of events in Leeuwarden-Fryslân, chosen as the European Capital of Culture for 2018. From Amsterdam, Leeuwarden is an hour and ten minutes north by car and two hours and fifteen minutes by train.
Popular in the Community