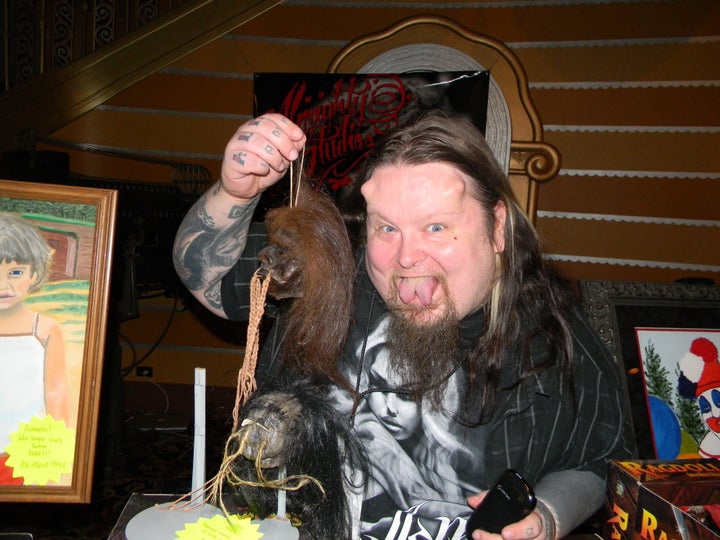 Jamestown, NY – Jamestown, the celebrated birthplace of actress and comedienne Lucille Ball, isn't your average rural New York town. For starters, it's home to a horned tattoo artist who runs a museum of oddities so bizarre, Robert Ripley himself might not believe it.
"Everything's real and some of it's really real," Ryan Gillikin told The Huffington Post during a recent tour of his shop.
You'd be tempted not to believe Gillikin because he actually speaks through a forked tongue. He had it surgically bifurcated, giving him a reptilian look. But that's just where the fun ride begins.
Gillikin and his wife, Denise, have horns that were implanted by famed 3D body modification and human evolution artist Steve Haworth.
Tattoos, however, are not the only things collected inside the studio -- it's also a shrine to the bizarre. The Gillikins are the proud owners of dozens of exotic objects and oddities.
Inside the studio, you'll find human bones, original artwork by serial killer John Wayne Gacy, a mummified deer head, a monkey's paw and dozens of other unique and interesting items.
One of the more peculiar finds in the studio is a mummified cat that was found under a local porch in the 1970s. The cat is believed to have died in the 1930s or 40s.
A pickled hand and two Fiji Mermaids also make for interesting subjects of conversation (see the slideshow below).
An upcoming episode of the Science Channel original series "Oddities" will feature one of the Gillikins' newly acquired possessions -- a ventriloquist's dummy named "Danny" that Gillikin says is thought to be possessed.
"It was a child's birthday or Christmas gift in the 1920s," Gillikin said. "The child's father was having an affair with a servant and got her pregnant. He gave her arsenic to terminate the pregnancy. She became sick, and on her deathbed -- she was supposedly a practitioner of voodoo -- she cursed the doll with the spirit of her unborn child."
Following the housekeeper's death, children in the home claimed the doll stole their candy and attacked them. The doll was boxed and placed in an attic where it remained until Gillikin purchased it from a relative.
"I can't validate the story, but it intrigued me enough that I bought it," Gillikin said. "The doll is scary enough, but the story just adds to it."
The unusual nature of the items found in the Gillikin's shop has not been lost on the steady stream of customers.
"People either love it or hate it," Gillikin said. "Some people get terrified when they come in here, and other people get the misconception that we are Satanists."
Gillikin said he has accumulated weird things from as far back as he can remember and has no plans of stopping.
"When you start collecting oddities, they find you," Gillikin said. "Besides, whoever dies with the biggest collection wins."
You can watch the upcoming season of "Oddities" on Discovery's Science Channel.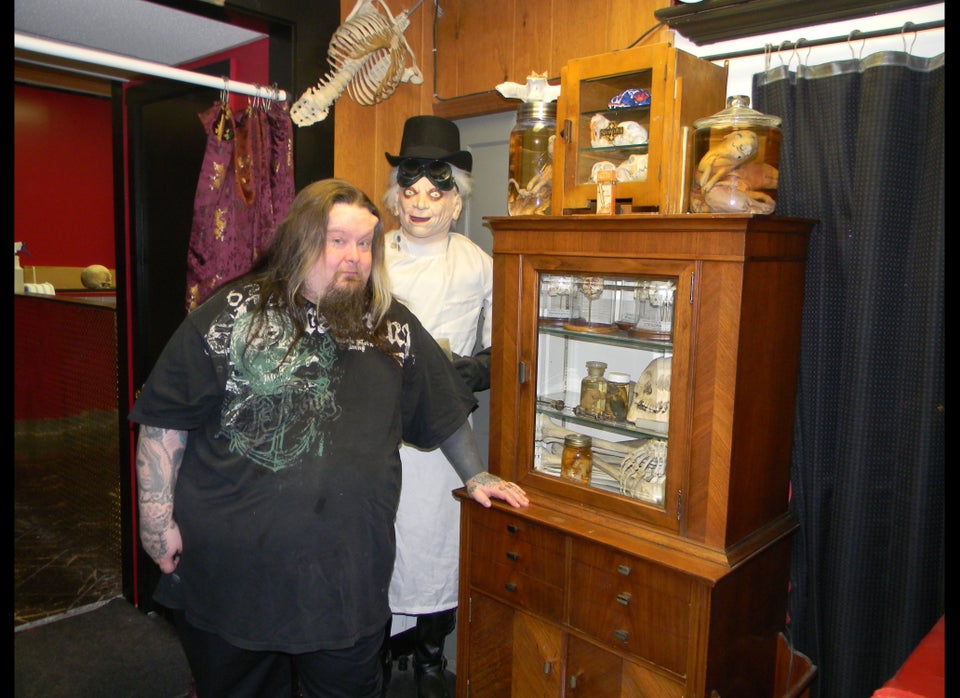 Almighty Studios
WATCH CLIPS FROM "ODDITIES":
Popular in the Community