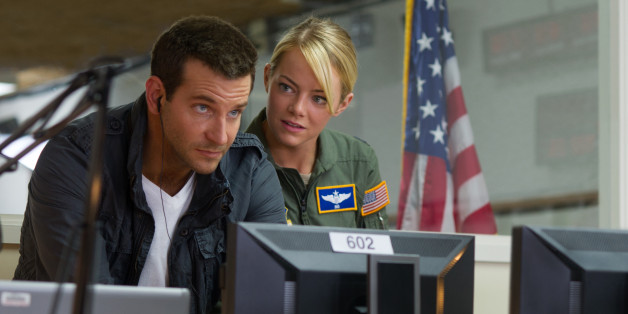 Oh, the places Cameron Crowe will go: all the way to Hawaii, apparently, to make a movie that spent several years in development, drifted almost completely into the Hollywood ether, sprung back to life with a new cast and was condemned by a top-level studio executive. The once-exalted director -- responsible for beloved hits like "Say Anything...," "Jerry Maguire" and "Almost Famous" -- needs redemption after the trifecta of "Vanilla Sky," "Elizabethtown" and "We Bought a Zoo" soiled his résumé. Sadly, "Aloha" and its lengthy journey to the big screen won't quite get him there.
Starring Bradley Cooper as a defense contractor completing a satellite mission in Honolulu, "Aloha" is part romantic comedy and part military sting operation. (Said operation deals with the militarization of space, which is as "huh?"-worthy as it sounds for a rom-com.) Cooper's character completes his work under the watch of a chatty Air Force pilot (Emma Stone) who becomes an obvious love interest, but he also reunites with a long-lost flame (Rachel McAdams) who is now married with two kids. Along the way, the film gets about as messy as its development woes.
Doubling as a case study about a movie gone awry, below is a timeline of the trouble (at least the extent that's on the record) that has plagued "Aloha" over the past several years.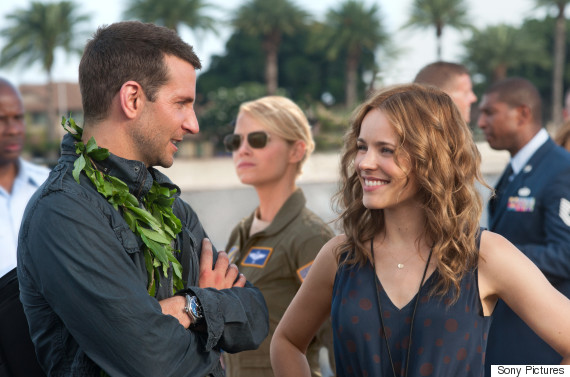 June 8, 2008: Sony-owned Columbia Pictures tops four rival studios in the heated bidding for an untitled, fully developed Cameron Crowe "romanic-comedy adventure" starring Ben Stiller and Reese Witherspoon. Plot details are kept under wraps, but the movie is slated to begin shooting in January 2009. It will be Crowe's first since 2005's widely detested "Elizabethtown."
October 2008: The plot leaks online after the script begins to circulate. Stiller is said to be playing Brian Gilcrest, a disgraced U.S. weapons consultant who is ordered to supervise the launch of a spy satellite in Hawaii. While stationed there with the humorless Major Lisa Ng (uncast), he reencounters his long-lost love (presumably Witherspoon), who is now married with two kids. Self-discovery ensues, along with a dose of the supernatural when Brian experiences visions of the Hawaiian gods and is asked to find a sacrifice for one of the island's volcanoes. (Cue "Joe Versus the Volcano" comparisons.) Crowe, a former rock journalist, is known for his movies' catchy soundtracks, and the script contains a sample playlist of songs that could factor into the film:
Cat Stevens -- "Don't Be Shy"
U2 -- "Elevation"
The Rolling Stones -- "Prodigal Son"
The Blue Nile -- "Let's Go Out Tonight"
Buckner & Garcia -- "Pac-Man Fever"
Tom Jones -- "What's New Pussycat"
The Who -- "Baba O' Riley"
The Beatles -- "She's Leaving Home"
Stevie Wonder -- "Ribbon in the Sky"
December 2008: The film is titled "Deep Tiki," but Witherspoon tells Collider that shooting has been postponed until 2010.
August 2009: With "Deep Tiki" development news at a halt, Crowe reemerges by directing Pearl Jam's video for "The Fixer," his first behind-the-camera work since "Elizabethtown."
May 2010: "Deep Tiki" has stalled indefinitely. Reasons are unclear, but Stiller and Witherspoon move on to other projects. Meanwhile, Crowe signs on to direct and rewrite the adaptation of Benjamin Mee's memoir "We Bought a Zoo," which he'd been circling since the previous winter.
March 2, 2011: "The Union," Crowe's HBO documentary about Elton John's creative process, opens the Tribeca Film Festival.
Sept. 10, 2011: Crowe's rockumentary "Pearl Jam Twenty" premieres at the Toronto International Film Festival. It airs on PBS' "American Masters" one month later. Along the way, Crowe says he'd "consider" making a sequel to "Say Anything...," and the entertainment press goes nuts. There is still no word on "Deep Tiki."
October 2011: In a New York Times profile, Crowe reveals he plans to begin shooting his next film -- from a script he finished two days before the interview occurred -- in March 2012, with another movie planned after that. Befuddled journalists wonder whether the director is referring to "Deep Tiki," the Marvin Gaye biopic to which he is tied or another project altogether.
Dec. 23, 2011: "We Bought a Zoo" opens, becoming Crowe's first mainstream theatrical feature in six years. While doing press for "Zoo," he says he cannot reveal what film will be his next, but teases it as "more of a straight-out comedy."
July 30, 2012: After March comes and goes with no casting announcements, Deadline.com reports that Emma Stone has signed on to star in an "untitled love story" that Crowe is directing for Sony. The article contains no mention of "Deep Tiki," but Variety's Jeff Sneider tweets on the same day that Crowe has rewritten the script and it is again gaining momentum at Sony. The movie's sensibilities are said to be closely aligned with that of "Almost Famous" and "Jerry Maguire."
Oct. 24, 2012: A "lengthy search" results in talks with Bradley Cooper, who is anticipating Oscar buzz for "Silver Linings Playbook," to take on Stiller's former role.
April 11, 2013: Rachel McAdams is in talks to play a "former lover of Cooper's character," according to Deadline.com, which again makes no mention of "Deep Tiki" in its report of the news.
July 23, 2013: In an interview with The Huffington Post, Cooper confirms he is in the movie and that it will begin shooting in September. He also lets it slip that Danny McBride has joined the cast.
August - October 2013: The rest of the cast (Bill Murray, Alec Baldwin, John Krasinski) rolls in.
Sept. 26, 2013: Crowe begins shooting what is now being referred to as "Untitled Hawaii Project." No press release is sent to announce its start, with the director instead quietly posting a photo of a corresponding clapperboard on his blog. Reports clarify what we already know: This is an updated "Deep Tiki." They also indicate the movie was once titled "Volcano Romance."
Feb. 14, 2014: Sony sets a Dec. 25 release date, leaving some pondering whether it could become an Oscar contender.
July 21, 2014: Sony delays the still-untitled film to May 2015. "Once we saw the film, we knew that it would make a perfect summer release. The movie is Cameron at his best," Jeff Blake, chairman of worldwide marketing and distribution for Sony Pictures, says.
December 2014: In the wake of the massive Sony hack, Amy Pascal is found condemning the film in leaked emails. "It's a wrap," she says of any attempt to salvage the apparently dismal scores the movie received during test screenings. Pascal calls the script "ridiculous" and says it "never, not even once, ever works." She criticizes producer Scott Rudin for not visiting the set or assisting during the editing process. "At least the marketing departments have something to sell. Looks big and glossy," the email says. "We have this movie in for a lot of dough and we better look at that."
Feb. 2, 2015: Sony announces the film will be titled "Aloha."
Feb. 11, 2015: The first trailer debuts.
April 21, 2015: The soundtrack's lineup is unveiled. It includes none of the songs from the playlist that circulated with the original script.
May 13, 2015: SlashFilm reports that the only junket will take place in London with select journalists in attendance, marking another omen.
May 19, 2015: "It's been months since those emails, and a ton of work has been done since then. The movie is really, really different," a Sony executive tells Variety, referring to the testing results mentioned in Pascal's email. "It's going to be a lot more satisfying for audiences." In the same breath, he warns people not to expect the next "Say Anything..." or "Jerry Maguire."
May 20, 2015: The Media Action Network for Asian Americans accuses the movie of "whitewashing" Hawaiian history by casting only Caucasian stars, likening it to such Hawaii-set titles as "The Descendants," "50 First Dates" and "Pearl Harbor." MANAA's Guy Aoki slams Crowe for a tweet in which he said the movie enunciates the "rich history and culture of Hawaii." The group lambastes the film's few Asian-Pacific Islander characters, who are listed with names like "Indian pedestrian," "upscale Japanese tourist" and "upscale restaurant guest."
May 20, 2015: Upon inquiring, Sony tells The Huffington Post that Crowe and the cast will not be doing press in New York. On top of that, there is only one screening offered to critics and reviews are embargoed until 4 p.m. on May 28, mere hours before the film opens. (Studios typically offer several screening opportunities and at least a few days for reviews to percolate before something is released.)
May 26, 2015: Introducing "Aloha" at a Los Angeles press screening, Crowe reportedly says, "A lot's been said, a lot's been heard -- some of it private, some of it public, some of it private that became public. But it's always been a love letter."
May 27, 2015: Sony counters MANAA's claims in a statement: "While some have been quick to judge a movie they haven't seen and a script they haven't read, the film 'Aloha' respectfully showcases the spirit and culture of the Hawaiian people. Filmmaker Cameron Crowe spent years researching this project and many months on location in Hawaii, cultivating relationships with leading local voices. He earned the trust of many Hawaiian community leaders, including Dennis 'Bumpy' Kanahele, who plays a key role in the film."
May 28, 2015: A source with ties to the project tells Bloomberg Business that Sony shelled out $20 million for the marketing campaign. (For comparison's sake, the average cost of marketing a studio movie in 2007 was $36 million. Many blockbusters wind up spending hundreds of millions on their worldwide campaigns. 2013's under-performing "The Lone Ranger," for example, cost a reported $150 million in global marketing and distribution.) Box-office forecasts expect the movie to generate $8 to $10 million in its first weekend, with the studio hoping its 2,800-screen debut could give way to potential sleeper-hit status as the summer unfolds.
May 28, 2015: The first reviews trickle in a couple of hours ahead of the embargo lift, and they are not kind.
May 29, 2015: "Aloha" opens. Cue red flags when the Internet realizes Emma Stone is playing a character named Allison Ng, who is 1/4 Hawaiian with a half-Chinese father.
UPDATE -- June 1, 2015: "Aloha" takes sixth place at the box office after collecting $9.6 million in its opening weekend.
June 3, 2015: Following continued Internet outrage, Crowe addresses Stone's casting in an essay on his blog. "I have heard your words and your disappointment, and I offer you a heart-felt apology to all who felt this was an odd or misguided casting choice," he writes.
Calling all HuffPost superfans!
Sign up for membership to become a founding member and help shape HuffPost's next chapter
BEFORE YOU GO
PHOTO GALLERY
Summer Movie Preview 2015