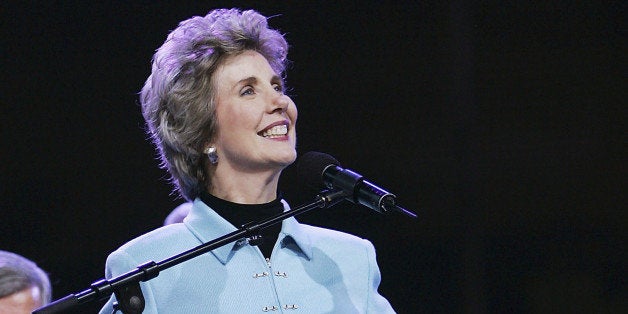 One of the categories that had us scratching our heads the most following Thursday's Oscar nominations had nothing to do with Tom Hanks' and Emma Thompson's unjust snubs. It was Best Original Song that saw a slew of A-list frontrunners shut out in favor of a movie we're fairly certain no one has heard of: "Alone Yet Not Alone."
The movie's nominated song goes by the same title and was written by Bruce Broughton and Dennis Spiegel. It topped Taylor Swift's "Sweeter than Fiction" ("One Chance"), Coldplay's "Atlas" ("The Hunger Games: Catching Fire"), Lana Del Rey's "Young and Beautiful" ("The Great Gatsby"), Beyonce's "Rise Up" ("Epic"), Ed Sheeran's "I See Fire" ("The Hobbit: The Desolation of Smaug"), Jay Z's "100$ Bill" ("The Great Gatsby") and Fantasia Barrino's "In The Middle of the Night" ("Lee Daniels' The Butler").
"Alone Yet Not Alone," performed by evangelical Christian author and singer Joni Eareckson Tada, is the category's only nominee not featured in an animated movie or sung by a well-known recording artist. The other nominees are Yeah Yeah Yeahs frontwoman Karen O's "The Moon Song" ("Her"), Pharrell Williams' "Happy" ("Despicable Me 2"), U2's "Ordinary Love" ("Mandela: Long Walk to Freedom") and the "Frozen" anthem "Let It Go."
"Alone Not Yet Alone" saw a limited release last year -- but not one that was big enough for it to merit an entry on Box Office Mojo, which tracks movies' ticket-sale revenues, or any reviews on Rotten Tomatoes. The film's Facebook page indicates it will receive a nationwide opening this March. A Christian-themed historical drama set in 1755 against the backdrop of the French and Indian War, the film centers on two sisters who are taken captive during the war and subsequently separated, which leaves them clinging to their faith in search of survival. The title refers to the family hymn they sing to remain hopeful.
While the Academy Awards' Best Original Song category isn't as populist as the Golden Globes' (where U2 won this past Sunday), it's still common to see A-listers crack the final five. The nods are generally split between showstopping numbers from animated films and musicals, and unlikely contributions from pop-music staples. Oscar-buzzy films know to seek out high-profile artists to record their signature tracks not only because it will help to sell copies of the respective soundtracks, but because the name recognition can help bolster that artist's odds on Oscar ballots. In recent years, winners have included Adele for "Skyfall" ("Skyfall"), Melissa Etheridge for "I Need to Wake Up" ("An Inconvenient Truth"), Three 6 Mafia for "It's Hard Out There for a Pimp" ("Hustle & Flow"), Eminem for "Lose Yourself" ("8 Mile") and Bob Dylan for "Things Have Changed" ("Wonder Boys").
That makes this year's nominees doubly surprising, and it means we likely won't see Swift, Beyonce or Jay Z walk the red carpet come March 2 -- something that could have provided a desired ratings boost for the telecast. In the meantime, take a listen to the other four Best Original Song honorees below.
UPDATE, 3:50 p.m. -- Deadline.com was just as confused as we were about the surprise nomination for "Alone Yet Not Alone." The site reportedly talked to "well-placed sources" who revealed that Broughton has friends in high places. The song's composer, who is also a former member of the Academy's Board of Governors, made phone calls to voters to ask them to consider the song following a failed campaign to gain traction among the press.
Which song do you want to see take home the award? Chime in below.
Calling all HuffPost superfans!
Sign up for membership to become a founding member and help shape HuffPost's next chapter
BEFORE YOU GO
PHOTO GALLERY
2014 Oscar Snubs & Surprises