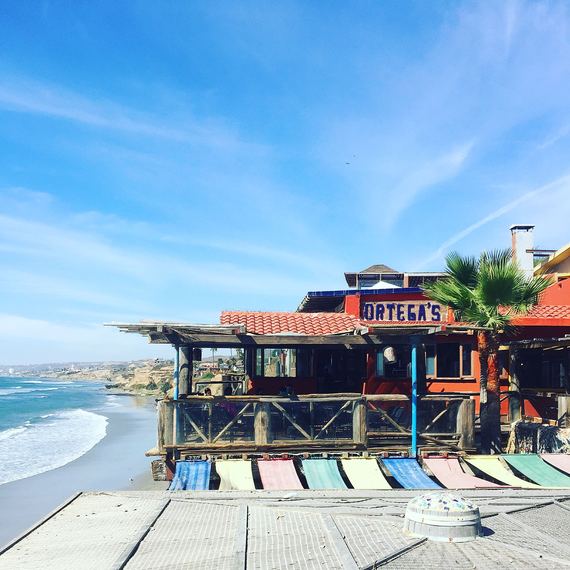 Driving down Baja California, past the towering border wall and the ever-busy Tijuana, a surprisingly arresting view of the coast greets us. Miles of hazel, fog-blanketed hills gently roll down unto the foamy shores of the blue Pacific. It's a scene reminiscent of dreamy Big Sur, perhaps just ever so slightly browner, drier and less of a reverie.
Even more surprising are the houses, Mediterranean- and adobe-style, that adorn this coast. Their reddish brown rooftops peek charmingly over Federal Highway 1D, the main road that takes travelers on a scenic drive from Tijuana, its starting terminus, to just a few miles north of Ensenada. Collectively, they add a captivating and busy detail to an otherwise serene panorama.
It's not at all how we imagined this part of Mexico would look.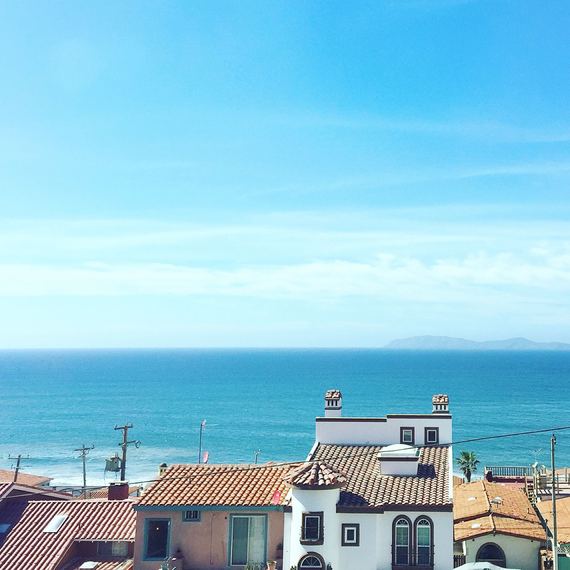 Most surprising of all is the food... the glorious food, the delicious and hearty dishes centered on the freshest catch of the day - tuna, abalone, shrimp, oysters and even lobsters. Living in Southern California, we have heard all about BC's legendary tacos de pescado (fish tacos), a dish often replicated in many restaurants in Los Angeles, but we needed further proof.
So began our weekend-long culinary journey along Mexico's beautiful Pacific coast.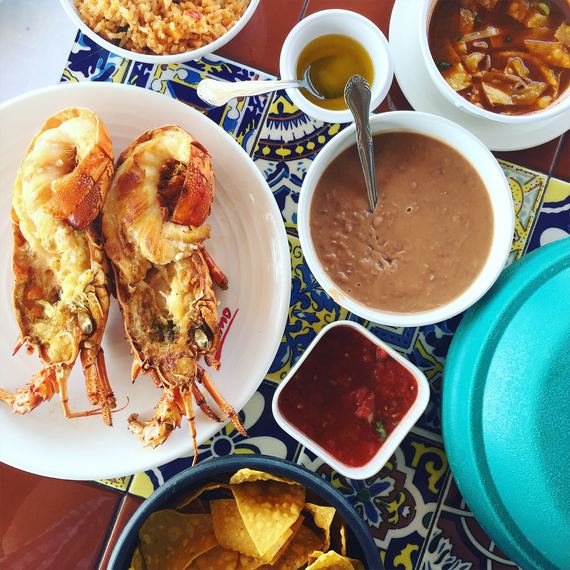 On a balcony overlooking the baby blue coast in a little town called Puerto Nuevo, we sample the fried rock lobsters (langosta), served Baja-style with refried beans, rice, tortillas and salsa on the side. Further south in downtown Ensenada, we squeeze past the crowd to try La Guerrerense's famous (and incredible, we know this now) ceviche, served on hard taco with avocado on top, ignoring rumors of it being overrated. And we walk less than a mile away from the tourist zone to Tacos Mi Ranchito El Fenix, whose battered fish and battered shrimp Baja-style tacos are a revelation, utterly addictive and some say the best in town.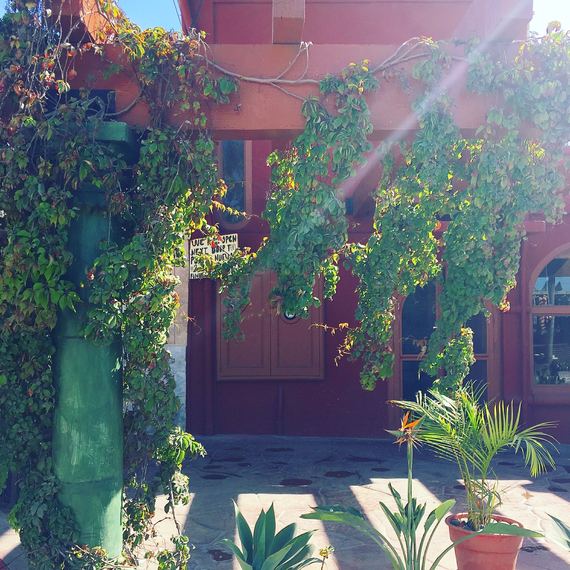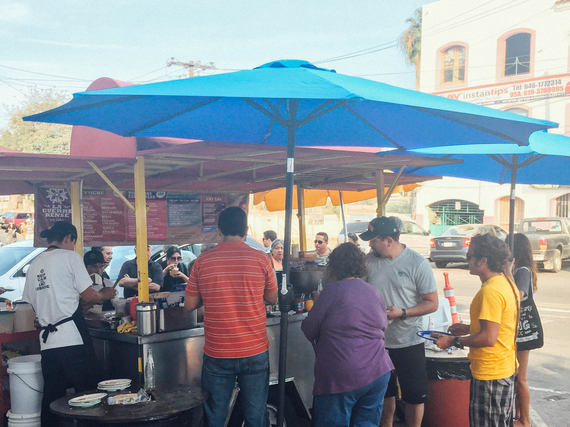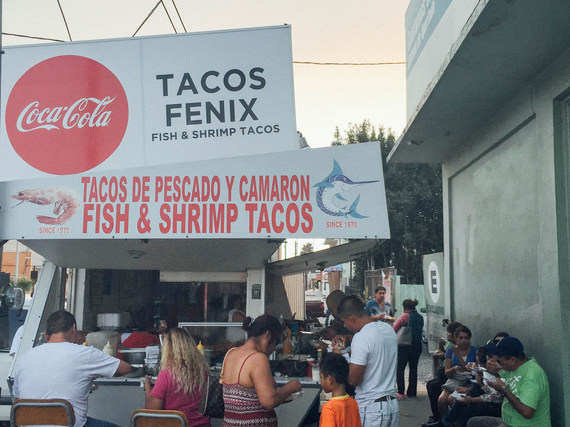 We partake in a languid Sunday breakfast affair at Hotel Coral and Marina's BC Bistro and Cava, whose Sunday breakfast buffet include not just heaps of delicious, hearty chicken mole, cochinita pibil, Mexican Barbecue beef, beans, pozole and tamales, but also carnitas, ceviche and a large slab of lamb meat slowly roasting in an open flame, all for only about $15 per person. We sample local wine in Valle de Guadalupe, whose historic wine route is responsible for much of the tourist traffic in these parts. And, of course, we drink the local coffee, La Negrita, cheap yet surprisingly good and chocolatey.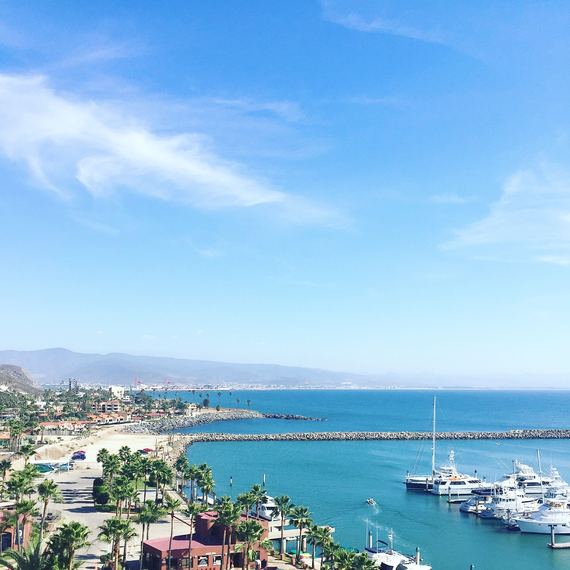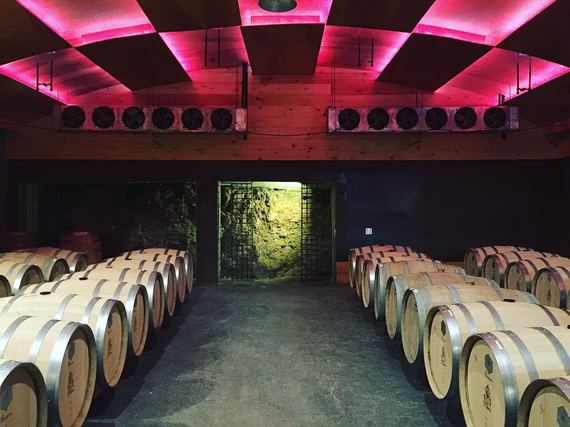 By the end of it, we are happy, satiated and too full to consume anything else. Or so we think...
As we drive back up to LA, resisting to urge to go back to Fenix to get fish tacos for the road and already planning our next trip down, we get stuck in border traffic despite our fast pass. There in line, we purchase a bag of churros from a young girl selling them at a mobile stand right in the middle of that slow and busy highway - a striking contrast to the idyllic scene that welcomed us at the start of our trip; and we devour these Mexican treats within minutes. After all, full or not from our food adventure, there's always, always room for dessert.
Hotel Coral & Marina. Carretera Tijuana-Ensenada Km.103 #3421, Zona Playitas, 22860 Ensenada | 52-646/175-0000
Villa Ortegas. Barracuda 77, Puerto Nuevo | 52-661/614-0706
La Guerrerense. Corner of Avda. Alvarado and First St., Ensenada | 52-646/174-2114
Tacos Mi Ranchito El Fenix. Corner of Espinosa and Avda. Juárez, Ensenada
BC Bistro and Cava. Carretera Tijuana-Ensenada Km.103 #3421, Zona Playitas, 22860 Ensenada | 52-646/175-0000
Hacienda la Lomita. Fraccionamiento 13 22785 Ensenada | 52-646/156-8466
Café La Negrita. Centro Comercial Bahía Loc. 35 | 52-646/178-6512
Related