Rancho La Puerta had been on my radar for years. One of the first destination fitness resorts and spas in North America, Rancho La Puerta has been around since being founded in 1940 by Romanian-born Edmond Szekely, and his wife, Deborah, who found themselves stranded in San Diego at the outbreak of World War II.
The Szekelys, who had gone to San Diego on a French scientific mission to study the effects of climate on human health, were definitely way before their time. In a San Diego Union article written in 1949 -- "Romanian Professor Founds Cult Across Border in Tecate" -- Szekely was called the "guiding genius of a strange grapejuice drinking sect" and Rancho La Puerta was dubbed "an occult health school of preventive therapy."
But Rancho La Puerta prospered as guests like Aldous Huxley crossed the border and paid $17.50 a week to check out this avant-garde way of life. By the time I heard about the ranch in the 1970s, health spas had sprung up around the world. After her husband's death, Deborah continued to run the place and also started the Golden Door, which she later sold and which was considered an upscale version of Rancho La Puerta. It was, and is, more expensive.
But as Rancho La Puerta enters its eighth decade, it is no longer the funky Mexican health spa it once was. For one thing, its prices are higher and the range of activities it now offers is mind boggling, in part due to the vision of its on-the-ball fitness manager, Barry Shingle, who is on top of the latest, greatest classes, equipment and instructors. Guests at the ranch can literally start their day at six with a hike on Mount Kuchumaa, which overlooks the 3,000 acre property, and keep going all day, punctuating hard-core workouts like cycling and sculpting with gourmet organic meals, yoga classes and meditation sessions.
There is a spanking new cooking school, La Cocina Que Canta, and an organic garden - which provides the majority of the ranch's food - from which you ironically see the fence that President Bush used our tax dollars to build to try (unsuccessfully) to separate Mexico from the US.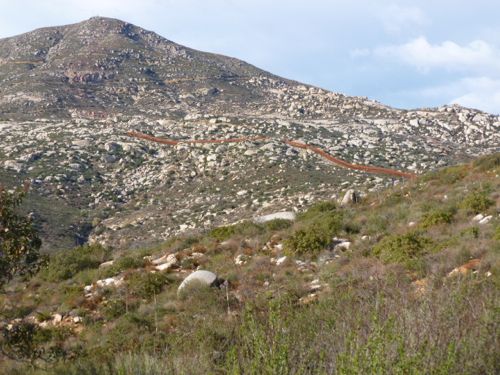 The fence: Bush's folly/photo: Andrea R. Vaucher
The ranch's 125 guests generally stay one week, which is enough time to change your llife, or at least your eating or exercise habits. Guests stay in spacious air-conditioned casitas, which are simply decorated with colorful fabrics (no two are exactly alike) and Saltillo tile floors.

photo: Marcella Munro
The units, scattered throughout the property, all have an outdoor space -- either a garden or patio -- and a fireplace, which is loaded with wood each evening. The best feature of the accommodations is their lack of wifi and television. What you will find is a pedometer on the nightstand, which you are encouraged to wear throughout your stay; I found that I easily logged five miles a day, just walking to meals, the various exercise studios and back and forth to the two spas.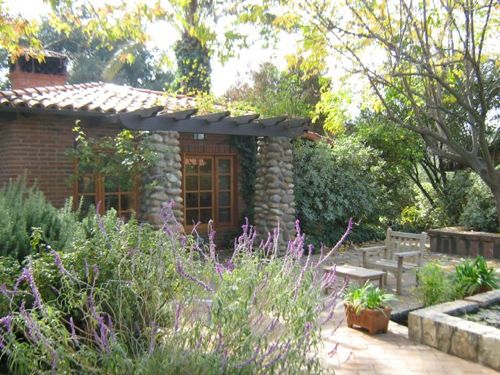 photo: Marcella Munro
Highlights of my stay included the food -- every meal was a delight; a hands-on pressure cooking class with a guest chef, Jill Nussinow; the dance and spinning classes with Manuel; a private pilates session with Denise; and meditation at sunset in the beautiful Oaktree Pavillon with Danielle Levi Alvares. And, of course, meeting lots of like-minded women (guests are overwhelmingly female) from all around the country.
To be honest, I was a bit wary of being on the Mexico/US border, so I called the LA Times reporter who covers the border to ask what he thought. He laughed and assured me that going to Rancho La Puerta posed no problem whatsoever. Not only is Rancho La Puerta one of the largest employers in Tecate, the Szekely family has also started a foundation that promotes education and environmental sustainability in Mexico. In other words, the Mexicans want to keep Rancho La Puerta and its guests happy. A Rancho shuttle met me at the San Diego airport, where I parked my car, and the border crossing was a breeze -- we never even had to get off the bus.
The ease in getting to the ranch set the tone for the week. Nothing was ever a problem, the exercise class schedule ran like clockwork and the staff and service were top notch. This is not the Mexico of manana, it's the Mexico of siempre mejor, where the room service breakfast always arrives on time and you never have to call twice to get something done.

Related