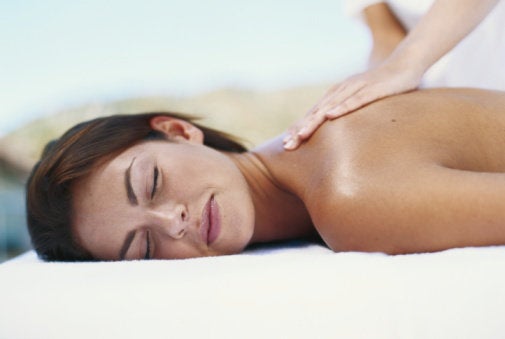 A LITTLE BIT OF JAPAN IN THE SOUTH BAY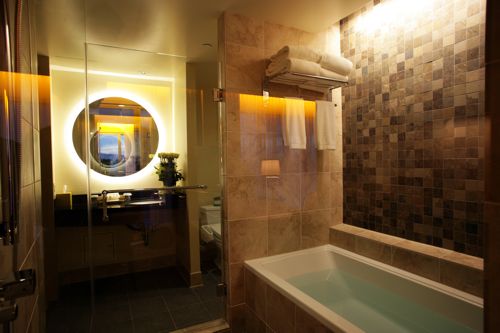 As a travel writer and a sybarite, I have visited numerous spas around the world. Many of them just blend together in my memory -- did I have that hot stone massage in a hotel Paris or was it St. Barts? There are features of other spas that leave an indelible mark. The view of the Hong Kong skyline from the sauna at The Peninsula. Lalo, my master masseur at the Carlton Tower in London. The unbeatable spa cuisine at Miraval.
But the last time I discovered a really novel treatment was when I journeyed all the way to Malaysia and experienced the spa at Pangkor Laut. There, I was drenched in ayurvedic oil and pummeled on a neem wood table from India. Practiced yoga on an overwater wooden platform on the South China Sea. Relaxed under soothing waterfalls, as a prelude to my treatment, and afterwards, lolled on a luxurious beach bed protected from the sun by diaphanous curtains.
This time I didn't have to voyage nearly as far. In fact, this unique spa feature is just 25 minutes by car from Santa Monica, down the 405 in Torrance, at the Relaxen Spa at the Miyako Hybrid Hotel, a new property that transports a little bit of Japan to Southern California and, in doing so, provides a very refreshing getaway from the quotidian.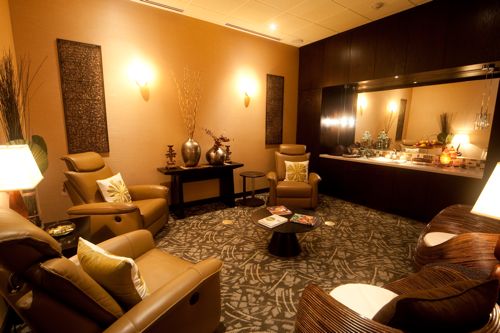 The Relaxan Spa bills itself as the first spa in the U.S. to offer Ganban-yoku, which is a hot stone sauna whose benefits include a boost to metabolism and circulation. Slabs of a rare mineral laden bedrock from the mountains of Kyushu, Japan are inlaid in the sauna floor upon which you recline until you are as malleable as the Meiji tofu (yum!) that is served in the hotel restaurant. The stone emits high-speed infrared rays as well as negative ions, which encourage the body to detoxify itself.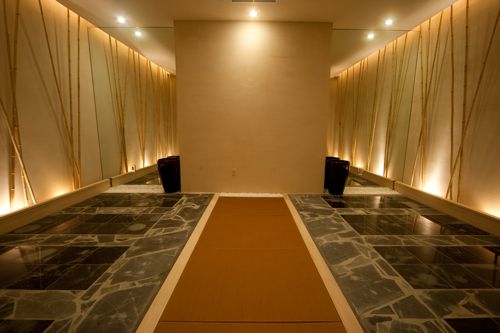 Afterwards, the spa offers a range of treatments that includes a Thai herbal ball massage where canvas orbs filled with scented herbs like camphor, lemongrass and tamarind are skillfully kneaded into your body. There is also an authentic Japanese Shiatsu treatment, which is done without oil so the therapist can really dig into your pressure points without slipping. Both were heavenly.
The hotel is in the middle of nowhere (though Old Torrance, which is worth exploring, is only a couple of blocks away), located in an industrial park that houses the corporate headquarters of some of Japan's most famous companies and overlooks the Mitsuwa Marketplace, which is fun to browse. The "Hybrid" in the name is a salute to the hotel's LEED silver certification and its environmentally conscious way of doing business: its solar-powered electrical system, water and energy efficiency, and use of natural and recycled materials.
It also strives for a blend of east meets west in its spa, the Gonpachi Restaurant, which serves Japanese fusion cuisine accompanied by quite an array of sake, and the elegant, uncluttered lobby and room decor.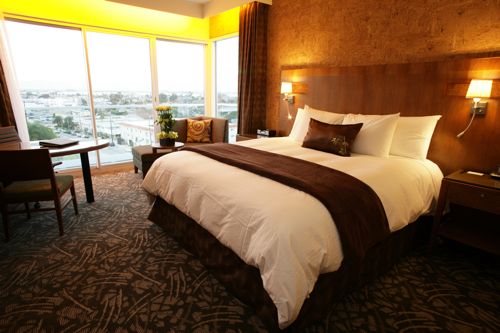 The bathrooms feature deep, Japanese tubs and heated bidet toilet seats. Surprisingly, there are no tatami rooms available.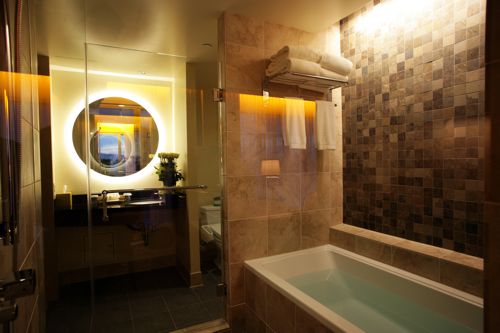 Since the hotel has such reasonable prices -- a recent search found rooms for $109 on hotels.com -- it pays to stay overnight, even if you are just there to spa. The rooms are luxurious with top-of-the-line bedding, stylish decor and the staff is sharp and eager to please. It's a great place for a quick and easy getaway that will really make you feel like you've been away.