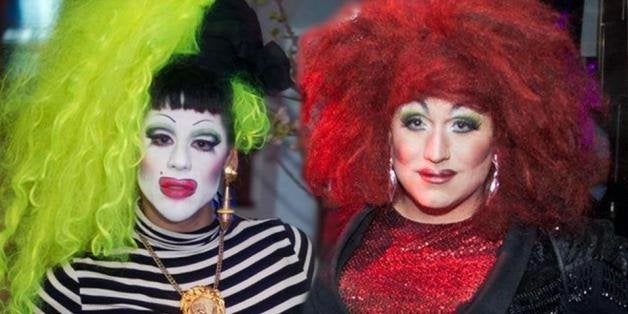 This is the fifteenth installment in an ongoing series that explores drag culture and the nightlife scene in Brooklyn, N.Y. Over the past several years, following the large-scale exodus of artists across the East River and into northern Brooklyn, those engaged in drag culture in this outer borough have created a new, queer world entirely their own. Accompanied by a larger movement to understand drag culture outside of the pageant circuit, many individuals engaged in the drag community in this borough approach drag culture through a nontraditional lens of "alternative" drag or performance art, enabled largely by the malleable and queer nature of this part of New York. Visit HuffPost Gay Voices regularly to learn not only about the individuals involved in Brooklyn's drag community, but more about the culture of the community itself.
On the third Thursday of every month in Williamsburg, Brooklyn, crowds of people congregate at Metropolitan bar for what has become a staple in the Brooklyn nightlife community: Alotta Stuff Live Auction.
Co-founded by Brooklyn drag culture icons Thorgy Thor and Alotta McGriddles, Alotta Stuff has evolved into an essential event for drag artists and scene queens alike to snatch one-of-a-kind eclectic and vintage items -- all discovered and purchased by Alotta McGriddles and Thorgy Thor.
What began as a small-scale function at Sugarland Nightclub in August 2012 has matured into a unique, community event and an intergral part of the Queer New World that is the Brooklyn drag scene. While Alotta McGriddles and Thorgy Thor host and curate the event, nightlife staples Lady Havokk, Untitled Queen and Pusse Couture model the garments one by one for the expectant audiences.
"Alotta Stuff is a drag, well, dragg-ier version of 'Antique Roadshow'/Black Friday/Neighborhood Brooklyn Stoop Sale/Aladdin's cave," Untitled Queen told The Huffington Post. "Inside the comforts of an old standard gay dive bar in Brooklyn, you can uncover some hidden jewels of sequin monstrosities while sharing a drink with a pal or some cute boys/girls. Instead of a blue genie, you get two larger-than-life drag queens, Alotta and Thorgy, as your spirit guides. It's all chill and cute until your best friend tries to outbid you on that silk Picasso-inspired '90s jacket that you know looks better on you."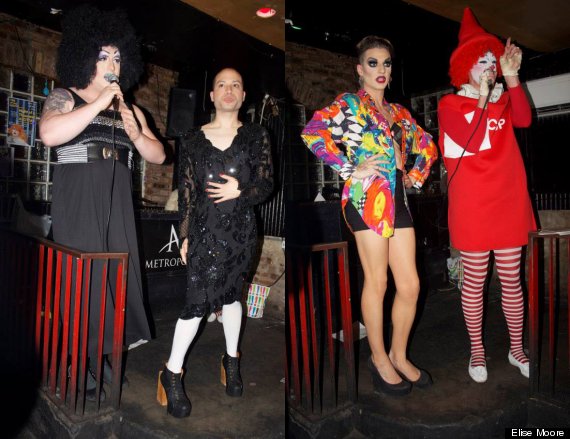 "We have several secret stores that we go to for items but we're NOT TELLING!" Alotta McGriddles told The Huffington Post. "Normally we look for truly unique items you won't be able to find anywhere else or something truly special to make the audience gag."
"Alotta and I both have a shopping addiction," Thorgy Thor elaborated, "so we spend several days a month taking trips to New Jersey, Vermont, Pennsylvania, Long Island and finding little shops, thrift stores, consignment shops, new designers, flea markets, etc. In our first few auctions, we put only ridiculous items in there -- but now it's a mixture of ridiculous items that make for an entertaining runway show and practical items that we know will sell."
Alotta Stuff functions similarly to any other auction, with most items beginning at one dollar. The low starting price allows both new and seasoned drag artists to explore or build an essential wardrobe for relatively cheap. Collectively, Alotta McGriddles and Thorgy Thor compile around fifty items for every monthly auction, largely constituted of outerwear for drag performers but also a handful of unisex and men's items.
"To be perfectly honest, I've seen alotta drag queens come and snatch some truly epic fashion from our event. It elevates their look and they know what to look for in their next outfit," Alotta McGriddles continued. "Not only is it a fun night, it's also educational as to what to look for in a garment that makes it unique, well-made, and a truly valuable item of clothing."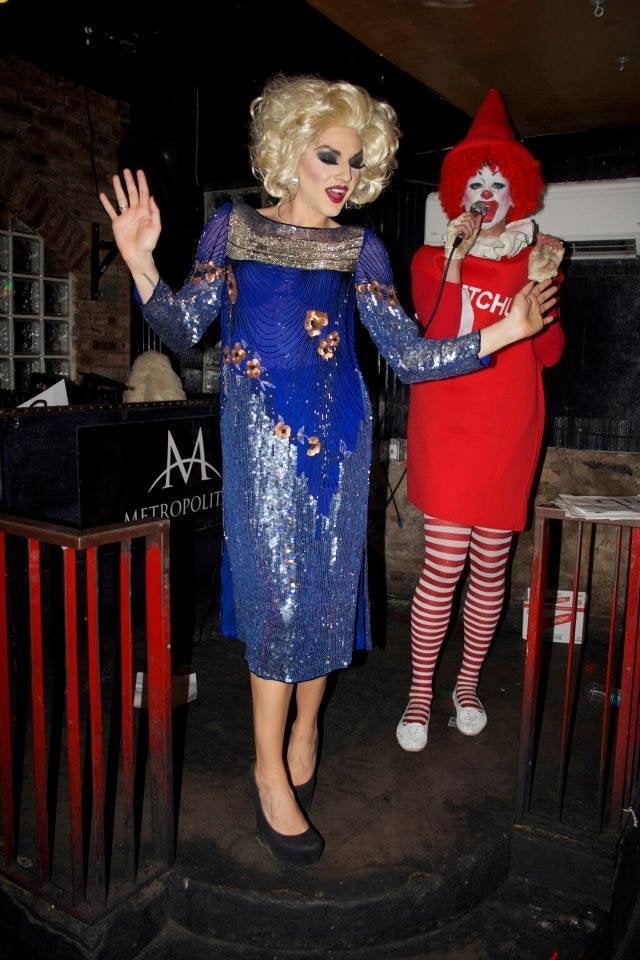 Alotta Stuff Live Auction
As Alotta Stuff grows, Thorgy Thor and Alotta McGriddles are now folding the event into the malleable nature of northern Brooklyn. The pair are trying to finds ways to integrate the work of other artists into the culture of Alotta Stuff.
"We have been working on bringing in independent designers and new businesses to cross-promote with Alotta Stuff," Thorgy Thor explained. "For example, I'd love one or two auction items each month to be an original dress or silk-screen print t-shirt from a local Brooklyn designer -- both to promote their work and to keep our items fresh each month. As for our raffle items, it would be great to feature a local Brooklyn cafe/restaurant each week as our sponsor and give away a free coffee/sandwich."
Alotta McGriddles and Thorgy Thor hope to continue to see the auction grow into something bigger than itself -- possibly taking it on to road in the future to different cities. For now, Alotta Stuff is truly an event that helps shape the queer world of northern Brooklyn while providing an outlet for community building and fellowship among nightlife family members.
"I've been doing drag for 11 years -- part of all different kinds of shows," Thorgy Thor said. "This is unique and the first of its kind. Alotta Stuff is something that ties gays-straights-queers-old women-toddlers together. It's a fun event that changes month to month with fresh inventory -- and it's a great show that is f**king fun and positive!"
The next Alotta Stuff Live Auction will take place at Metropolitan bar in Brooklyn on Feb. 20. The auction starts promptly at 9 p.m. and will be followed by Merrie Cherry's DRAGnet. Check out the Alotta Stuff Facebook page for more information.
Missed the previously featured drag performers and installments in this series? Check out the slideshow below.
Before You Go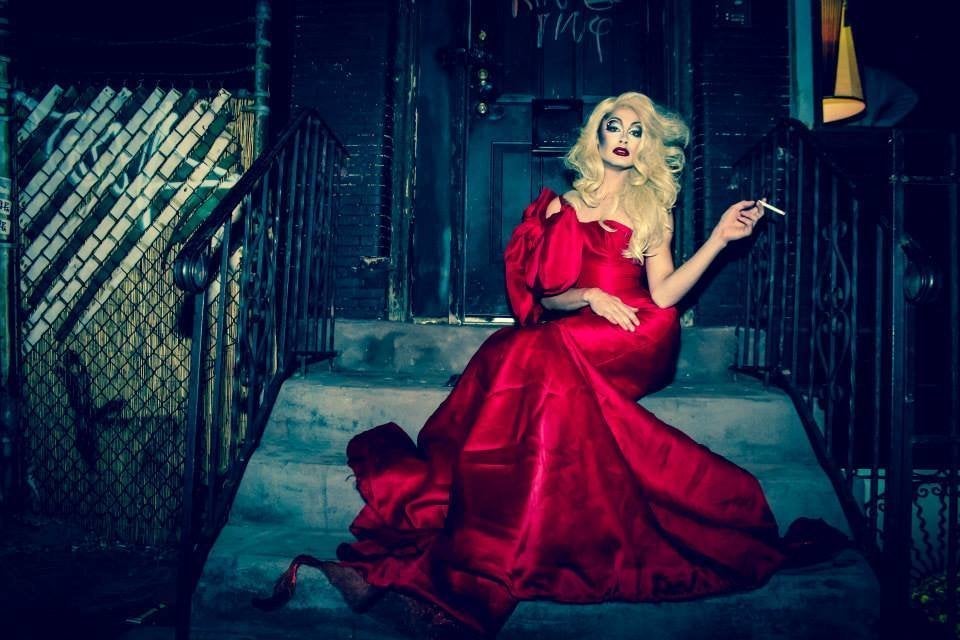 Queer New World: Brooklyn Drag Culture
Popular in the Community