But last weekend, the men of Alpha Phi Alpha, a historically black intercollegiate fraternity, proved this is not the case.
Nearly 300 men marched in the freezing rain and snow in Chicago's Chatham neighborhood on Saturday to demand an end to violence in their community. Joined by Alderman Michelle Harris and Illinois state Reps. Marcus Evans and Elgie Sims, all Democrats, the fraternity marched down 79th Street, where community members say a gang war is raging.
According to the Chicago Tribune, Chatham has the 16th-highest violent crime rate of any neighborhood in Chicago.
"We wanted to show that the community was not giving up," said Sims, who is a member of Alpha Phi Alpha and currently represents Illinois' 34th District, which includes portions of the South Side of Chicago. "We wanted the business owners to know that we stood with them and we were going to be there making a statement, standing with them, to encourage patrons to patronize those businesses, to encourage people to feel comfortable and safe in their community."
The Rev. Roosevelt Watkins, pastor of Chicago's Bethlehem Star Missionary Baptist Church and a member of Alpha Phi Alpha, told the Chicago City Hall Examiner that the march's purpose was to "confront the violence on these blocks and to reinvigorate economic development on 79th Street."
"Black business owners, residents, were coming outside of their homes, opening their windows, customers were stepping outside of their shops," Lamar Brown, a law student who participated in the march, told The Huffington Post. "They were applauding us, yelling 'Good job,' clapping. Even people in cars were stopping their cars, giving us thumbs up. I think the effort itself was really embraced by the community."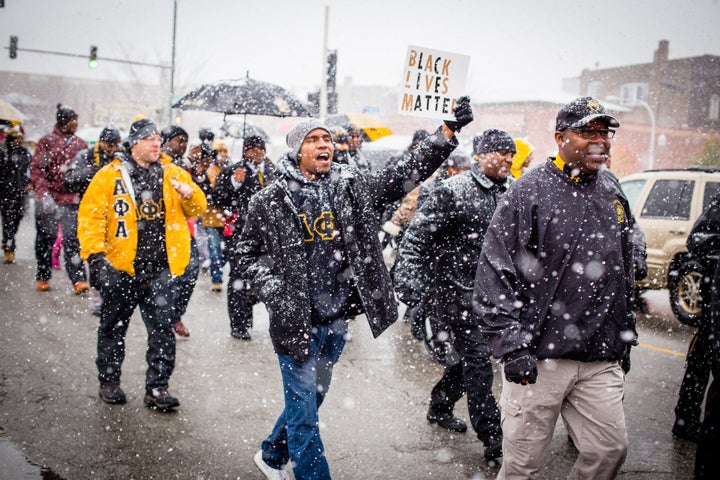 The march focused on general violence in Chatham, but it occurred as community members wait for police to release footage from 17-year-old Laquan McDonald's fatal October 2014 shooting. A police officer reportedly shot McDonald in the back 16 times. According to ABC 7 Chicago, the city has until Wednesday to release the dash cam video of the shooting.
"There's a civil unrest in Chicago right now," Danny Mason, a financial aid advisor at DePaul University and one of the march's organizers, told HuffPost. "There was something that needed to be done."
He said that marching through Chatham was intentional.
"That was the neighborhood that people were saying was the neighborhood to be aware of, and this was also the neighborhood where a lot of incidents happened." Mason said. "We purposely chose this area to start the march to wake people up."
Accusations that Black Lives Matter protesters only speak out about police violence ignore the many marches that address high crime rates in black communities, which happen almost once a week in Chicago and in predominately black cities across the country.
As author Ta-Nehisi Coates has also noted in The Atlantic, comparing police killings to violence within the black community is a false equivalence:
To the extent that killings by the police generate more outrage, it is completely understandable. Police in America are granted wide range of powers by the state including lethal force. With that power comes a special place of honor. When cops are killed the outrage is always different than when citizens are killed. Likewise when cops kill under questionable terms, more scrutiny follows directly from the logic of citizenship. Great power. Great responsibility.
Violent crime is based on proximity as well. Nearly 91 percent of black victims are murdered by black offenders, while 83 percent of white victims are killed by another white person, according to FBI homicide statistics.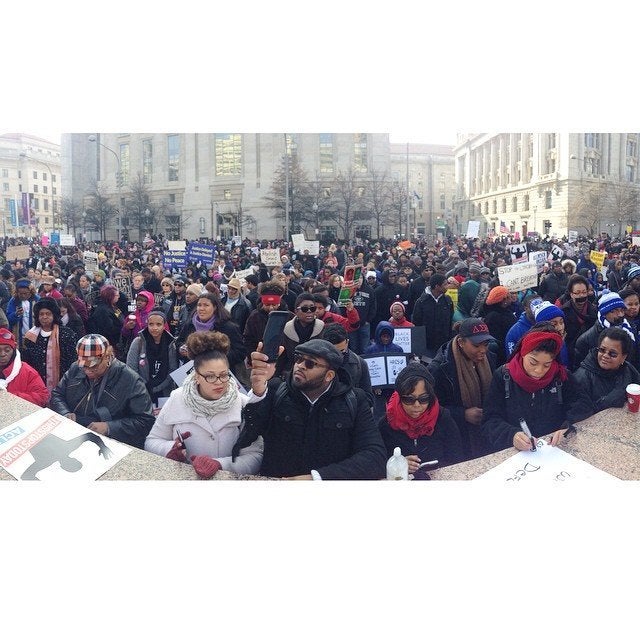 Powerful Black Lives Matter March In Washington
Popular in the Community