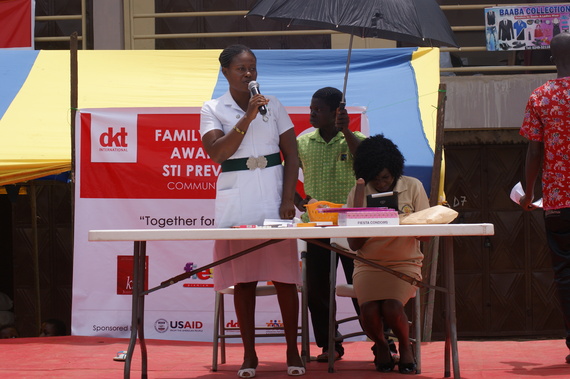 A DKT Ghana midwife advising on family planning at a community gathering in Mpraeso, in the Eastern region of Ghana.
ACCRA, Ghana -- Although West and Central Africa is an underachieving region in terms of family planning compared to the rest of the continent, Ghana is the family planning star within that region: It has a higher rate of contraceptive use than all the other 24 countries except the island nations of Cape Verde, and São Tomé and Príncipe.
However, Ghana - with 29 percent of married women using modern contraception, is still much lower than Eastern Africa (37 percent) and Southern Africa (59 percent), according to the 2016 World Population Data Sheet. The fertility rate has barely changed since 1998 and more than 1 in 3 pregnancies are unplanned.
Last month, I visited Ghana to see how the country is faring in terms of of its commitment to family planning. Until recently, Ghana had one of the fastest growing economies on the continent. That fact and the peaceful transfer of power in 2008 were recognized by President Barack Obama in 2009 when he made Ghana the first stop of his first visit to Africa as president. Recently, however, the economy has stagnated.
World Contraception Day on Sept. 26 provides a good opportunity to reflect on the current situation in Ghana and how matters can be improved to enable every Ghanaian woman who wants contraception to have access. The government has set an ambitious goal of reaching 50 percent of married women with modern contraception methods by 2020.
There are several reasons the contraception rate is not higher, but certainly myths and poor knowledge of contraceptives play a large role, including the myth that contraceptives can damage a women's health.
•Improve the health of women and children;
•Speed up social and economic growth and development; and
•Help reduce poverty
Furthermore, family planning has been proven to be one of the most cost-effective health interventions: It improves the economic well-being of families, communities and nations. Family planning is considered a "best buy," and would save Ghana $2 for every dollar spent on family planning, according to the Health Policy Project of the Palladium Group.
This video from Population Reference Bureau shows how Ghana has reduced its overall adolescent childbearing rate since 1988 but the drop has been much less among the poorest women: "So while Ghana has made tremendous progress in reducing its adolescent childbearing over time, it is critical to target the most at-risk populations, including young women from the poorest households, out-of-school adolescents and those living in rural areas."
I visited one organization in Ghana that is trying to target those at-risk populations. Nonprofit DKT Ghana, an affiliate of Washington DC-based DKT International, came to Ghana in 2011 to try to change the family planning paradigm. Using social marketing, it has launched Kiss and Fiesta condoms, Lydia oral contraceptive and emergency contraception, Lydia Safeload intrauterine devices (IUDs), Famplan injectables and Jadelle implants.
Using a mix of hard-hitting advertising and person-to-person education and promotion, DKT aims to make affordable contraception as easily available as tea, sugar and Coca-Cola.
They are also trying to make condom use safe and sexy, such as in this TV spot from 2014, and this one, which riffs on the traditional pounding of fufu (a food staple of Ghana), in 2015. In their newest condom spot, they take a more serious look at the consequences of sleeping with someone who has multiple partners in their past.
In a series of videos promoting their Lydia brand of oral contraceptives and IUDs, DKT targets three distinct kinds of women -- a student, a hairdresser and a corporate executive with different messages that speak to each group.
On Sept. 26, World Contraception Day, DKT Ghana will launch a new campaign called "I Plan," which will feature 15 mini videos. Those videos will be available here starting on Sept. 26.
In 2015, after only four years, evidence shows DKT Ghana averted an estimated 97,000 unwanted pregnancies, 310,000 unsafe abortions and contributed 33% of Ghana's contraceptive prevalence rate.
If the government, NGOs like DKT and other partners can motivate Ghanaian women to adopt contraception and reach the 50% target for modern contraceptive use by 2020, the lives of many women and girls will be improved and saved.
Related
Popular in the Community