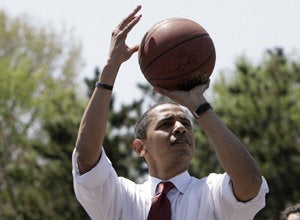 They were dancing in the streets from Paris to Nairobi in the pre-dawn hours of Wednesday. From Kabul an e-mail arrived with its own hope for a brighter future. Even from Sweden, a message that "it's Obama-mad here although expressed in that subdued Scandinavian way."
But as quickly as the euphoria arrived like a breath of fresh Fall air, already the Winter chill is setting in. The talk on French radio this afternoon is, "what's the agenda, who's on his team" -- effectively where's the beef.
Indeed almost from the get-go, joy was not universal around the world. The grinches would be heard as well. In Moscow, President Dmitry Medvedev, having postponed his state of the nation speech to the Duma until America's morning-after, offered no congratulations, no warm hand (at least not in public) to the new president-elect of what Russia sees as its greatest competitor for the mantle of superpower in the 21st century. Instead, he blasted America's aggressive selfish policies, while announcing he'd be deploying Iskander missiles in Russia's Kaliningrad region between Poland and the former Soviet republic of Lithuania on the Baltic Sea, along with equipment to jam operations of missile defense systems the U.S. plans to deploy in Poland and the Czech Republic.
Medvedev left to a separate telegram his congratulations for Barack Obama on his election victory, adding he hopes for a "constructive dialogue."
Still, on the stage of the 92d Street Y last night, Nina Khrushcheva, great granddaughter of Nikita Khrushchev warned that Russia may still be an evil empire. Earlier in the day, she had cast her first ballot as a newly-minted American citizen, she told an audience assembled Tuesday evening to hear writers and editors of World Policy Journal. But, she suggested, the ghosts of the Soviet era are gone, if not forgotten.
From Afghanistan, which the former Soviet empire sought to bring to heel and which instead led to its downfall, came a heartfelt hope, a personal e-mail from a young Afghan translator, that the age of Obama will only be the start of a new spirit in some of the parts of the world that all but lost hope in the face of American arms:

"With the hope of having a peaceful and successful presidential election in Afghanistan in the near future we, the open-minded youth and hopeful Afghans, feel ourselves part of this worldwide democratic success and celebration and I am wholeheartedly happy for all the Americans and Obama. This should be our yell too that, YES WE CAN, have a better Afghanistan."
On Wall Street, euphoria yesterday came back down to earth today. With bad employment numbers already trickling through the system, markets gave back all their gains from yesterday--and then some. "The rally has already taken place as polls made it clear who would be elected,'' Gilles Fleckenstein, chief executive officer of BNP Paribas Asset Management in Paris, told Bloomberg News. "Now, people will wait to see what happens. We're in the heart of the recession now.'"
Recession and jobs, Iraq and Palestine, Russia and Georgia, Iran and North Korea, nuclear proliferation and global warming overshadowing a new feeling, now, abroad and at home: "Yes we can"--all this a tribute at once to just how far America's President-elect has come, yet how far he still needs to go. As Le Monde headlined this morning, quoting from Obama's acceptance speech: "A ceux qui doutent encore de l'Amérique, ce soir j'apporte la réponse." But it was the newspaper's lead editorial that said it all: "L'homme qu'il faute," literally the man who is required.
Required, indeed, by a world that has suffered too long, too deeply at the hands of American leaders to fully trust a successor who they still hope passionately will demonstrate quickly and definitively that he can earn that trust.
Calling all HuffPost superfans!
Sign up for membership to become a founding member and help shape HuffPost's next chapter