Last year ALS, known as Lou Gehrig's disease, was very present in the public. People all over the world poured icewater over their heads in an unprecedented social media campaign, generating millions of dollars for ALS research. A film about Stephen Hawking, the most famous living ALS patient, ended up winning British actor Eddie Redmayne a highly deserved Academy Award. Yet for the lesser known victims of this terrible condition, the struggle for support continues as they battle with ALS daily.
The most remarkable such battle I have come across is that of my high school classmate Jason Pillow, a 32 year old man from Columbia, a small town in Tennessee.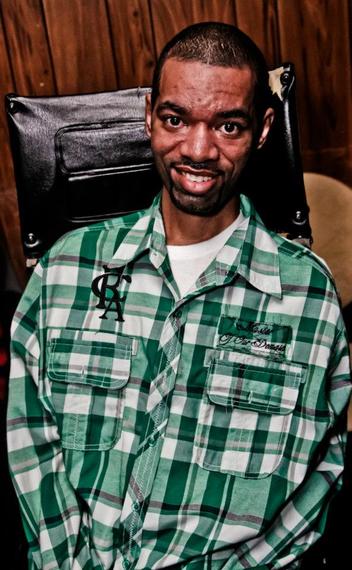 als, ice bucket challenge, stephen hawking
Like Stephen Hawking, Jason suffers from a rare early onset form of the disease. Diagnosed in his early 20s, Jason never expected to see his 30th birthday as the grueling process of deterioration began to cripple his body. However, unlike any ALS patient I have heard of, Jason describes the disease as his salvation.
To explain this, let me tell you a little bit about his story. Jason grew up in the projects, surrounded by abject poverty, gang violence and drug abuse. He sold his first crack rock at the age of 8 and witnessed his first murder at 9. Even though he put his hopes into working hard at school and playing football, his dreary environment caught up with him over and over again. He was still in high school when he got arrested and sentenced to over 70 years in prison for being present during a home invasion.
It was behind bars that Jason began to experience the first symptoms. While writing to his family, he noticed that his hand started shaking. The condition worsened, and Jason was diagnosed with ALS. As the disease progressed, it became impossible to provide him with the proper medical attention in the penitentiary. Jason was released. But that is not the only salvation he is thankful for. The less control he had over his body, the more he rediscovered his hunger for learning. In studying tirelessly and looking for opportunities to share his story, Jason found a purpose that has kept him going. An inspiration to many in his area, he wants to educate young people to choose a better path in life than the one he got on.
But the disease is strong, and without access to the means of someone like Stephen Hawking, Jason is in bad need of better care and living conditions in order to continue with his important mission. That is why his family and friends, have set up a GoFundMe campaign for Jason Pillow.
The family would like to thank you in advance for your contribution.
Calling all HuffPost superfans!
Sign up for membership to become a founding member and help shape HuffPost's next chapter