There's something about the experience of gathering together to watch a movie, of whatever kind, that induces pleasure and camaraderie. It's one of few shared social activities that still bind us culturally. Maybe that's why I've been drawn to film and video venues lately since I find they create a much more convivial atmosphere than museums and galleries typically do. There's more of an effort, and a desire, to create an environment where an audience of strangers can become a network of colleagues and friends.
I've selected three examples I feel are particularly devoted to community-building with programs that are innovative, challenging and diverse. All are run-on shoestring budgets by brilliant people who don't do enough to toot their own horn because they're too busy serving others. Offering public screenings, workshops, panels and/or talks that are often cheaper than the average movie ticket (and far more rewarding), they give film and video artists -- which the art world still treats as poor relations -- a rightful place at the table.
As is the format for this series, I begin with a brief bio introducing each organization, followed by a set of questions devised to highlight their mission, exemplary projects and distinguishing characteristics. I hope you'll check them out and support what they do! (And as I do this series purely as a public service, don't get paid to write here, please show your love and "like" my page/the article too!)
LIGHT INDUSTRY:
Thomas Beard is a founder and director of Light Industry, a venue for film and electronic art in Brooklyn, New York. In addition to organizing screenings for Artists Space, the Centre Pompidou, the Museum of Modern Art and Tate Modern, he co-curated the cinema for Greater New York 2010 at MoMA PS1 and the film program for the 2012 Whitney Biennial. His writing has appeared in Artforum, The Believer, Film Comment, October and Triple Canopy. He currently teaches in the MFA program in Art Criticism & Writing program at SVA.
Ed Halter is a critic and curator living in New York City. He is a founder and director of Light Industry, a venue for film and electronic art in Brooklyn, New York, and his writing has appeared in Artforum, The Believer, Bookforum, Cinema Scope, Frieze, Little Joe, Mousse, Rhizome, Triple Canopy, The Village Voice and elsewhere. He has curated screenings and exhibitions at Anthology Film Archives, Artists Space, BAM, the Flaherty Film Seminar, the ICA, London, the Museum of Modern Art, the New Museum, Participant, Inc. and Tate Modern, as well as the cinema for Greater New York 2010 at MoMA PS1 and the film and video program for the 2012 Whitney Biennial. He teaches in the Film and Electronic Arts department at Bard College, and is currently writing a critical history of contemporary experimental cinema in America.
GENDER REEL:
Vega Darling is a punk-rocker-turned-filmmaker. He has deep roots in riot grrrl. He co-founded Atlanta Riot Grrrl in the mid '90s, managed the first riot grrrl/queercore band out of the American South, Pagan Holiday, and wrote several zines in the '90s and early 2000s. Vega has spent 20 years creating space for the underdogs. He has organized feminist, queer, trans and punk festivals, events and conferences including Ladyfest Bay Area (2013), Philadelphia Trans Health Conference (2004-2009) where he designed the first of its kind trans youth and family programming, when he first began collaborating with Gender Reel co-founder, Joe Ippolito. Filmmakers Vega Darling and Joe Ippolito, teamed up combine their interests in film, event planning and trans community building to bring together Gender Reel.
Currently Vega Darling is the Creative Director for Gender Reel Film Festival, and the Director of the riot grrrl documentary, GRRRL. GRRRL is a documentary that explores riot grrrl from the initial spark to modern manifestations, mass media co-option and the impact on culture. By taking a step away from the mass media portrayal of riot grrrl, Vega Darling has opened channels to telling a collective story in a non-hierarchical approach, allowing space to use his lens as a microphone, he invites in the voices of the many to tell the story of riot grrrl.
UNION DOCS:
Christopher Allen is the founder/director of Union Docs. After graduating from Columbia University and studying at Trinity College Dublin, Allen worked as a social entrepreneur, documentary director and new media artist. His individual works and collaborative projects have been exhibited at the MoMA, Harvard's Carpenter Center for Visual Arts, the Volksbühne Theatre, DirektorenHaus in Berlin, Independent Film Week, Sonár, DIVA and Conflux Festivals among many other venues. He directed the interactive documentary Capitol of Punk, which was part of "Design and the Elastic Mind" at the Museum of Modern Art. Allen was founding partner of Counts Media, and played a leading role in the invention and execution of many art and entertainment concepts there -- such as "The Ride NY," a live theatrical and cinematic experience on the streets of the city, and "Yellow Arrow," a place-based storytelling project exhibited online and in galleries and museums internationally.
JUH: What motivated you to start your alternative enterprise, and how do you feel it relates to traditional/historical counterparts -- on the Internet, outside the U.S. and otherwise?
LI: We first had the idea to start Light Industry back in 2007, and there were a number of factors that contributed to its development. Both of us were veteran film programmers who weren't currently working on any major projects, and we felt there was a dearth of venues for the kind of cinema we were interested in -- around New York generally, but more specifically in Brooklyn. Then as now, there were any number of venues showing film and video around the city, but in social settings that didn't overlap nearly enough: Cinephiles didn't necessarily travel to see new work in galleries, the art world wasn't always on top of what was happening at, say, Anthology, and so on. We wanted a space that would serve as a crossroads between these communities. What really motivated us, though, was at Orchard on the Lower East Side, an exhibition about the history of one of New York's most remarkable alternative spaces, the Collective for Living Cinema, which ran from the late '70s to the early '90s. Rediscovering the programming of the Collective was a formative inspiration. We admired their Catholic taste -- the Collective showed everything from Oscar Micheaux movies to structural film to activist documentary -- and it made us consider how sustaining a space like that over time could make such a crucial difference to film culture as a whole.
GR: Gender Reel was initiated in 2010 to showcase art by and for transgender and gender-variant individuals. In the media, trans people are often negatively portrayed as crazy, predatory, depraved, dangerous or desperate. By building a platform to feature works by and for trans people we've created an outlet for positive and realistic portrayals of our trans experiences, as well as a place to celebrate and forge our community.
UD: The early motivation behind UnionDocs was to explore the intersection of politics and art. We were interested in how recording events, representing experiences and relaying stories in formally adventurous ways could open up new conversations, understandings and connections. Curiosity was really the driver, and a desire to encourage thorny critical debate in a public setting. Facilitating that open discussion between artists and audiences has always been as important for UnionDocs as the presentation and production of work. It is exciting and productive, I think, to have an in-between space that is engaged with the industry of documentary production and distribution that also takes academic discourse seriously, but is not fully committed to either. There are a lot of precedents for UnionDocs work that we draw from: artist-run centers, cinema clubs and DIY spaces for collaborative production. I think we share a common goal to create a strong and engaged community.
JUH: What's an exemplary project/program you feel particularly reflects your mission/interests?

LI: We strive to bring together a wide range of artists and audiences within the city, and that felt especially successful at Wayne's show. The event consisted of a number of films and videos, all relating in some fashion to the concept of the screen test, punctuated by readings and commentary from Koestenbaum. We presented one of Andy Warhol's screen tests of Susan Sontag; George Kuchar's I, An Actress, where the director comically coaches his prospective starlet through a scene; Judy Garland's wardrobe test for Valley of the Dolls, made not long before she was fired from the production; Eileen Maxson's "Tape 5925: Amy Goodrow," a video performance staged as a reality show audition tape; and McDermott and McGough's Alice Campbell's Hollywood, 1938, which is a kind of faked artifact -- a 16mm reel that seems to be a classical Hollywood screen test of various child actors from the 1930s, even though it was actually produced half a century later. So the lineup included Hollywood and the underground, the legitimate and the illegitimate, the recent and the repertory. And then there was Koestenbaum himself, a poet and a critic, emceeing the whole affair, explicating the individual pieces and revealing their uncanny correspondences. The collision of those disparate materials was extraordinary, full of all the dialectical sparks we hope for in all our programming.
GR: Christopher Lee brought us the first of its kind with the San Francisco Transgender Film Festival. Gender Reel recognized that there was an overall lack of celebration of trans people in the arts. We set out change that by bringing trans film and art to the community. It is the only national film and arts festival dedicated to enhancing the visibility of gender non-conforming and transgender people, images and experiences. In just 4 years we've grown to a 10 city film festival.
UD: UnionDocs is based in the Southside of Williamsburg. We have been operating in this neighborhood since our grassroots start in 2005 and we have a lease through 2021 on the building. While our interest in the field of documentary art is international, we are also very committed to the impact we can have locally. Living Los Sures, a multi-year project that we've been working on with our collaborative studio, is the activity that best expresses this intention.
In the late '70s and early '80s, the Southside of Williamsburg -- a.k.a. Los Sures -- was one of the poorest neighborhoods in New York City. In fact, it had had been called the worst ghetto in America. Because we regularly show films, we were introduced to Los Sures, a documentary about the neighborhood from 1984 by Diego Echeverria. The film is a super interesting window into the past. It represents the challenges of that time; drugs, gang violence, crime, abandoned real estate, racial tension, single parent homes and inadequate local resources. At the same time, it really celebrates the vitality of this largely Puerto Rican and Dominican community, showing the strength of their culture, their creativity and their determination to overcome a desperate situation. UnionDocs has partnered with Echeverria to revisit this powerful film and pursue four primary goals:
Restore the original award-winning film, which is currently at risk of being lost. Bring it back to life and make it accessible to the public for the first time. Work with the local community to update, annotate and challenge the narrative through a participatory online platform.
Facilitate a process where artist fellows in the UnionDocs collaborative studio will create 30 media projects that provide insight about the community today.
Expand the experience of the original through deeply interactive audio/visual experiments that make artistic use of the web.
Use the energy around the project to help activate the community and engage vital local civic issues for a more sustainable future.
It's an expansive project. We've been working on it for over three years with about 40 artist fellows. 2014 is the 30 year anniversary of the original film. We plan to launch the web documentary site in the fall and kick off a tour that will combine the restored film and some of the new documentary projects, along with a lot of local activity.
JUH: How does your organization distinguish itself from others? What does it provide/offer that makes it most valuable in your estimation?
LI: Well, in a sense, what we are offering isn't that different from what has come before. Light Industry is a venue that reduces the cinema to its most essential elements -- a grid of folding chairs, a bare wall as a screen, a projector -- and you could say that this set-up hasn't changed much since its inception with the cine-clubs of the 1920s, or, for that matter, nickelodeons. But what we are deeply engaged with is how to bring this tradition forward to continue it into the 21st century, not as some sort of nostalgic revival, but rather in ways that make sense for the contemporary moment. Our project is about testing the outer limits of cinema, which could mean reviving the radical projects of, for instance, '70s feminist counter-cinema, or inviting a contemporary theorist like Alexander R. Galloway to lecture about digital interfaces as political allegories. And this all takes place in an intimate setting, where we can remember that the cinema is, fundamentally, a social space.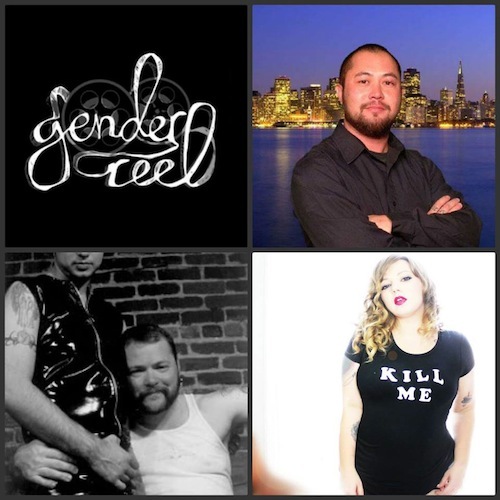 Trans pioneer filmmaker Christopher Lee; promotional shot from Alley of the Tranny Boys, 1998 (top right); Promotional shot for Sex Flesh in Blood, Photo by Shivaun Nester, 1999 (bottom left); Courtney Trouble, Courtney Trouble 2013 (bottom right)
GR: Gender Reel is a film festival unlike any other, a celebration of transgender lives and their contributions to art. We responded to transgender disenfranchisement by bringing a new way to build community through the presentation of positive media. We take a grassroots, DIY approach to production and invite the community to help organize our events under the direction of our board. Teams in all 10 cities are working in tandem to bring the festival to a broader audience that wouldn't otherwise see the works of our filmmakers and artists. Official selections of Gender Reel are screened in multiple cities creating an opportunity for greater exposure for the artist. We believe in accessibility and are committed to offering a free, all ages event at every Gender Reel Festival.
UD: UnionDocs applies a much more broad definition of the term documentary than it is conventional, and we welcome challenging, fresh work in disciplines beyond film and video. Almost every weekend, you can see and hear multiple exciting projects at our space that you won't find elsewhere. The program always brings together the creative voices behind the work -- the director, photographer or editor -- into conversation with experts, academics, authors and other artists who bring their own perspective and experience. It's an intimate and welcoming space, so hopefully you'll feel encouraged to participate in that discussion.
For documentary makers, our collaborative studio is a unique opportunity. It is a 10-month program for a group of international media artists that is both a platform for exploring contemporary approaches to the documentary arts and a group process for developing a collection of nonfiction works. The program consists of weekly production meetings, seminars, screenings and other public programs, along with regular masterclasses and critiques with visiting artists. Rather than applying with a single project proposal or rough cut, all participants are selected on the basis of previous work and enter the program at square one, open to discovery and fresh connections. We will be opening up applications early next year and you can get more info here.
Support HuffPost
The Stakes Have Never Been Higher
Related
Popular in the Community