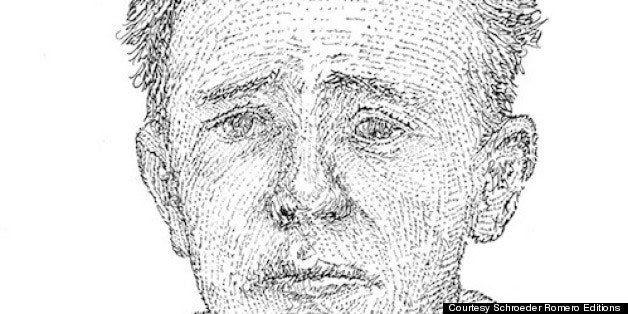 As most people know the gallery world in NYC has bored me to tears for years, largely because of its increased irrelevance to meaningful cultural practice -- the whole concept of fine art, for example, seems incredibly dated -- and its generally apolitical stance. Best evidenced by the boutique model of discrete objects sold at inflated values in hallowed spaces (ala John Currin's 1991 Bea Arthur Nude painting recently selling at auction for $1.9 million), and the virtual disappearance of art sections in most major newspapers, the problem for me lies in a lack of larger public engagement, and the way this enhances the art world's reputation for insularity and elitism. So what to do?
Well, rather than complain and rail, I myself have just quietly continued to intersect with, and support those artists, shows, venues, etc. that still move me, feeding my endless curiosity for what grows in the margins and shadows. Of course, back in the 1980s, when I came of intellectual age, the whole idea of margin versus center -- and the "alternative" models it subtended -- held more sway than it does today, where a lateral (digital) paradigm of culture -- ala the information highway -- suggests instead an endless scroll of parallel access.
Still, as the art world continues to adjust to this lateral shift, particularly in the aftermath of economic collapse, Sandy and the constant erosion of faith in its democratic potential, it seems worthwhile to foreground elements that offer a way out of the cynical distancing that has left many of us bereft of hope for contemporary art in NYC. All this to say, by way of my meandering prelude, that I intend to start doing exactly this: featuring examples that come across my path in a bi-monthly column where each profiled example answers the same set of questions designed to highlight motivations, exemplary projects and defining features. I will include non visual art examples as well to broaden the scope, and emphasize the importance of inter/trans/cross-media, which IMHO is where the future (once again) lies.
Here's a brief outline and bio of each example/founder(s), followed by answers to each question.
**Founded by Richard Nash, Red Lemonade is an online publishing community of fiction and highly narrative non-fiction where community members publish their work, and the public can read, comment and even annotate via the home page of the manuscript or by simply highlighting a word, or sentence of paragraph. It utilizes Cursor, the inventive social platform that "combines traditional editorial discrimination with the wisdom of the crowd."
Nash, is also VP of Community and Content at Small Demons, and previously ran the iconic indie Soft Skull Press, editing and publishing books that landed on major bestseller lists in the Boston Globe, The Guardian, Los Angeles Times, etc. In 2010 the Utne Reader named him one of Fifty Visionaries Changing Your World and Mashable.com picked him as the #1 Twitter User Changing the Shape of Publishing. He has spoken at universities, festivals, conferences and symposia around the world on the history and future of writing, reading and publishing, and was awarded the Association of American Publishers' Award for Creativity in Independent Publishing.
**Schroeder Romero Editions was founded in 2012 by Lisa Schroeder and Sara Jo Romero with the aim of producing exclusive, hand-selected, high quality editions and multiples at affordable prices. "In 2001 Lisa Schroeder and Sara Jo Romero also founded the contemporary art gallery Schroeder Romero. Originally based in Williamsburg, Brooklyn, the gallery relocated to Chelsea in 2006. The mission of Schroeder Romero has always been to promote work of emerging and mid career artists, concentrating on solo exhibitions of local, national, and international artists. Our artists and gallery have been featured in articles and reviews in The New York Times; The New Yorker; ARTnews; Wall Street Journal; Art in America; Artforum; Art Monthly; artnet; Bloomberg; The Brooklyn Rail; Huffington Post; Art Economist; T, The New York Times Style Magazine; Hyperallergic; The Art Newspaper; Sculpture Magazine; Tema Celeste; Time Out New York; Contemporary; Flash Art; New York Observer; Modern Painters; Cool Hunting; and The Village Voice among others."
**Auxiliary Projects is a collaborative project space founded and run by two multidisciplinary artists, Jennifer Dalton and Jennifer McCoy. Each month, Auxiliary Projects works closely with an artist to create a series of small hand-made multiples conceived to exhibit in concert with the artist's larger works. These auxiliary objects are made available for sale at a price no higher than $300 with the goal of facilitating wider distribution for artists' work, and to enlarge the community of people who can collect art.
Jennifer Dalton is best known for artwork that turns data about our culture into information-driven sculpture, drawings and installations. Her event based #Rank and #Class projects created in collaboration with the artist William Powhida facilitated dialog about issues of access and inequity in the art world. She is represented by Winkleman Gallery in New York. Notable exhibitions include solo shows at the Flag Art Foundation, the Armory art fair and Smack Mellon in New York and group exhibitions at Ballroom Marfa, Marfa TX, and the Kohler Institute in Sheboygan, WI.
Jennifer McCoy's work is made in collaboration with her partner Kevin McCoy. The McCoys' works explore both time-based and physical reality. The McCoys are perhaps best recognized for constructing subjective databases of film and television material and for creating miniature film sets with live video cameras. They are represented by Postmasters Gallery in New York and by Guy Bartschi in Geneva. Past solo shows include the British Film Institute, London, Sala Rekalde, Bilbao and the 21C Museum, Louisville, KY. Group exhibitions include venues such as MUDAM, Luxembourg, the Site Sante Fe Biennial and the Museum of Modern Art.
JUH: What motivated you to start your alternative enterprise, and how do you feel it relates to traditional counterparts -- on the internet and otherwise?
RL: There were two dimensions to the motivation -- one was to test out hypotheses around how "traditional" indie publishing would function in the decade to come, and the second was to see if we could in effect "bottle" that, and use it to help a wide array of entities in their publishing. The latter didn't pan out -- the world is too various (and investors too parsimonious and disinterested) to build an institution around providing indie publishing with a set of tools and practices. However the hypothesis testing went quite well, though we weren't able to follow through and deepen the research in all the areas I would have liked.
SRE: It became increasingly clear over the last few years that traffic in the gallery dropped significantly. We think it is a combination of the proliferation of art fairs-with collectors and curators being pulled in many different directions and the internet has also changed the way people experience and buy art. Many of our sales were conducted by someone viewing a jpeg. Also the rents in NY have made difficult to continue to hold on to the traditional model especially when a gallery promotes and exhibits emerging artists. Sara Jo and I decided to start Schroeder Romero Editions because we love multiples and wanted high quality, curated and affordable editions that even artists could afford.
AP: We were motivated to open Auxiliary Projects because we wanted to create a platform for artists to spread their art and ideas more widely within an audience of people who don't usually buy art, including middle class people who can't generally afford to buy it and other artists who usually can't as well. We have only been showing solo exhibitions, and we work with each artist we exhibit to create a series of unique multiples and exhibit these works along with other larger-scale works. These "auxiliary objects" are priced no higher than $300, and usually significantly lower. By contextualizing these auxiliary objects within a solo exhibition of the artist's work, we present the cohesive vision of an artist we admire and facilitate the spread of that vision to new communities through people who aren't usually able.
JUH: How does the following project reflect your mission/interests?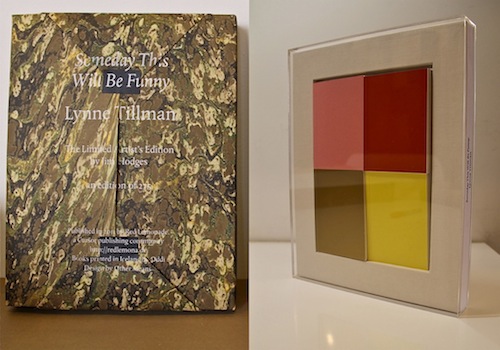 RL: Two-fold. In the first, more technical or business model instance, it is an effort to try to capture more of the value and more of the intensity created by literary endeavor. I believe that a single instance of a book limits both the amount of money and the amount of engagement that exists around it -- the old hardcover and paperback model in publishing, and the burgeoning multi-format approach to releasing records by bands offer directions in that regard and I wanted to make that a little more explicit. In the second, it was more artistically/culturally driven. Take an opportunity to test the boundaries of what is considered a book, not just digitally, as some many are focused on doing right now, but physically. This project disassembles and reassembles the book an an object.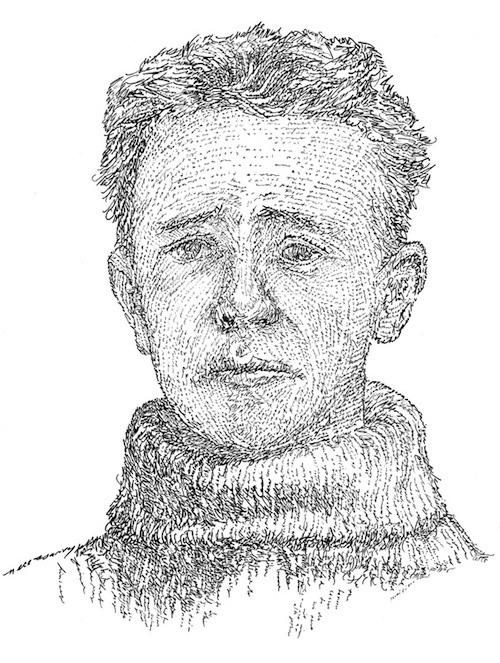 SRE: Michael Waugh's silkscreen print is the last segment of the book The Wealth of Nations by Adam Smith. This is part of a much larger series in which he incorporated all of the text from the book. It was important to him to have an extremely affordable piece in that series since the book deals with wealth, prosperity and the 1 percent. His silkscreen is in an edition of 99. Art for the 99 percent.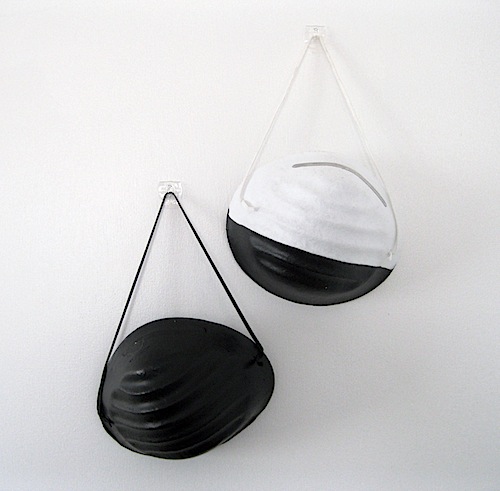 AP: We are primarily interested in idea-based work and processes. Conceptually, we are often drawn to artists who mine their daily life and culture and make a strong social argument through compelling objects. In Arielle Falk's work there is a critical perspective elegantly wrapped within her strong aesthetic vision. Her exhibition "Breathe in, Breathe in" uses fresh air as a metaphor for consumer desire, and then sucks all the air out of the room with 3-D printed white plastic plants, dust masks dipped in black rubber and oscillating fans with the blades cut out.
JUH: How does your org distinguish itself from others: what does it provide/offer that makes it most valuable in your estimation?
RN: I don't think of us so much as having a quality that distinguishes us from others, though all publishers have so many ways in which they are distinct from one another, just like human beings. What I think we offer is a model or a vision that other publishers can embrace some, all, or none of as they plot their own course through the culture. That model, at its core, believes that all its readers are also its writers, and all its writers are also its readers. What that means in practice, in terms of how submissions work, in terms of how particular projects end up in print format, or not, end up being distributed into the traditional book supply chain or not, end up as artists editions or not -- that can vary so much according to the exigencies of the moment, that it doesn't really matter. It's just seizing opportunities and is functionally random. But the vision is not random. It's very directional. And a direction we all can (and do, to some degree) follow...
SRE: What sets our site apart from those that are run by tech wizards is that Lisa and I have decades of experience as gallerists and we bring that to the editions and multiples that we choose. Each edition is exclusive to SRE and must be connected the the artist's larger body of work. We hand-select each and therefore it is something of a curated project as opposed to a faceless, soulless ecommerce site. ie. we stay away from the ink jet prints/poster shop kind of model. For example, Michael Waugh's print is silkscreen on mylar in keeping with his original works, which are on mylar as well.
AP: Traditional galleries do many important things we can't do: they represent a group of artists and guide their careers. Consequently they have much higher overhead costs than we do. We are both artists and we run the gallery from that perspective. Auxiliary Projects doesn't represent artists; we see the gallery as a project space and an experiment in an alternative art economy.
Popular in the Community