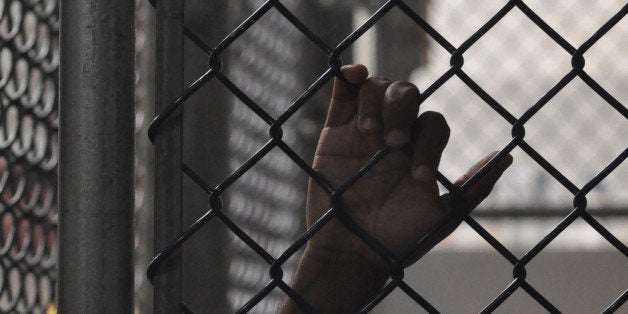 In her latest Fixes column for The New York Times, Tina Rosenberg explores the detrimental effects of keeping poor people behind bars before they are officially charged with a crime.
Approximately 62 percent of people in American jails are simply awaiting trial and haven't even been formally charged, she writes. The majority of these people will eventually be charged with low-threat crimes like shoplifting and public drunkenness, while many have a mental illness or are addicted to drugs or alcohol. Many don't have the money to post bail. "It makes their problems worse," Rosenberg writes.
Rosenberg proposes reforming the pretrial detention system, writing that it "should be reserved for flight risks or dangers to society," not just any low-risk offender who cannot afford bail. "Many detainees spend more time in jail before trial than the maximum sentence for the charge against them," she says. She cites one detainee, Kalief Browder, who was confined to Rikers Island jail because he could not afford his $3,000 bail -- costing the city a half million dollars just to keep him there. Browder eventually hung himself after spending three years in jail for a crime he was never charged of committing.
Rosenberg's overall argument is that keeping an alleged offender behind bars simply because they do not have the money to afford bail is a risky bet, with potentially disastrous consequences.
"The overwhelming evidence is that money bail is no better than other systems at getting people to come back to court," she writes. "Using money to determine who is detained allows those who are dangerous but rich to go free."
Rosenberg highlights two places that have come up with alternatives to locking up pre-trial detainees: Multnomah County, Oregon and the state of New Jersey. Both have significantly reduced the number of people detained before trial through juvenile detention alternative programs. In Multnomah County and New Jersey, authorities work to develop ways to monitor these alleged criminals within the community using "electronic bracelets, regular reporting to a caseworker, shelter beds, foster homes and a center where the police could take youths with minor offenses."
Research shows that the alternatives are working, saving cities money as well as dramatically lowering the rates of people re-offending or missing trial dates. And as the success of these areas is showing, other regions are catching on. There are now alternative programs to juvenile detention in about 300 counties nationwide.
The What's Working Honor Roll highlights some of the best reporting and analysis, from a range of media outlets, on all the ways people are working toward solutions to some of our greatest challenges. If you know a story you think should be on our Honor Roll, please send an email to our editor Catherine Taibi via catherine.taibi@huffingtonpost.com with the subject line "WHAT'S WORKING."
Related
Popular in the Community