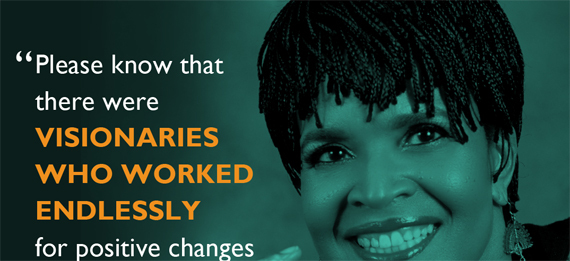 The following post is part of a series produced by The Huffington Post and Letters to the Future, in conjunction with the U.N.'s 21st Conference of the Parties (COP21) in Paris (Nov. 30-Dec. 11), aka the climate-change conference. Letters to the Future is a project produced by the Sacramento News & Review, the Association of Alternative Newsmedia and the Media Consortium, in which a variety of writers, scientists, artists, and others were asked "to predict the outcome of the Paris talks (the success or failure and what came subsequently) as if writing to their children's children, six generations hence." To view the entire series, visit here. Join the conversation on Twitter with the hashtag #LettersToTheFuture, and follow @ParisLetters. For more information on the project, visit here.
As we move toward the 2015 U.N. climate talks in Paris, my prayers are for you, your children and your children's children's children. May the outcome be in your favor; for your future. I pray that you will be blessed not only with a better world than we have today, but also the courageous wisdom to nurture and respect all living things. It is a privilege to inhabit the Earth; a gift we share with all other forms of Life. I pray that you will honor and protect this special treasure. I pray that you will see yourselves in one another, understand that we are all connected and move forward with love for humankind; for all living things. And although we have not always been kind, you can begin. Be kind. Humanity has repeatedly moved against itself toward destruction throughout history; rarely seeming to learn from past mistakes. Learn. Please know that there were also visionaries who worked endlessly for positive changes in this world -- changes to benefit the many, not just the few; you may have to do the same. Work.
And remember to pray for your children's children's children. Your prayers will be waiting for them when they arrive ... Pray.
Nitanju Bolade Casel is a member of the Grammy Award-winning troupe Sweet Honey in the Rock, an all-woman, African-American a cappella ensemble.
REAL LIFE. REAL NEWS. REAL VOICES.
Help us tell more of the stories that matter from voices that too often remain unheard.