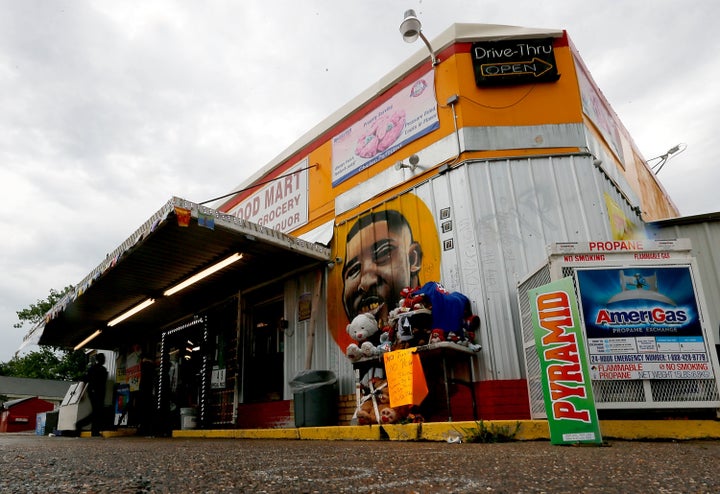 The five children of Alton Sterling, a black man who was shot to death last year by police in Baton Rouge, Louisiana, filed a wrongful death lawsuit Tuesday against the city, the police chief and the officers, alleging a history of excessive force and racism.
"This is not about whether the officers should go to jail," L. Chris Stewart, one of the children's lawyers, said at a news conference outside the 19th Judicial District Courthouse. "It's about resolving this case for the children who no longer have a father because proper procedures weren't followed."
The lawsuit, which seeks unspecified damages, names Baton Rouge Police Chief Carl Dabadie Jr. and officers Blane Salamoni and Howie Lake II as defendants.
The legal action comes more than a month after the Justice Department announced it would not file charges against Salamoni or Lake. Louisiana Attorney General Jeff Landry's office is conducting its own investigation to determine whether state criminal charges should be filed.
Sterling, 37, was confronted by the officers outside the Triple S Food Mart on July 5, 2016. The officers, according to police, were responding to a call about a man with a gun.
The suit states Sterling cooperated when approached by officer Lake and that it was Salamoni who displayed aggressive behavior.
The court documents allege that Salamoni:
"Pulled out his gun from his holster, pointed his service weapon to Mr. Sterling's head and yelled aggressively, with intent, 'Bitch, I will fucking kill you … I am going to shoot you in your mother fucking head.″
After deploying a stun gun and tackling Sterling to the ground, Salamoni, who claims Sterling reached for a gun, shot him a total of six times, according to the court documents.
Store owner Abdul Muflahi told HuffPost last year that he witnessed the shooting and did not see Sterling with a gun, but did see officers remove one from Sterling's pocket. A witness caught the shooting on camera.
The killing set off demonstrations, with people decrying police terror against black lives. The department was criticized for its handling of those protests, which included displays of military-style equipment and the use of ear-splitting sirens called LRADs. Officers were also accused of haphazardly pointing assault rifles at protesters and journalists.
The family's lawsuit alleges Baton Rouge has a "longstanding pervasive policy of tolerating racist behavior by some of its officers."
"There is an environment that is prevalent in the Baton Rouge Police Department that has allowed officers to not de-escalate," Sterling family attorney Mike Adams said Tuesday. "To use excessive force, to create and act upon racial bias. We want to be able to show that the city has a responsibility to fix this problem. We can't do anything to bring Alton Sterling back."
Officials for the city and the police department said they could not comment on pending litigation.
David Lohr covers crime and missing persons. Tips? Feedback? Send an email or follow him on Twitter. 
Calling all HuffPost superfans!
Sign up for membership to become a founding member and help shape HuffPost's next chapter
BEFORE YOU GO
PHOTO GALLERY
Alton Sterling Funeral