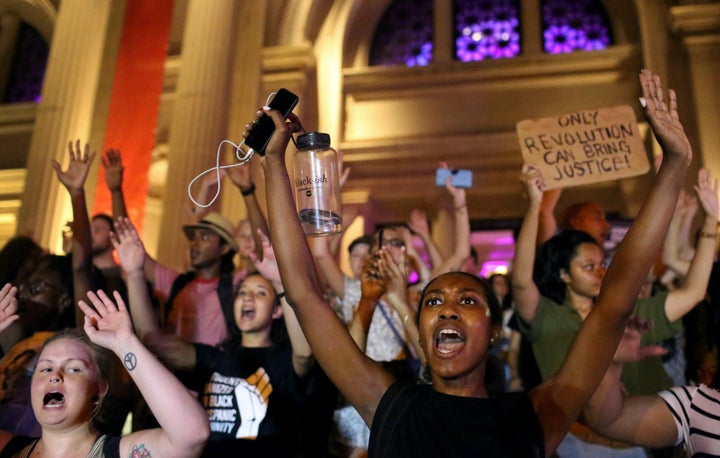 When

I

wrote

a sermon for Epiphany last year, it remembered Eric Garner. When I wrote a sermon for a job interview a few months later, it remembered Michael Brown. When I wrote a sermon for Thanksgiving several months after that, it remembered Laquan McDonald.
When I sat down to write this reflection, I couldn't remember.
I could remember the names. They came immediately to mind, but so did a cloud of others, and I realized I could no longer remember which death had happened when.
Eric Garner.
Michael Brown.
Laquan McDonald.
Trayvon Martin.
Freddie Gray.
Sandra Bland.
Tamir Rice.
Walter Scott.
Samuel DuBose.
Now Alton Sterling and Philando Castile join that list.
This list they join ― this list that refuses to cease growing ― is one far longer than the litany of names we have come to know since protests in Ferguson and New York forced us to pay attention. It stretches back and outward through countless thousand unremembered crimes. Crimes lost in moments cell phone videos couldn't capture: moments of all-powerful police and all-white juries and genteel public lynchings and rapist slave owners and ships built by white hands for twelve million African bodies.
It is the same list. We are right to be enraged, ashamed, shocked and horrified at the steady appearance of new names and new tragedies that are so very old in their sameness, but the list itself is nothing new. It is the unstopped bleeding of a wound that was opened by our earliest moments as a nation, and one that will not heal until we are willing to endure the pain of closing it.
The form this pain takes will differ for each of us according to our place in this unjust system. For those who are victimized by it, there will be pain of enduring denial and resistance and protestations that "all lives matter," as if that wasn't both self-evident and the entire, deadly point. For those who benefit from it, there will be the lesser pain of acknowledging that benefit, seeing and confessing complicity, and sacrificing privilege for justice and the greater good. And for all, there will be the defensive pain unfailingly delivered by hegemonic power when it is truly challenged. But in each case, this will be the pain of healing a wound that cannot go on bleeding.
Alton Sterling and Philando Castile will, in all dark likelihood, not be the last names on the list. Because the system will not yet have changed, there will be another, and soon. It will happen, and it will happen again, and we will rage again and we will mourn again.
In spite of this near certainty, we are compelled to emerge from our mourning and channel our rage. We are compelled ― whether by the radical love of Christ as Christians, by duty as democratic citizens, or by most basic morality as human beings ― to imagine a better world and act to make it so.
Against the weight of our history, despite the pain of our present, we are compelled by the ever growing multitude on the list to close the wound and make it stop.
Make it stop.
Popular in the Community