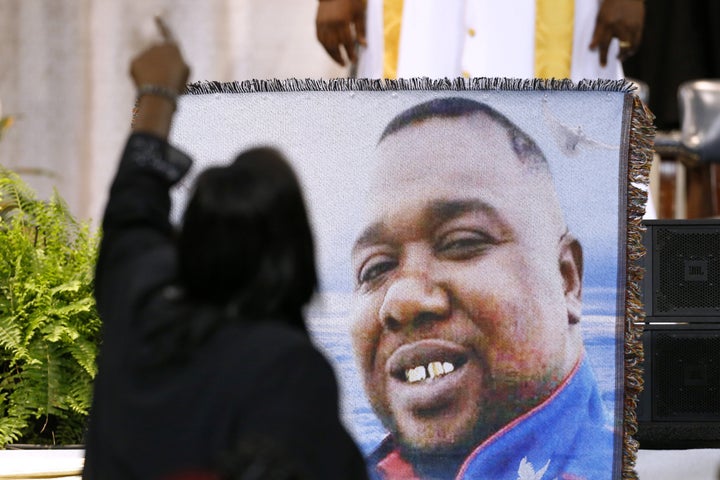 Alton Sterling's life and legacy were recognized Friday by hundreds who packed a Baton Rouge auditorium for a special memorial service.
Yet while the days after Sterling's death were filled with anger and outrage, on Friday pastors and speakers, including Rev. Al Sharpton and Rev. Jesse Jackson, among others, encouraged a spirit of praise and peace as they paid tribute to Sterling. The service was filled with powerful speeches, songs and poems, many of which included important messages on the need to end police killings of black men and women in America.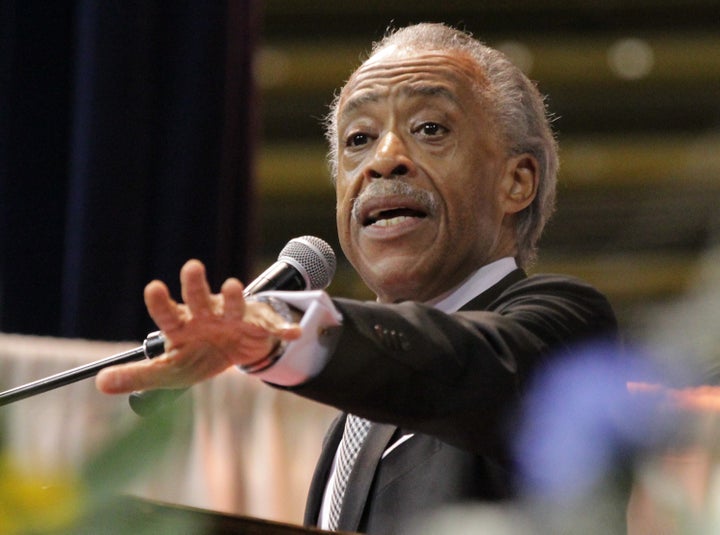 "We're not trying to convince you we matter. We know we matter," Sharpton said in a stirring speech. "We have an inferior judicial system that does not protect all of it's citizens equally."
"We're not anti-police, we're anti-wrong," he added. "This man should not be here at his own funeral." 
Rev. Jesse Jackson delivered a similar message and demanded that justice is the only satisfactory solution. 
"There is no substitute for justice," Jackson said. "Not a check, not legal settlement, not a proclamation, not a street sign. Only justice will do." 
Everyone who attended the service had been invited by the family, said one pastor at the beginning of the service. HuffPost reporter David Lohr was there on behalf of Black Voices, and streamed the service live on Facebook:
Abdullah Muflahi, the owner of Triple S store where Sterling was shot, told the crowd: "Alton wasn't just a CD man in front of my store. He was also a good friend of mine."
Muflahi added that Sterling told him to call him "Big Boy" and how he always made him smile.
"He showed me a lot of love. He was friendly, welcoming, he was truly the meaning of Southern hospitality," he said. "He was a big-hearted, sweet kind, selfless person. He made himself a place in everyone's heart."
Many others shared positive reflections on Sterling. 
"He liked to laugh and make others laugh. He was always the life of the party," said Sister Sateria Tate-Alexander. "He was loved by everyone." 
Cameron Sterling, Alton's 15-year-old son, didn't speak, but shared at a press conference earlier this week that his father "was a good man and he will always be a good man" and urged protesters to remain peaceful and respectful of his father's legacy.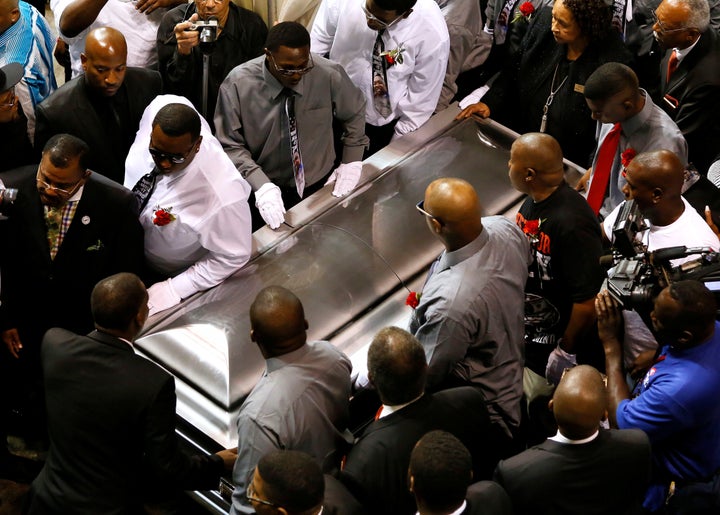 Other speakers talked about police brutality and the need for reform across America.  
"We have unjust laws, policies and procedures that are allowing unarmed black men to be killed by white police officers," said Elder Tabatha Jackson. 
"Pain and anger has the ability to destroy you all," she added, before making a more direct address to Cameron, Alton's 15-year-old son. "Cameron, don't let it." 
Jackson also highlighted the important need to vote and encouraged attendees to do so to make sure their voices are truly heard: "Voting is critical to upholding our elected officials accountable, if you don't register to vote, don't protest." 
This message was reinforced in a statement read aloud on behalf of the Congressional Black Caucus, and by U.S. Congressman Cedric Richmond, who, during his speech said: "We need our elected officials to wake up, show up, and stand up and speak up. We have to stand up and change the mentality of shoot first and ask questions later." 
Members of Sterling's family highlighted their family's strength and resilience in light of so much pain and mourning.
"The Sterling's are strong people. We bend but we don't break," one family member said onstage. "There are those who may try to divide us but know that the nucleus of the family is strong." 
"Alton Sterling, fly high. We love you," he said. "We are united, we are not going anywhere. our strength is is numbers and we are all Sterling's today." 
Below are some powerful pictures from Sterling's memorial service: 
Calling all HuffPost superfans!
Sign up for membership to become a founding member and help shape HuffPost's next chapter
BEFORE YOU GO
PHOTO GALLERY
Baton Rouge Protesters Show Support For Alton Sterling