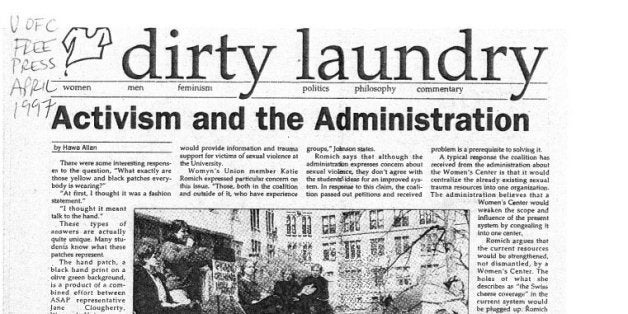 This past February, Andrea Dooley found herself feeling "a very strange sort of deja vu" when she learned her alma mater, the University of Chicago, was under federal investigation for allegedly mishandling cases of sexual assault on its campus.
Nearly two decades earlier, in 1996, Dooley was part of a group that pressured the school to reform its sexual violence policies, only to ultimately feel brushed aside by the administration. The group had formed in response to a number of maddening incidents, alumni recall. Sloppy work by campus police and student health services had resulted in the destruction of evidence in some cases. Reported victims were steered away from the Chicago Police Department. And the lack of centralized coordination was causing survivors to bounce from one office to another until they eventually gave up.
Now, in 2014, upon hearing of the latest allegations, Dooley and a group of 28 other UC alumni issued an open letter to the school's administrators. That was in February. By May, more than 600 people had signed on, including some who had graduated UC as far back as the early 1980s.
Their message, Dooley said, was "don't pretend like you've never heard this before." Some of the present-day administrators were even among the same people Dooley and her fellow students dealt with in the '90s, she said.
The University of Chicago is one of 60 higher education institutions currently under investigation for allegedly mishandling sexual violence on campus in violation of the gender equity law Title IX. An unprecedented groundswell of student and survivor activists have pushed the issue into the national conversation, garnering Congressional attention and a response from the White House.
For all the focus on the current complaints, there's a parallel conversation taking place among alumni in meetings, on Facebook, over email and on the phone. Graduates have noted again and again how they themselves raised similar concerns years or decades ago. It's incredible, alumni say, how little has changed.
The specifics may differ, but the central issue is the same, and alumni are determined to make sure their alma maters acknowledge this history.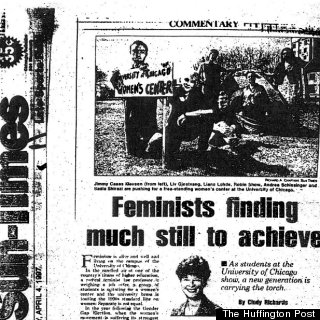 Dooley has saved plenty of old articles from her time as an activist pushing for reforms to the university's sexual assault policies. She even has an editorial by Tucker Max, then an undergraduate at UC, saying the policies were inadequate. (Today, Max is a comedy writer whose work often draws accusations of misogyny.)
"There are 500 people willing to sign on to a letter in a week or two," said Dooley. Noting that "hundreds" of alums are threatening to close their pocketbooks, she summed up UC's position as she sees it: "They've got a problem developing in their donor base."
The conversation among UC alumni echoes others taking place between graduates of Dartmouth College, Columbia University, Williams College, Northwestern University and more. Hundreds have signed open letters at schools like Yale University, Occidental College and the University of North Carolina-Chapel Hill. Last week, an informal network of alumni from more than a dozen schools began holding conference calls to discuss how they can put pressure on their alma maters to revise campus safety policies. Withholding donations is a threat that comes up again and again from aggrieved alumni.
At Harvard University, another school under investigation, alumnae recalled how 25 years ago they sponsored similar discussions on how to better serve rape victims.
Lisa Paige, a 1980 graduate and president of the Alumnae/i Network for Harvard Women, said Harvard seems to be facing the same "institutional gendered violence" that she experienced as an undergrad.
"When I was a victim of sexual harassment and rape by the teaching assistant of one of my classes," said Paige, "I went to my house tutor, and he said, 'You're a second semester senior -- drop it, it's not worth pursuing.'"
It appears, she said, that "Harvard is unfortunately still not supporting women in a way that women deserve to be supported."
TAKING CUES FROM THE PAST
Fifteen years ago, at Columbia University, a group called Students Active For Ending Rape formed to pressure the university senate to overhaul a "notoriously inaccessible" sexual assault policy.
"The first step for students with complaints was contacting what the policy termed a 'gatekeeper,' one of a number of designated faculty members who would then make further recommendations," said Kaja Tretjak, one of SAFER's original organizers. "These 'gatekeepers' received no training in handling sexual violence issues. Many were not even aware that they were on the list of gatekeepers."
Members of SAFER held informational meetings, communicated their message over student media and went door to door in dorms to discuss their concerns. "The campus was covered with flyers affixed with red tape, used by SAFER to symbolize bureaucratic attempts to thwart reform," recalled Tretjak, now 34 and a postdoctoral fellow at SUNY Buffalo Law School. The red tape was everywhere, on students' backpacks, on their wrists and over their mouths at demonstrations.
That red tape has made a comeback at Columbia in recent weeks, as students protest what they see as an inadequate handling of sexual assault cases. Red tape made it onto the caps and gowns of students at Columbia, Brown and Harvard at this year's commencement ceremonies.
Names of alleged rapists have also been showing up at Columbia recently, handwritten on bathroom walls in a manner reminiscent of incidents at Brown University in 1990 and at the University of Maryland in 1993.
SAFER's activism eventually led to the establishment of an office dedicated to sexual violence prevention and education, headed by a full-time staff member with expertise in the area. But just as important, said Tretjak, was the heightened campus awareness that her group helped to bring about. She's glad to see that tradition carrying on today.
"It was clear that ongoing vigilance on a grassroots level would be key to protecting the secured improvements and building upon them," Tretjak said. "One of the biggest challenges for campus organizing efforts is the high student turnover and corresponding lack of institutional memory. This is one reason why the continuous work of advocacy groups to empower student campaigns, alongside broader social change efforts drawing attention to rape culture, are so essential."
After the initial Columbia campaign, Tretjak helped to transition SAFER from a campus group to a national nonprofit, which remains active today. She also worked as an attorney, representing immigrant survivors of domestic violence, and co-founded Hollaback!, a movement to end street harassment. Tretjak says her work wouldn't have been possible if a previous generation hadn't pushed for rape crisis centers in the 1970s.
A BATTLE SPANNING FOUR DECADES
S. Daniel Carter, a longtime victim advocate and director of the 32 National Campus Safety Initiative at the VTV Family Outreach Foundation, said that it's impossible to single out a particular institution as being the worst at handling sexual assault.
"Higher education has not done the culture-changing thing to fully address the issue of sexual violence," said Carter. "So it's not surprising to see the same issues being raised."
Indeed, Title IX complaints have been brought against schools in the past, though much more rarely than in recent years.
At the University of California, Berkeley, for instance, current complainants have worked with alumnae who were part of a Title IX filing against the school in 1979. That filing included allegations of sexual discrimination and harassment by professors. At the time, UC-Berkeley officials had dismissed complaints that a student was given low marks because she refused to have sex with a professor.
Occidental has also faced a Title IX investigation before. In the early '90s, a group of students known as the Feminist Consciousness Coalition filed a complaint with the Education Department over sexual harassment and misogyny on campus, which they attributed at the time largely to the fraternity system.
"I am sad yet not surprised that 20 years on we continue to face many of the same structural barriers to women's safety and gender equity," Deevy Holcomb, a '93 alumna and former leader of the Feminist Consciousness Coalition, wrote to organizers of Occidental Sexual Assault Coalition, a present-day group on campus.
Harvard and Columbia have launched committees to examine their Title IX policies, and many of the other schools facing criticism say they are making their own revisions. Columbia has also promised an annual campus climate survey, additional Title IX investigators and 24-hour on-call access to professional staff for victims.
A new Executive Vice President for Student Affairs office will centralize overall responsibility for the issue at Columbia. Likewise, the University of Chicago is adding a new associate dean of students to investigate sexual assault cases.
And it may be those new administrators who finally improve these campuses.
"Many of the newer administrators who are now ascending to positions of greater responsibility across the county are far more tuned into and recognize the importance of tackling these issues," Carter said. "What we're seeing is a lot more institutions take it far more seriously. That's what gives me the most hope."
Old Clips From Student Activism Around Sexual Assault In Previous Decades: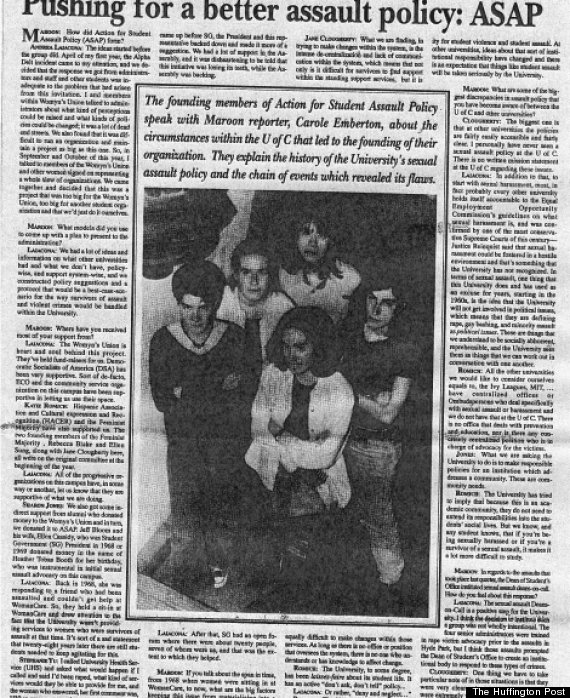 An article about the protests around sexual assault policies at the University of Chicago in 1996 and '97.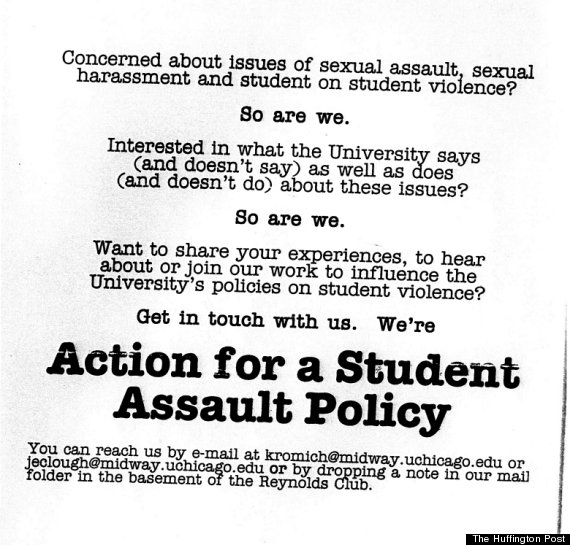 A flyer at the University of Chicago from 1996.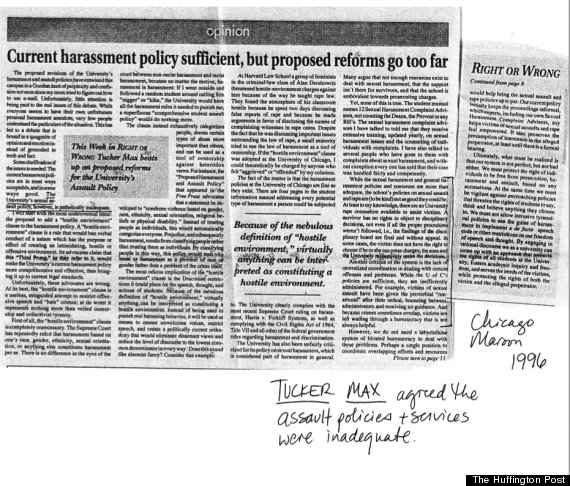 A copy of a 1996 editorial by Tucker Max, where he stated the university sexual assault policy is "pathetically inadequate."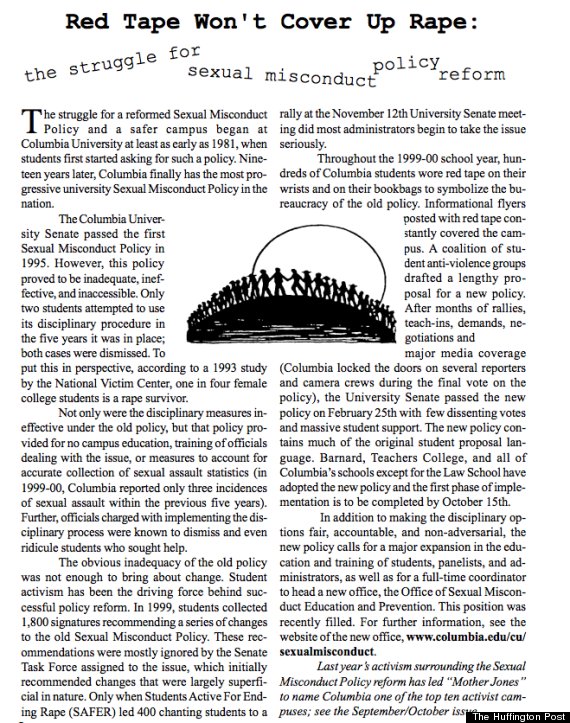 From the 2000-01 "Disorientation Guide" at Columbia University.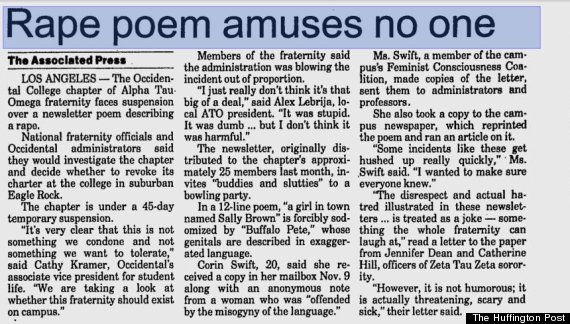 Popular in the Community