When fighting is business, blood becomes currency, and Bellator MMA lightweight Eddie Alvarez paid in full at Saturday night's Bellator 106, punching, kicking, and choking his way past Michael Chandler to reclaim the title he lost nearly two years ago.
Entering the cage on the heels of a yearlong layoff and a bitter legal battle with the promotion, Alvarez made his return in outstanding fashion, landing strikes with pinpoint accuracy and precision, repeatedly battering the face of his opponent to earn the split decision win, 48-47, 48-47, 47-48.
"It takes two people to put on a fight like that. Mike Chandler ... has the heart of a lion," commented Alvarez. "We went in there and put it on the line. It was just special to be a part of it."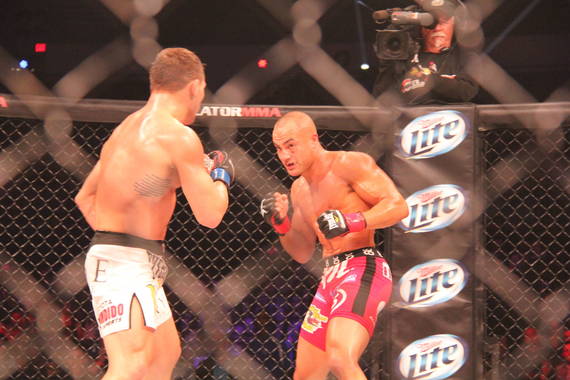 While Alvarez took home the 155-strap on the strength of his crisp boxing, quick footwork, and timely submission attempts, he was unable to escape unscathed, as former champ Chandler did his share of damage, drawing blood, and repeatedly landing takedowns.
This of course was not the first time Alvarez and Chandler met inside the Bellator cage, with Chandler taking their previous 2011 encounter, a fight that many still believe the be the best in organizational history. But the rematch lived up to all the hype of its predecessor, perhaps even topping the first installment, as both Alvarez and Chandler entertained the crowd with an astonishing, back-and-forth display of athleticism, force, and sheer will.
"Sometimes you just get that magic ... two guys who match each other so beautifully in terms of their skill set that they can just give you violent artistry inside the cage," offered Bellator CEO Bjorn Rebney. "And they do, those two guys match each other beautifully. Absolutely I'd do it again. I'd do it again in a heartbeat."
Before Alvarez and Chandler even took center stage, however, light heavyweight Emanuel Newton topped Muhammed "King Mo" Lawal for Bellator's interim strap, scoring a unanimous decision, 49-46, 49-46, 49-46.
Using his unorthodox kickboxing to keep Lawal at a distance, Newton threw scores of spinning kicks and back fists, but was unable to land a knockout blow, as he had done previously, when the two first met in February. Still, the judges witnessed Newton control the center of the cage and dictate the pace of the fight, never allowing Lawal to develop his rhythm.
"Mo is an amazing wrestler ... I just kept pushing forward ... I'm elated right now," added Newton. "I definitely wanted to put a stamp on this fight. I definitely think I landed a lot better strikes."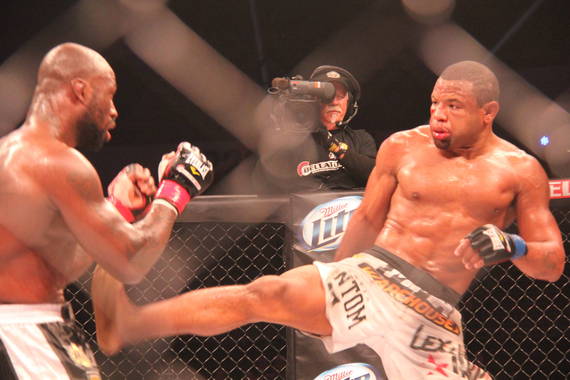 Newton, who will next face 205-pound champ Attila Vegh in a 2014 unification bout, can now enjoy the spoils of his first major MMA title, as can new featherweight king Daniel Straus, who bested former strap holder Pat Curran, 49-45, 48-46, 48-46.
Coming off an extended break of his own, a layoff that was mired in felony drug charges and a broken hand, Straus methodically wore Curran down round-by-round, out punching his opponent, while landing a handful of takedowns.
Straus fought with precision, adhering to a strict game plan to win rounds, while Curran never seemed to be able find his championship form. And when he was penalized a point in the third round for an illegal knee, Curran was unable to summon the urgency necessary to withstand Straus' frenetic pace.
"Ring rust is just mental," explained Straus. Coming back in the cage, it's like it was yesterday ... I know what type of person I am. I'm a winner. I'm a fighter and I'm gonna continue to fight."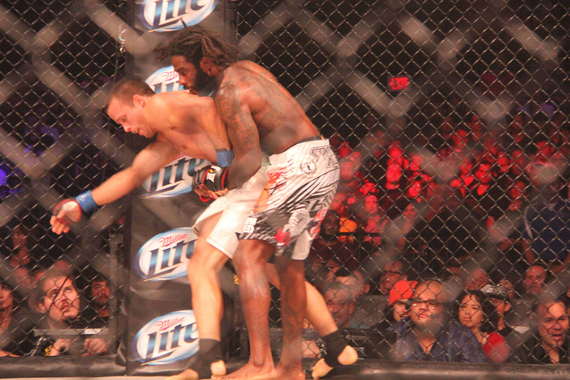 With three new champions crowned in one night, Bellator 106, which took place at the Long Beach Convention Center in Long Beach, California, proved to be a massive changing of the guard for the organization. It is still unclear when and where the new titleholders will fight next, but Bellator MMA continues its ninth season on November 8, live on Spike TV.
Bellator 106 Results
Eddie Alvarez def. Michael Chandler via split decision (48-47, 48-47, 47-48)
Emanuel Newton def. Muhammed Lawal via unanimous decision (49-46, 49-46, 49-46)
Daniel Straus def. Pat Curran via unanimous decision (49-45, 48-46, 48-46)
Joe Riggs def. Mike Bronzoulis via unanimous decision (30-27, 30-27, 30-27)
Mike Richman def. Akop Stepanyan via TKO (punches) R1 4:05
Cristiano Souza def. Alejandro Garcia via submission (rear-naked choke) R3 3:06
Brandon Halsey def. Hector Ramirez via TKO (punches) R1 0:52
Jesse Juarez def. Joe Williams via technical submission (guillotine choke) R1 0:57
Michael Guymon def. Aaron Miller via submission (triangle choke) R2 4:20
Cleber Luciano def. Joe Camacho via unanimous decision (30-27, 30-27, 30-27)
Josh Smith def. Darren Smith via unanimous decision (29-28, 29-28, 29-28)
photos courtesy of Ryan Isbell
REAL LIFE. REAL NEWS. REAL VOICES.
Help us tell more of the stories that matter from voices that too often remain unheard.