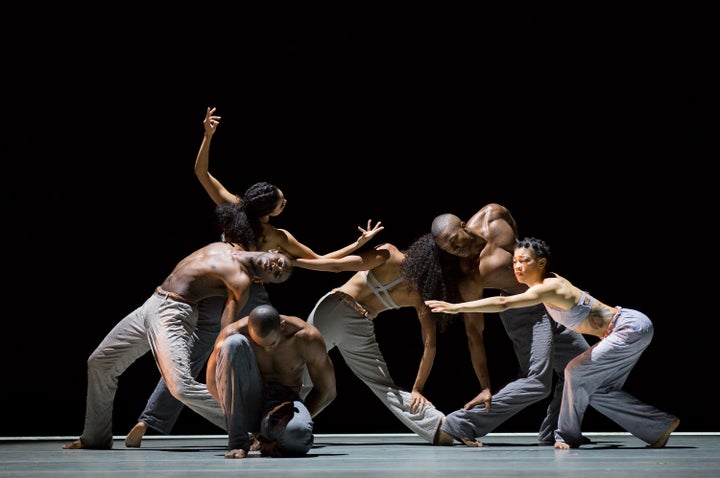 Alvin Ailey American Dance Theater returns to Southern California delivering magnificent works and debuting exciting new pieces. The revolutionary modern dance company has been a force in the dance community for decades. Ailey began his career during the civil rights era in the 50's when opportunities were extremely limited for African American dancers. His goal was to spawn a company that granted African American dancers a chance to perform and express themselves, their cultures, and experiences. Fast forward many years later to when he created one of the first professional companies where diverse dancers were welcomed and highlighted. The Music Center hosts the Ailey Company for a dynamic week of performances from this incredible company.
Kicking off the evening was the stunning and vibrant new piece titled r-Evolution, Dream. A piece comprised of several excerpts from dynamic poems about identity and self worth speaks to the struggles of marginalized groups in America. Recordings from works such as The Negro's Complaints and the constant presence of Martin Luther King Jr., delivers a striking message about being black in America and the movement doesn't disappoint on that front either. Choreographed by veteran member of Alvin Ailey American Dance Theater, Hope Boykin, r-Evolution, Dream is a beautiful combination of strong staccato movements intertwined with elongated powerful phrasing that makes for a dazzling display of dance.
The show only gets better from here. Untitled America, choreographed by Kyle Abraham, was a show stopper that explores the negative effects that the American prison system has on families. This piece transcends race and time and provides relevant and poignant commentary on the status quo in this country. After that heavy piece of art, audiences will be able to have a bit of fun with the spunky and lively piece, Ella, choreographed by Robert Battle who happens to be the Artistic Director of the company. My knees are still hurting for the two formidable dancers in that piece. (You will have to see the show to know why.) The bread and butter of the Ailey repertoire is the piece, Revelations. This soul stirring collection of pieces set to remastered Negro Spirituals and blues will send you into a cultural revival. Produced by Alvin Ailey Dance Theater in 1960, Revelations takes viewers on a journey navigating African-American vigor, struggle, and faith during the transition from slavery to the path of freedom.
Tickets for Alvin Ailey American Dance Theater performances at The Music Center start at $34 and are available online on The Music Center website; at the Dorothy Chandler Pavilion Box Office, 135 N Grand Ave, Los Angeles, CA, 90012; or by calling (213( 972-0711. For groups of 10 or more, call (213) 972-8555 or email mcgroupsales@musiccenter.org.
Alvin Ailey Dance Foundation's mission is to further the pioneering vision of the choreographer, dancer, and cultural leader Alvin Ailey by building an extended cultural community which provides dance performances, training and education, and community programs for all people. This performing arts community plays a crucial social role, using the beauty and humanity of the African-American heritage and other cultures to unite people of all races, ages and backgrounds.
REAL LIFE. REAL NEWS. REAL VOICES.
Help us tell more of the stories that matter from voices that too often remain unheard.