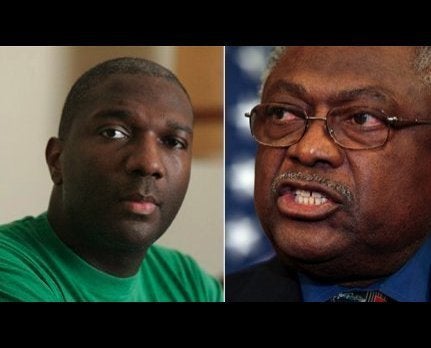 Is something fishy going on with Alvin Greene, the man who clinched an unlikely victory to become the Democratic nominee for South Carolina Senate? Fellow South Carolinian Rep. James Clyburn (D) thinks so, and on Thursday went as far as to say that Greene might be a "Republican plant."
Speaking with liberal radio show host Bill Press, Clyburn questioned Greene's improbable victory (Greene had no campaign signs, no website, and was largely invisible in the lead-up to Tuesday's primary) and said that his candidacy warranted an investigation by the U.S. Attorney's office.
"There were some real shenanigans going on in the South Carolina primary," Clyburn said of Tuesday's race. "I don't know if he was a Republican plant; he was someone's plant."
Clyburn said the circumstances of Greene's entry and eventual upset of the race were baffling.
"What is an unemployed guy doing paying $10,000 to run for the United States Senate? That just doesn't add up," Clyburn said of Greene, an unemployed military veteran who somehow came up with the $10,400 filing fee and decided to use it to mount an unlikely bid against conservative champion, Sen. Jim Demint. Greene ended up taking 59 percent of the vote despite his relative anonymity.
Clyburn went on to say that a U.S. attorney should examine the possibility that his limited campaign was improperly funded by outside political interests.
"I would hope the U.S. attorney down there would look at this," Clyburn said. "I think there's some federal laws being violated in this race...Somebody gave him that $10,000 and he who took it should be investigated, and he who gave it should be investigated."
Clyburn gave an interview to Talking Points Memo later Thursday and pushed the issue further, saying that a potential probe by the U.S. Attorney's office should extend to two other African-American Democrats whom he believes may also be party impostors with ulterior motives.
"The party's choice in the 1st Congressional district lost. The party's choice for U.S. Senate lost. Sounds like a pattern to me," Clyburn told Talking Points Memo.
Apart from Greene, Clyburn alleged that Gregory Brown, who mounted an unsuccessful campaign against Clyburn for the 6th Congressional seat, and Ben Frasier, who triumphed over state Democratic party-backed candidate Robert Burton to become the nominee for the 1st Congressional district, were also plants.
Asked by Talking Points Memo about Clyburn's accusations, Burton campaign manager Ann Beser said that something was "radically wrong."
Beser said that since election night the Burton campaign has been doing precinct tallies and has seen numbers that far surpass what turnout had expected to be, including all-white precincts where Greene beat Senate candidate Victor Rawl and Frasier beat Burton. Both Rawl and Burton are white. "None of it makes sense," she said.
Read the whole report here.
Popular in the Community