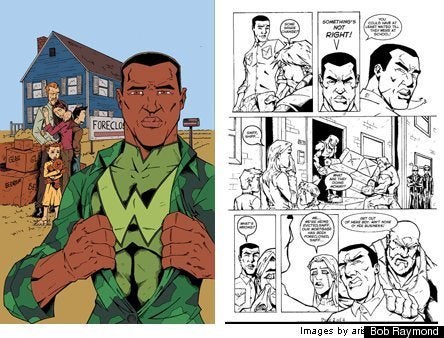 Democrat Alvin Greene lost badly on Tuesday to Sen. Jim DeMint (R-S.C.) and will probably be remembered for running one of the strangest campaigns in recent memory, in addition to being one of the most unexpected candidates in modern history. Nevertheless, he will forever live on as a superhero -- at least in his own comic book.
Greene was snubbed by the South Carolina Democratic Party and not invited to their celebration party on election night, but he insisted that he wasn't at all unhappy because his party was going to be "bigger" -- around 200 people.
But South Carolina journalist Deja Knight attended Greene's party on Tuesday and said that there were only a handful of people there. In fact, members of the media outnumbered supporters. There were also a few people there doing documentaries on the former candidate.
Some pictures by Knight of the comic book:
Knight noted that Greene was generally trying to avoid reporters, and when asked if he was going to run again, refused to say anything other than "maybe."
He did, however, have some words about DeMint's win.
"He said that he was disappointed that the people re-elected DeMint and he was the reason that South Carolina was in so much -- he said a 'recession,'" recounted Knight. "He basically said that DeMint took all the money from the families in South Carolina, took it away from the schools, and that's the reason our education system isn't top-notch."
Popular in the Community