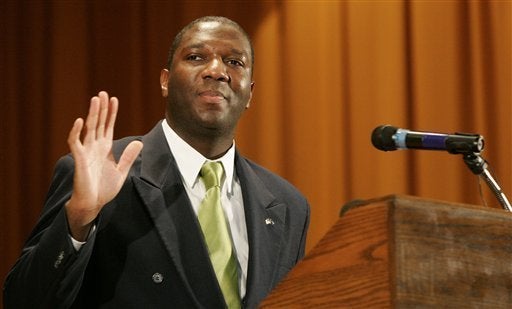 South Carolina Democrat Alvin Greene -- the come-from-nowhere U.S. Senate candidate taking on Sen. Jim DeMint (R-S.C.) -- reacted emotionally after the issue of his recent indictment was raised during an interview over the weekend.
In an exchange at his home with a reporter from North Carolina-based station WCNC, Greene signaled he doesn't plan to drop his campaign in the wake of the escalating legal controversy.
When pressed to elaborate on the indictment, the Senate hopeful ordered the reporter to "leave [his] property" and "go away."
When [the reporter] stopped briefly to talk with Greene's brother Jimmy, Alvin Greene began howling and wailing the words, "no" and "go."

Greene continued to wail loudly as Jimmy Greene said that his brother had never talked to him about what happened in the library of the University of South Carolina last fall.
Authorities said he approached a student in a University of South Carolina computer lab, showed her obscene photos online, then talked about going to her dorm room.

A Richland County grand jury indicted Greene, 32, for disseminating, procuring or promoting obscenity - a felony - as well as a misdemeanor charge of communicating obscene materials to a person without consent.

If convicted, Greene could face up to three years in prison for the misdemeanor or up to five years for the felony.
In the wake of Greene's indictment, South Carolina Democrats have revived calls for the unlikely Senate nominee to terminate his campaign.
"In June, I asked Mr. Greene to withdraw his candidacy because of the charges against him," said Caroly Folwer, Chairman of the South Carolina Democratic Party, in a statement. "It will be impossible for Mr. Greene to address his legal issues and run a statewide campaign. The indictment renews concerns that Mr. Greene cannot represent the values of the Democratic Party or South Carolina voters."
Popular in the Community