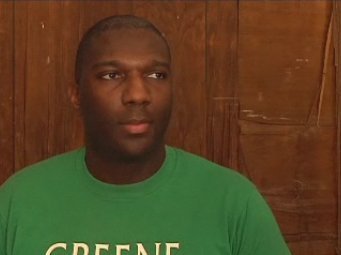 Shortly after news of Greene's felony charges become public, reporters from local station WMBF in the state showed up at Greene's door to ask him some questions.
Greene appears visibly uncomfortable throughout the interview, and less than a minute in asks, "can I end this?" He later seems to hit his stride, however, and gives the reporter a little bit of information about his campaign platform, which he sums up as "jobs, education and justice."
In a later interview with ETV, a South Carolina PBS affiliate, Greene appears to be revolutionizing the definition of "hard work."
Asked to explain how he won Tuesday's primary, Greene rambles for a bit and then concludes, "just hard work." The interviewer then follows up, saying, "You didn't hold any campaign functions, you had no campaign signs, no campaign literature, no website, how did you work to get the name out, I mean what did you physically do?"
Greene responds, "I did just simple old fashioned campaigning, nothing fancy or expensive." Pressed further, Greene continues to speak in broad strokes and neglects to elaborate.
Watch the second interview
Popular in the Community