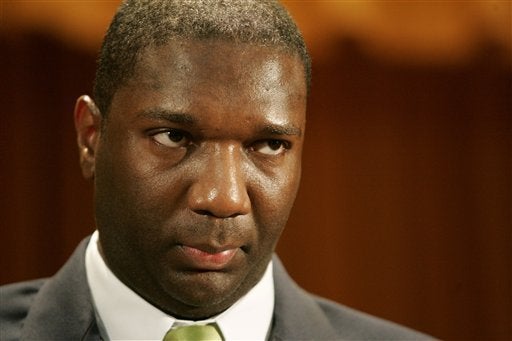 Enigmatic South Carolina Democratic Senate candidate Alvin Greene responded Thursday to an Associated Press report on the former airman's lackluster Air Force record, which showed that he was repeatedly passed over for promotion due to a general sentiment that he had difficulty completing his duties.
"Those folks are ridiculous and yes and they only promote the terrorists and the communists and I haven't gotten a promotion since I graduated from college and that's just what I'm saying," Greene told the South Carolina Post and Courier. "This is why we need to have things done differently. This is why we need to overhaul the military. We need get rid of these folks."
"They dismissed my potential," Greene told the Post and Courier of his superiors, who, in Greene's military files, criticized the now-Senate candidate for flaws as mild as being "[un]able to adapt to any changes to daily routine," and as severe as potentially positing "a threat to others" due to his "consistent inability to follow instructions or maintain basic job knowledge." He was given the latter review after accidentally posting sensitive information on a military Internet server.
Greene protested at the time, claiming that his reviewer "only concentrates on presenting a negative perception of me by making false statements of my character," and, when interviewed Thursday, bemoaned the fact that he was denied a promotion even after he received his political science degree from the University of South Carolina.
Instead, Greene maintained, the military chose to give preference to "terrorists" such as Nidal Malik Hasan, the army psychiatrist who is accused of murdering 13 people in a shooting rampage in Fort Hood, Texas, on Nov. 5, 2009. Hasan also had numerous poor reviews on his record, but was promoted multiple times despite various concerns.
Greene's tenure in the National Guard and U.S. Army, as well as his subsequent discharge from that branch are less well known, due to privacy provisions that protect the record of former service members who are not dishonorably discharged.
Greene joined the U.S. Army in February 2007 and was discharged in August 2009, six months before his his 3-year commitment would have been set to expire.
Popular in the Community