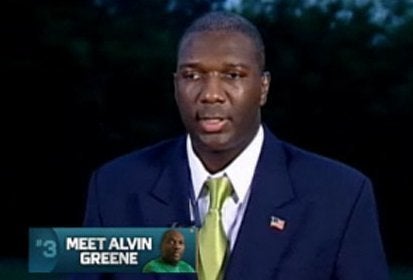 (AP) - From South Carolina to the White House, don't blame Alvin Greene if he thinks the whole Democratic world is turning against him.
The 32-year-old Greene was the surprise nominee of the South Carolina Democratic Party to take on the GOP's U.S. Sen. Jim DeMint in November. It was surprising enough that the unemployed military veteran barely campaigned after putting up the party's $10,440 filing fee and beat a well-heeled, more experienced candidate favored by party leaders.
But The Associated Press discovered the next day the 32-year-old who lives with his dad faces a felony charge in which he is accused of showing Internet porn to a 19-year-old college student.
On Sunday, President Barack Obama's senior adviser David Axelrod told NBC's "Meet the Press" Greene doesn't appear to be a legitimate candidate. Axelrod said South Carolina Democrats deserve a strong, credible candidate, and it's a big mystery how Greene won.
And U.S. House Majority Whip Jim Clyburn, South Carolina's leading Democrat, told CNN's "State of the Union" he knew something was wrong in the Democratic primary for the Senate seat by watching the votes come in. "I know a Democratic pattern, I know a Republican pattern, and I saw in the Democratic primary elephant dung all over the place," Clyburn said.
Clyburn said Greene was planted in the race by someone. State Democratic Party Chairman Carol Fowler has called for an investigation.
That appears to be on the way. Citizens for Responsibility and Ethics in Washington said Sunday it is preparing a Federal Election Commission complaint against Greene and other South Carolina candidates who didn't file campaign papers with the campaign oversight agency. CREW executive director Melanie Sloan, an ethics expert and lawyer, said she expects to file a complaint Tuesday.
Fowler said Saturday she has heard other challenges are in the works, although the party is not planning its own.
"The FEC in its wisdom and due time will investigate those candidates who have not filed their disclosure," Fowler said.
The election's results were certified Friday with Greene winning 59 percent of the vote, well ahead of the 41 percent who cast ballots for Vic Rawl, a four-term state lawmaker and former judge.
Fowler said the party has asked Greene to step aside, not because of any sour grapes over seeing its preferred candidate lose, but because of the criminal charge he faces.
"That's why I asked him to withdraw," Fowler said. "It was important for the party to distance itself from somebody who is under that kind of shadow."
For now, it's up to Greene to decide whether to bow to pressure from his party to step aside and allow Rawl to advance as the nominee.
Popular in the Community