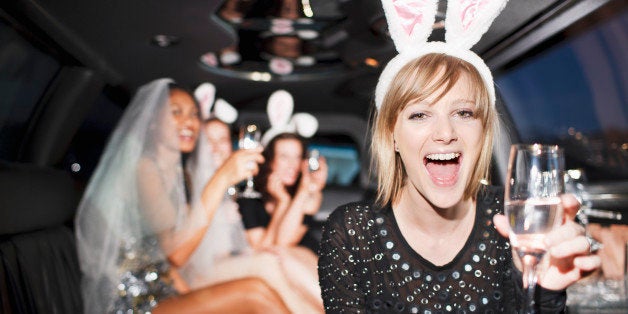 As the summer wedding season draws to a close, I'm watching my dating coaching programs fill up with fed-up bridesmaids unwilling to attend another nuptial celebration solo. If you have a closet full of bridesmaid dresses and a maxed out credit card from one destination wedding too many, you might need to rethink your dating strategy.
Here are seven reasons why you're always the bridesmaid and never the bride, and seven inspiring ways to reprogram your dating life so you'll be throwing the next bouquet rather than catching it.
1. You think men and women can just be friends: Two best friends in their 30s gave love a shot in in their highly popular blog 40 Days of Dating. While it didn't work out for them, they gave a relationship a chance that had never been on the table for them before. Now, in addition to the dough they've been offered for the movie rights to their story, they now know that a match between them is just not possible. You must have at least ONE single male friend who you can do your own dating experiment with. The only thing you have to lose is your singlehood status or a fake friendship with a guy who was just trying to get in your pants anyhow.
2. You're stuck in neutral: If you're still in a relationship with a man who claims he doesn't need a piece of paper to prove he loves you, stop pretending it doesn't bother you. If you decide, after watching all of your friends walk down the aisle, that you're ready for your turn to wear white, you need to know if your man is Mr. Right or Mr. Right Now. Don't spend eight years trying to figure it out or trying to change his mind.
3. You're not planning ahead: You know your BFF is going to get married before most of the guests do. That gives you a good six to 12 months to get off your arse and do something about it. Sign up for, not one, but TWO online dating sites. It's the equivalent of being in two bars at once without the hangover. Plus, online matches are shown to last longer than casual connections so your relationship is more likely to stand the test of time.
4. You're already married...to your job: You can't seem to find a couple of hours to go to a speed dating event but you can fly cross-country for a wedding to show your old friends how accomplished and successful you've become? If you want to turn your single into a double, make time for your new beau before he arrives. Mingling with other singles and setting aside a 'date night' -- even if you don't have one yet -- will get you and your boss used to the idea of work-life balance. If your suitor can't see you without an appointment, he certainly won't see a future with you either.
5. You don't speak up: Bridesmaids always get the coveted Plus One to any wedding. Instead of bringing your best friend or going solo, ask the married-couple-to-be to attach you to one of their single friends who you don't know. Better yet, create a media blitz by posting an opening for a wedding date gig on Craigslist like these fellas did.
6. You overdrink things: If you're always the bridesmaid who gets black-out drunk, you could be ruining a romantic connection with a one-night stand. While an open bar is easy on the wallet, it's not so easy on the eyes. Skip the Long Island Ice Teas and have your fun on the dance floor so you can keep it classy and still remember it the next day.
7. You put everyone else first: Do your friends think you're made of money or have nothing better to do than travel a few times a year on their behalf? Well maybe you've let them think that way. Sometimes in life we have to say no. It doesn't mean you're a bad friend or a cheapskate. Your life doesn't always have an open calendar when a new engagement comes a-knocking. While you wish you could be everywhere at the same time, it's simply impossible. True friends understand that. So instead of blowing the bank every time a sorority sister ties the knot, send them a nice set of stemware and save the rest for a massage and a matchmaker. After all, weddings don't have to be stressful...especially if they aren't yours.
If you're always the bridesmaid and you're not going to take it anymore, join Damona Hoffman and the dating coaches from Dear Mrs D, Inc. on 9/28 in Hollywood, CA for a one-day dating bootcamp, The Love Olympics, to get in shape for love before the year is out. From online profiles to flirting techniques and dressing sexy for your body type, The Love Olympics will get you ready to walk down the aisle by this time next year. DearMrsD.com/bootcamp