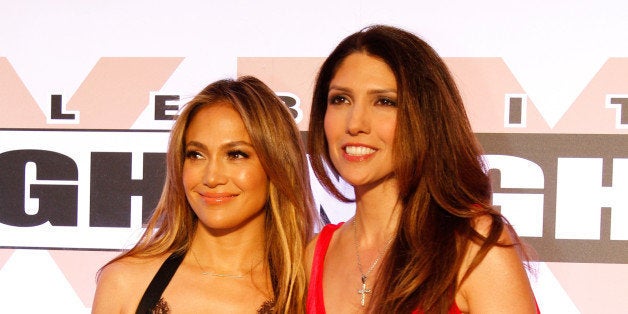 Jennifer and Lynda Lopez have been supporters of the Global Moms Relay from the beginning. They are again lending their voices to help ensure healthy moms and healthy babies everywhere. Here are some of our favorite thoughts on motherhood from these two amazing global moms!
We were both pregnant at the same time and felt our lives and perspectives change the moment we became moms. Our hope is for a world where every mother is healthy and has the resources and support she needs to raise a healthy family.
Jennifer Lopez: When you become a mother, you want to make the world a better place. Our biggest job as mothers is to teach our children by example, by how we live and what we do. I want to teach my children to always come from a place of love.
I want Emme and Max to inherit a world where love is the core idea that runs through everything we do, as opposed to worry or fear or hate. I want my children to think about their lives in a grateful way. We should all be giving love and treating each other with kindness, being conscious of each other. That's how I want them to live, and the world I want them to live in.
I think back to my mom. I remember one day when she was cooking and some unexpected guests came by. I said, "Mom, we're going to run out of food," and my mom said, "There is always enough food. Never be afraid to give it away." That stayed with me and gave me a sense of how you should be in this world. It has become part of my goal for my children -- what I want them to think about and who I want them to be.
Lynda Lopez: Someone said that Jennifer has enough love in her to fill the whole world -- I love that -- and that's in all of us. You have enough love in you to make that your world and make that the basis of what you do and how you go forward.
I remember the moment when Lucie was born: I was experiencing something that 89 percent of women worldwide experience -- giving birth. I felt this connection with global motherhood, feeling the love and support of great people around me. I immediately thought about wanting that love and support for everyone.
JL: Our mother empowered us and taught us we could accomplish anything and take care of ourselves. She was 20 when she got married and had our sister Leslie right away. She started very young, grew up in the Bronx, didn't go to college, and here she was, this strong woman, preparing us for this future. Lupe did an amazing job!
LL: My mom helped me feel like I was very smart, like I could be president, and she made Jennifer feel like she could go to the Olympics and win 20 gold medals! She pushed us to the highest heights and expected the best from us. That's what I hope I can do for Lucie, to help her realize there are no limits to who she can be.
Nobody knows your child like you do. Be there for them in every moment that you can; love them unconditionally. Together, let's do our part so that every mom feels supported. When we do things like sharing the posts in the Global Moms Relay, when we get involved, we're spreading love and lifting each other up.
What do you envision for the world in the year 2030? What's the world that you want for your family?
* via the Donate A Photo app for iOS and Android. Johnson & Johnson has curated a list of trusted causes, and you can donate a photo to one cause, once a day. Each cause will appear in the app until it reaches its goal, or the donation period ends. If the goal isn't reached, the cause will still get a minimum donation.
Related