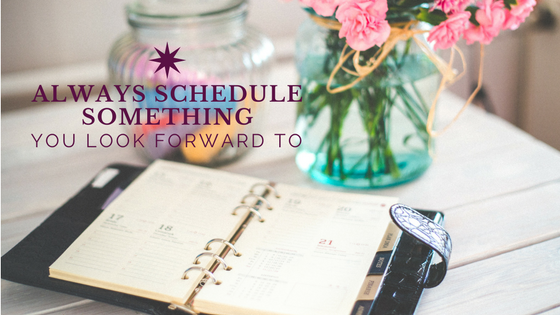 When you wake up each morning, are you excited about your day?
While I know that life is a whole spectrum of feelings and that we can't possibly expect to feel 100% delighted with every moment of our lives, we can still set up our schedules so that we do wake up each morning with excitement for the day ahead. If you are feeling stressed or overwhelmed, this is an especially helpful thing to do.
I have started doing this, and I encourage you to do this to. When I schedule my calendar, I include one thing daily that I can look forward to. Sometimes, it's even just scheduling a chunk of time with no clear task in it! I do this so that when stressful times arise, I know I have a breath of fresh air in the day to get excited about. I know I have an activity or a timeblock on my schedule that will be just for me.
Throughout my life, I have always been good at finding strategies and ways to cope with stress and overwhelm. As a result, I have got tons of tips and tricks. Putting something to look forward to on the schedule is just another one of these, another way to help us cope when the pressures of life loom large.
The challenges of our lives are always coming and going.
I myself am currently feeling a little more stressed and overwhelmed than usual, now that my 90-year old mother has moved into my home. I am grateful to be able to have her, absolutely, and it definitely has caused a re-evaluation and shuffling of my schedule. So I found a place where she can spend the afternoons. It is like a daycare, but for elders. I take her there for a few hours and she is cared for in a safe and warm space.
You may think that sounds good for her, but let me tell you – it is great for me!
It's great because now I have time in my schedule to look forward to.
Don't get me wrong – I love my mother, but as I make the adjustment to caring for her, these few hours in my schedule have become a true gift to myself.
Our days feel so much lighter when we have things to look forward to within them. Sure, lots of unanticipated delights happen each day; by choosing to schedule the things we love, we are simply opening the door to receive even more of them!
Let me know if you try this out, and if anything shifts for you when you do! Let's continue the conversation. Join us on Facebook.
​(Once you are on my Facebook page, I would love it if you joined our private Authentic Connections Facebook group!)
If this blog resonates for you, please feel free to reach out. I would love to learn more about how I may support you and your business. Sending you tons of love and light!
REAL LIFE. REAL NEWS. REAL VOICES.
Help us tell more of the stories that matter from voices that too often remain unheard.
This post was published on the now-closed HuffPost Contributor platform. Contributors control their own work and posted freely to our site. If you need to flag this entry as abusive,
send us an email
.