In a conversation captured for the Global Moms Relay, Alexandra Eitel reflects on life-changing experiences with her mother Maria Eitel, President and CEO of the Nike Foundation.
Alexandra: My mom is a single mom and I'm her only child. This led to my mom taking me along on her work trips to India, Brazil and Zambia among others. For me, it was special bonding time that included my personal favorite thing to do -- dancing on the hotel bed to local music videos and my favorite Bollywood movies. These trips were also special in terms of what we learned. Instead of being taught about the danger of HIV/AIDS by my sex ed teacher in school, I saw the devastating effects of the virus at a hospital specializing in caring for children whose parents had died of AIDS and were potentially HIV positive themselves. What I didn't realize at the time is that those trips gave my mom the chance to analyze the power and potential of the Girl Effect through her own daughter's eyes.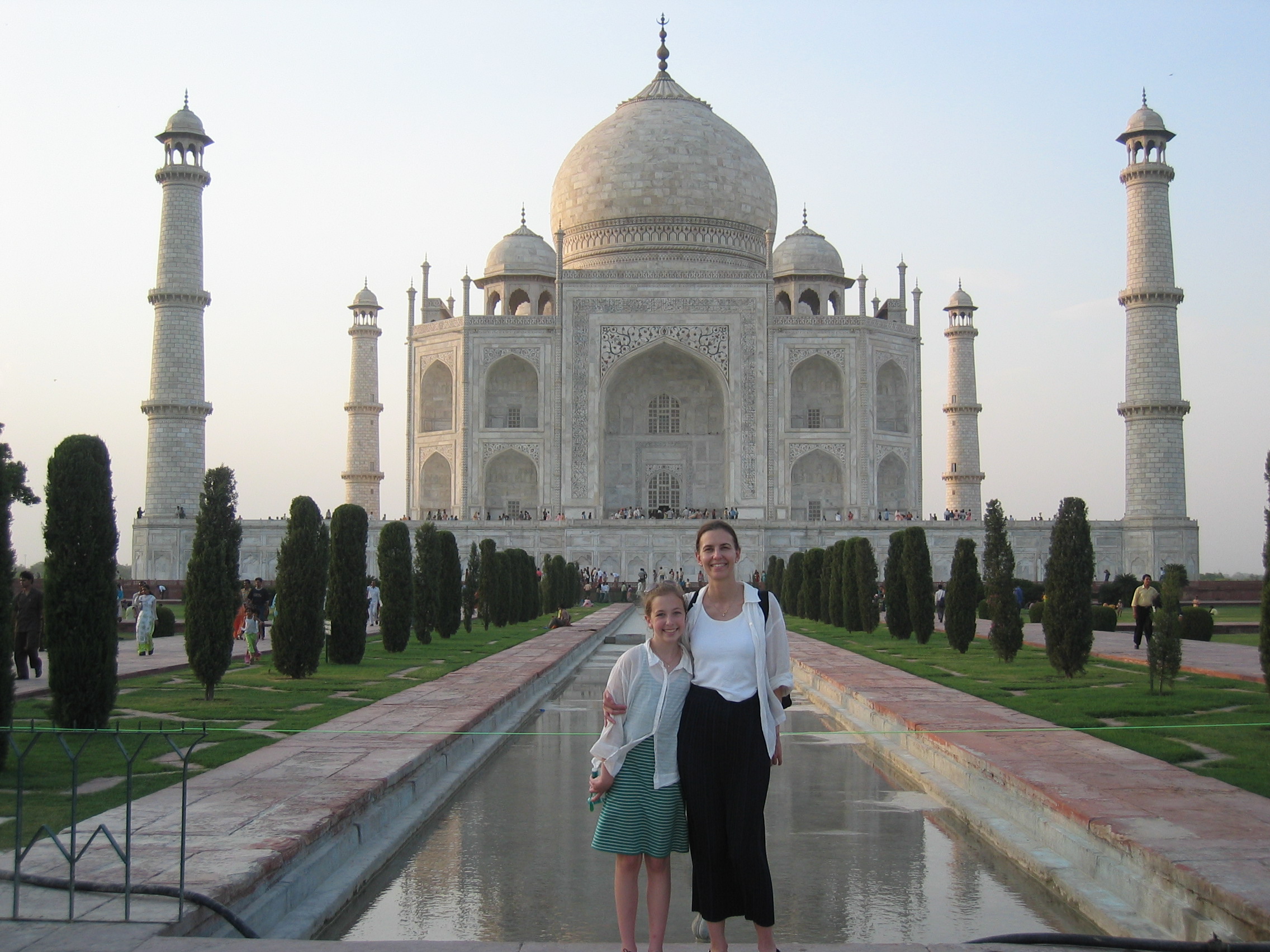 Maria: When I was deciding how to focus the Nike Foundation, as Alexandra says, I had the joy of bringing her along. I remember one time as we sat cross-legged on the floor of a community center in rural India, I was asking the girls all my favorite questions but they just didn't seem interested. I finally noticed that the girls I was so eager to converse with were all giggling and staring at Alexandra. The translator tried with the utmost respect to tell me that the girls had some questions for my daughter instead. An eruption of questions descended upon Alexandra ranging from "do you have a boyfriend?" to "can you show us how you dance?" and "what do you want to be when you grow up?"
Soon Alexandra was up and had them all twirling and grinning through the Macarena and then trying to move her hands in the style of gorgeous classical Indian dance. When things settled down, Alexandra continued to lead the conversation and I learned as never before. The girls told us their deep fears, hopes and desires, as well as practical insights that we would use for years to better direct our work with girls to transform their ability to reach their potential. That moment reinforced one of the guiding principles of the Girl Effect: Always start with the girl; listen to her and always include girls directly. Over the last 10 years, as a team we have spent hundreds of thousands of hours talking with girls directly and have had a whole team that just focuses on girl insights being part of everything we do. It is what makes our work authentic and full of real impact as we take it to a greater scale.
Alexandra: Yes, my mom and my situation created amazing experiences. At the time, I didn't understand how important it was beyond what seemed to me to just be adventures with my crazy mom.
I remember on another trip, we got a flat tire in rural India. Instead of sitting in the car, we followed the noise coming from a nearby village. We found ourselves in the middle of a traditional wedding ceremony of a girl who looked my age or even younger. I was so shocked. I could not fathom the prospect of getting married, when I was still agonizing over my non-existent first kiss. Meanwhile, the wheels of the Girl Effect were churning in my mom's mind.
My mother has changed my world because she has helped change the world for millions of girls. I am inspired by her contribution to a focus on adolescent girls in the international development community. But the deeper lesson for me is the need to approach age-old problems with realistic creativity and the need for complete authenticity.
This showed up in my life with the fact that instead of receiving a box of tampons when I first got my period, I received the instruction that I was to read "The Red Tent" by Anita Diamant. At the time, I was not sure what the graphic child-birthing scenes of Jacob's wives were teaching me, but now I realize that my mom was trying to creatively show me the power of femininity, rather than forcing it at me awkwardly.
Whether dancing with a giggling group of girls in rural India, or across from an embarrassed, Hawaiian-shirt clad legion of middle school boys in a gym, I know that my mom is there for me, and all girls, by inspiring creative solutions through honest dialogue. Among all the unintended consequences of her life, the success of the Girl Effect and my mom's work is certainly intentional, and I am happily a bystander, witness and partner to my amazing mother.
You share, they give: each time you 'like' or share this post via the social media icons on this post or comment below, Johnson & Johnson will donate $1 (per action) to Girl Up -- a campaign that works to help girls, no matter where they live, have the opportunity to become educated, healthy, safe, counted and positioned to be the next generation of leaders. $1 provides one day of school for a girl in Guatemala. You can also Donate A Photo* and Johnson & Johnson will donate $1 when you upload a photo for Girl Up or Shot@Life -- you can help raise up to $250,000 in seconds with the click of your mouse or snap of your smart phone. Share this post with the hashtag #GlobalMoms, and visit GlobalMomsRelay.org to learn more.
The United Nations Foundation, Johnson & Johnson, BabyCenter and The Huffington Post created the Global Moms Relay with a goal of improving the lives of women and children around the globe.
* via the Donate A Photo app for iOS and Android. Johnson & Johnson has curated a list of trusted causes, and you can donate a photo to one cause, once a day. Each cause will appear in the app until it reaches its goal, or the donation period ends. If the goal isn't reached, the cause will still get a minimum donation.
Related