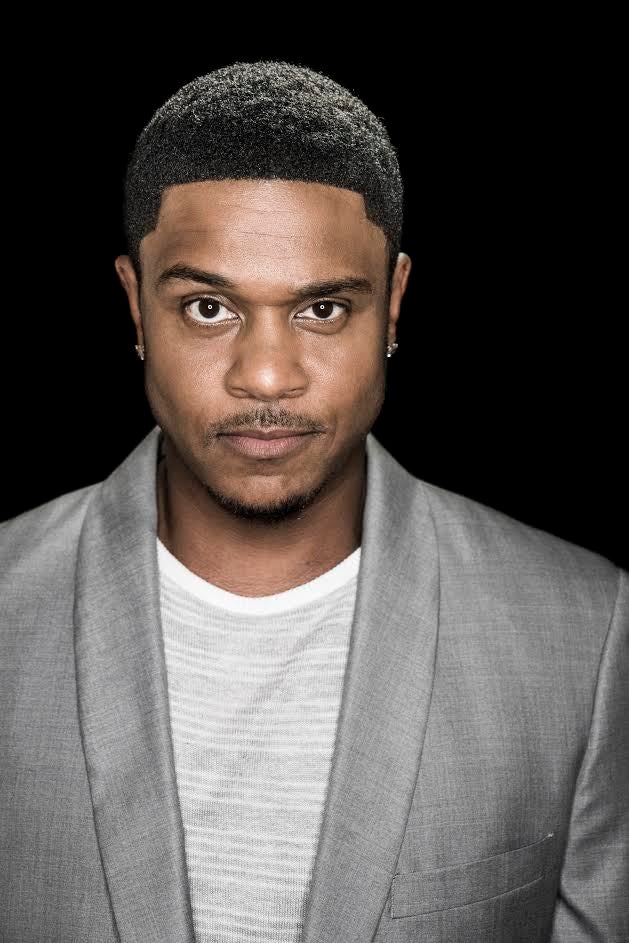 If you have yet to hear the name Pooch Hall, then you are missing a decade long career of what is quite literally one of the hottest actors on earth. No, really- he is literally one of the hottest actors on earth. The baby-faced beauty not only has a flashing bright smile and mesmerizingly soft dark eyes that audiences can get lost in, he also has a killer body that would make Roman sculptures envious. And as far as developing a fan-base, Hall is doing just fine, having starred for years on BET's hit show The Game as he showed off his comedic chops before turning on his dramatic gears for Showtime's acclaimed smash success, Ray Donovan. Now, he's about to break out on to the scene even stronger in A Dog's Purpose and The Bleeder.
Having began as a boxer, Hall stays ready on his toes for whatever punches the industry throws at him- and while Ray Donovan had been hitting hard with one dramatic knock-out after the next for four seasons now, the talented actor is about to take on the role of a lifetime as he slips into the satin shorts of Muhammad Ali in The Bleeder. And if there were any doubts that the beloved performer could fill such a tall order, rest assured that his casting came at the choice- and the fight- of Hall's Ray Donovan co-star, Liev Schreiber, who serves as producer and star of the film.
Which is just another testament to how skilled Hall is, as his real life relationship with Schreiber is a far cry from their strained, resentment-fueled one that they play so brilliantly on Ray Donovan. Hall cites that the cast is in fact like family, but a far healthier one, always there for one another and always supporting each other- on screen and off. This clearly comes across in every well-executed scene as the dignified cast plays perfect acting table-tennis with one another, and Hall has more than rose to the occasion, showing that his character has not only earned his place among the family- but that he has earned his place among this extremely sophisticated set of talents as just as acclaimed an actor.
With the season finale looming and Ray Donovan already renewed for a fifth season, Hall luckily stopped by to talk a little bit about what to expect, his amazing cast, his fantastic role in The Bleeder, and what else he would love to do! Read on for more!
"Ray Donovan" definitely has some seeds of truth in it with that you are a boxer- and an esteemed one at that! You won the Southern New England Golden Gloves! Was that a major part of what drew you to the role, and did they require a real boxer?
I'm going to be honest with you, I think bring a fighter gave me the confidence to approach this life of acting altogether, and I think because of it there's no role I can't do. Given the opportunity of Ray Donovan, boxing wasn't really a major factor as Daryll wasn't really looked at as a real fighter. I just so happened to fight, and in the first two seasons I got to show my skills a little bit, but as oppose to the other fighters, Daryll is just trying to find his niche and fit in with the family. Being a fighter has always helped me have the confidence to approach any role because as a fighter it's just you and him with the crowd around you, and you can't rely on anyone but yourself. But, again, with Daryll, I think he just wants to be a real part of the family, and if they really make him a real boxer down the line, so be it.
Can you talk about the dynamic between Daryll and Ray that is executed so beautifully by you and Liev Schreiber. There's so much resentment, and yet, so much reluctant respect going on there.
I think there will definitely come a point in this family where Ray will have to accept Daryll as his brother. They've been through a lot now, and Daryll's been at the house, Daryll's helped Ray with his work, and Ray has helped Daryll get through fights, so I think Ray is really starting to realize that Daryll is a true asset to the Donovan family. As far as Liev Schreiber being like my big brother for real, I think he trusts me in getting across what we are trying to accomplish. He is a total class act. He has directed me twice. We worked together on a film coming out titled The Bleeder. So, I think him and I have a chemistry and a big brother camaraderie that I hope continues in my career.
You've been renewed for a season five. What would you love to see happen to Daryll and what road would you like to see them the writers take him on?
I would like to see Daryll really become challenged by Ray, to the point where Ray says; "Come on, let's really see what this kid is made of and how good he really is." And we all know that even though Ray is the title character, he has some dark sides to him and he's flawed, and I would like to see Daryll try to emulate Ray and go down that dark path and get tainted, or tempted by his lifestyle, to where we really see a darker side of Daryll as well, showing what he might really be capable of. He's really just this nice kid who has been trying to fit in and see if he has what it takes, and if he does? Then let's push it to the limit.
Of course, you are surrounded by a very talented cast; Liev Schreiber, Jon Voight, Dash Mihok, Paula Malcomson, Katherine Moennig, Hank Azaria- so many talents. You are in truly one of the best companies. Can you talk about your co-stars a bit?
This cast really is one of the best on television, and in all honesty, we are a family- first and foremost. We all have our quirks and we all have our ups and downs, but I think as a whole we are a family to where we love and trust each other and work well together. We play into a scene to find the layers that make a scene what it is in Ray Donovan. Dash and I both have children that are young, we both have newborns, and we spend a lot of time together. Liev and myself also have kids that are the same age, so we also hang out and bring the kids together. And Jon really is our dad away from our dad's, and the grandfather to our kids- he has come to my kids birthday parties. And he's done it all. At this point and time, it just seems like he's having fun, because he's just so gifted- he makes it seem so effortless. And the fact that we have a cast that we could all call family really makes it so much better, because we all are checking in with each other to know that we're okay. For The Bleeder, Liev fought for me to get a role, and was posting things on Instagram and calling me his little brother- and that's huge. I'm proud of him, I'm thankful to him and respectful of him because he's someone I always wanted to work with, and Jon's the same way. I can't even say enough about everyone. Paula Malcomson is the sister that you want in your family, she will sacrifice herself for whatever you need. And I think that's the reason that the fans and everyone out there in the world thinks our show is something special.
You will be playing a very important and coveted role this year in the film "The Bleeder" as Muhammad Ali. Can you talk about taking on such a figure?
First and foremost- rest in peace to the greatest. I was so honored because I was approached by Liev to possibly breathe life into this character as Ali, and he told me that he believed that I had what it took. I was very nervous, but very ready to step up to the challenge, because as a fighter and an amateur boxer, my style was like Ali. I've always been a showman. I've always approached things with a touch of class and been a bit of a people person, so it was almost like a no-brainer as far as having the skills. And then, it was just the challenge of embodying Ali rather than impersonating him, where I really believed that when I stepped out in those white trunks with the black stripes and the afro, that I believed I was him. And I think that's what you have to do- especially when you're playing a character so iconic. You have to come correct. And I'm going to trust in our director, Philippe Falardeau, our producer Michael Tollin, and of course, Liev- they said I fit the role perfectly. And I have to trust these guys who are pros and have been doing this way longer than me.
You also have another film in the works; "A Dog's Purpose." Any scoop on that film that you can tell fans?
A Dog's Purpose is great, and the wonderful canine was amazing. For me, it was a period piece. To have a canine as a main character was challenging, fun and a learning experience. the director, Lasse Hallström, is critically acclaimed, his work speaks for itself. So, acting with him directing me encouraged me to step up as well. And just the concept of the film being told from a dog's perspective based on how much dogs help our lives and service us; they help the military, they help the police, they help the blind, or just help a person get through their day. I have a family member who has a dog that isn't able to have children, so, I know how they say that a dog is a man's best friend, but it's really true- a dog can be really important to a lot of people. I think this film will touch a lot of people. When you read the book, you immediately realize why it was a best-seller. Getting it turned into a movie directed by Lasse Hallström is huge! I think, with that being said, I'm moving in the right direction as far as my career; starring on The Game, going to Ray Donovan, then going into The Bleeder, and now this. So, I'm doing okay, and I think I'm really ready for the world to know the name "Pooch Hall."
Having worked with so many great people and having acquired such a fan-base, what type of roles haven't you played yet that you are looking to play, and who would you love to work with?
I'd love to work with Denzel Washington. It would be great to work with Will Smith, Robert Downey Jr., Matt Damon. I feel like I can step into any shoes opposite any of the actors I named. And being an athlete, dad and a husband, and a guy who is all around well-liked by America, I feel like I could really do it all. So, I'm ready! But, I can tell you that a lot of my success has to do with being on Ray Donovan. I was just in Chicago, and so many people came up to me to tell me they recognized me from Ray Donovan. I used to get very recognized from The Game- and I still get that since The Game is in syndication. But, now the response is even bigger. So many people come up to me and ask me for a picture, and it's not just the urban community, I've crossed over and my fan base has really spread. So, again, I'm totally ready for the world to know who Pooch Hall is.
And of course, so many fans will always remember you from "The Game," which touched many hearts. Do you keep in touch with your co-stars, and would you ever revisit that world in the future?
Gabrielle Dennis is like a sister to me. P.J. Byrne played the bodyguard in The Wolf Of Wall Street, and we have a really close relationship. I definitely keep in touch with Barry Floyd. The original cast has been trying to get together and do a dinner, but our schedules are so crazy. Hopefully soon! I'm really excited that everyone has really stepped up and their careers are all really taking off. It's great to see.
And can you give any scoop at all on what is to come as "Ray Donovan" reaches its season finale?
Let me just explain to you that nobody becomes an alien...or a mutant...or any kind of zombie! [Cracks up] But, I do think we're going there. We're constantly setting a new bar higher and giving the audience something to look forward to. As far as the season finale, and Daryll goes? I think he's finding that it's probably better to work with Ray than Mickey.
Sounds juicy, if albeit vague! However, here's some Ray Donovan scoop that no one can deny; soon, the whole world will definitely know the name Pooch Hall- if they are the unfortunate stragglers that were late to The Game.
Ray Donovan continues its fourth season on Sunday at 9pm on Showtime.
Calling all HuffPost superfans!
Sign up for membership to become a founding member and help shape HuffPost's next chapter