If you're reading this, odds are you lead a life of unprecedented comfort and wealth -- at least by historical standards. Take a step back from your day-to-day existence, however, and the situation gets a lot less sunny. So many of humanity's most acute problems -- from economic inequality to climate change to water scarcity -- seem to be getting worse instead of better.

Sure, it would be great to leave our bubble of prosperity from time to time and do a little good, lend a hand to someone less fortunate, help out our fellow global citizens... you know, save the planet. But how? We have families and jobs and commitments of our own. Even if we didn't, what can one person do to really create global change?

This is exactly what I used to think. After all, I'm just a mad man. As a partner at an independent creative agency, I get to help sell products like beer, deodorant, and movies. It's a great gig and I love doing it. At its best, advertising can connect and engage through powerful storytelling. It can create dynamic pop culture moments. I have seen firsthand how a simple idea based on a human truth can move people to buy or like or shop or share.

But never did I think I could put my expertise to genuine social good.

That all changed in 2014 when my agency, Mekanism, was asked by PVBLIC Foundation, Civic Nation, and former Vice President Joe Biden to help combat sexual assault on college campuses. The result was IT'S ON US -- a campaign that continues to leverage the techniques of advertising to inspire action and end rape culture on college campuses.

Based on the success of that campaign, the United Nations and PVBLIC Foundation have tasked Mekanism with providing a creative concept for the Sustainable Development Goals (SDGs). These 17 goals were agreed to by the UN's 193 member states on September 25, 2015. And together, they represent the world's first universal approach to global development and provide a framework for addressing the greatest challenges facing humanity. They range from ending hunger and poverty, to expanding access to education, clean water, and affordable, sustainable energy -- all by 2030.
The key challenge was obvious from the beginning: how do you convince individuals that these 17 formidable goals aren't just the business of presidents and NGOs? How do you demonstrate that one person can make a vital contribution to the gravest challenges of our time?

ONE FOR ALL is our answer to this challenge, giving everyone an entry point for helping achieve these Sustainable Development Goals. The campaign is based on three central ideas:

1. Bring it Down to Size: The UN's complex agenda needed to be broken down in order to make it accessible and inclusive for everyone. So we're taking a step back and asking the world's people to see our planet the way they did in the late 1960s when NASA released the first images of the whole Earth -- a world with no borders, no boundaries, no divisions. From 17 goals to three simple words: ONE FOR ALL.

2. Every Action Counts: It's easy to see your own choices as insignificant compared to the amazing scope of the problems afflicting the world. They're not. In fact, the opposite is true. The only way to tackle these issues is if individuals actually commit to action.

3. Just Choose One: The UN is calling on everyone to pledge to do just one thing that advances a single Sustainable Development Goal. No individual can end hunger or halt global warming. But when the world's seven billion people act together towards shared goals, extraordinary things can and will happen. Each individual just has to find and commit to their one for all.
The task of bettering our world is bigger than any one of us. But it's smaller than all of us.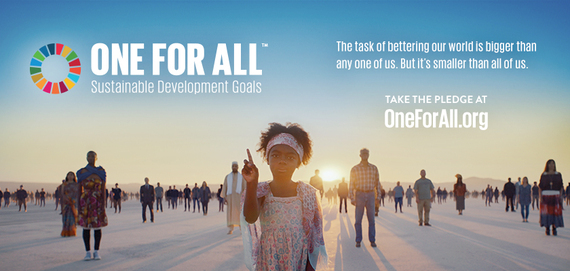 Sure, you're saying, it's a lot easier to make a difference when you've got an advertising agency of talent to work with. And that's true. But so what? Keeping these three simple ideas in mind, anyone can take action with whatever resources they have and support the United Nations' Sustainable Development Goals. Just go to ONEFORALL.org, choose a goal, take the pledge, and get started.

There are 17 goals aimed at making the world a safer, healthier and more peaceful place for all of us. Which one goal will you choose?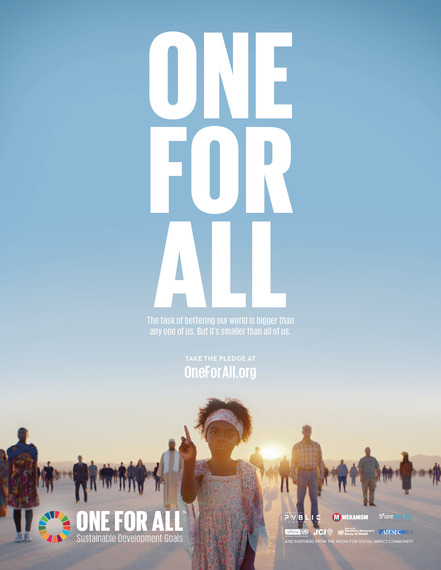 Related
Popular in the Community