Six-time Olympic medal winning gymnast Aly Raisman has strong words for USA Gymnastics after the organization failed to prevent Larry Nassar from sexually abusing dozens of young girls.
The allegations follow a similar narrative: Nassar reportedly gained a young athlete and her family's trust and then continually abused her by fondling and penetrating her with his fingers ― all under the guise of medical care. Many of these athletes ― some as young as 12 years old ― were treated by Nassar for years.
In a recent conversation with The Guardian, Raisman condemned USA Gymnastics for the organization's negligence and called Nassar a "monster."
"I feel like there's a lot of articles about it, but nobody has said, 'This is horrible, this is what we're doing to change,'" she told The Guardian.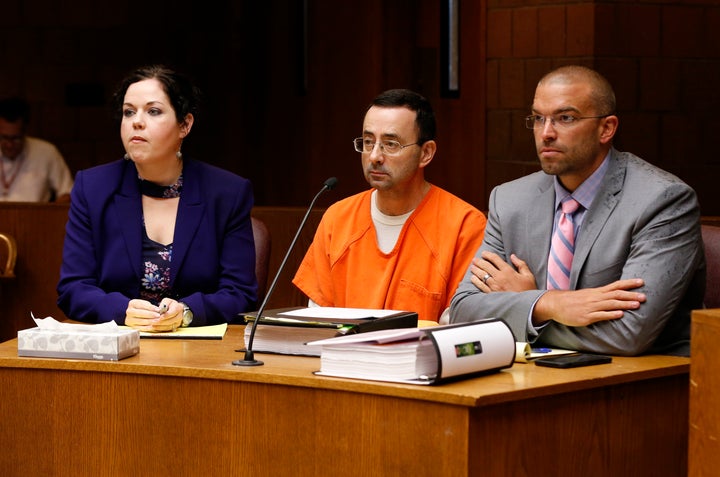 Raisman, who worked with Nassar in the past, pointed out just how terrifying it was to realize there was an alleged serial predator in the tight knit gymnastics community.
"What people don't realize is that this doctor was a doctor for 29 years. Whether or not he did it to a gymnast, they still knew him. Even if he didn't do it to you, it's still the trauma and the anxiety of wondering what could have happened. I think that needs to be addressed," she said. "These girls, they should be comfortable going to USA Gymnastics and saying 'I need help, I want therapy. I need this.'"
She added that USA Gymnastics needs to do much better.
"Everyone is important," Raisman said. "It doesn't matter if you're the Olympic champion or you're an 8-year-old that goes to gymnastics in Ohio, or wherever you are in the U.S. Every single kid is important and I want USA Gymnastics to do a better job with that."
USA Gymnastics responded to Raisman's criticisms in a statement sent to HuffPost:
Aly is one of our most-decorated athletes and has served as an athlete leader and the captain of two Olympic teams. We welcome her passion on this critical issue. As we have said, we are appalled by the conduct of which Larry Nassar is accused. And, we are sorry that any athlete has been harmed during her or his gymnastics career.

We've accepted the recommendations made by an expert, former federal prosecutor who carefully examined the organization's policies. In the course of her review, she spoke to athletes, coaches and other members. We also adopted a safe sport policy and hired a new director of safe sport, who is building an implementation and education plan for our members. We are taking this issue head-on, and we want to work with Aly and all interested athletes to keep athletes safe.
Head over to The Guardian to read the rest of Raisman's thoughts on Nassar.
Popular in the Community