Olympic gymnast Aly Raisman said she's not satisfied with the 40- to 175-year prison sentence for former USA Gymnastics and Michigan State University team doctor Larry Nassar, who has been accused of sexually abusing more than 150 girls. 
"It's like he got one year for each person, like that's not enough," Raisman told Us Weekly.  
Raisman, a three-time Olympic gold medalist, revealed in November that Nassar abused her under the guise of medical treatment. Fellow gymnasts Simone Biles, Jordyn Wieber and McKayla Maroney also accused the former team doctor of sexual abuse.
"He's gonna die in jail, but any number is never enough," Raisman said. "I'm glad because so many people are watching and I hope that it does set an example to all the other abusers out there that their time is up and that abuse is never OK."
Raisman has been an outspoken critic of USA Gymnastics, the U.S. Olympic Committee and Michigan State University for allowing Nassar's abuse for more than two decades. 
"We have to fix the problem and the organizations," Raisman said.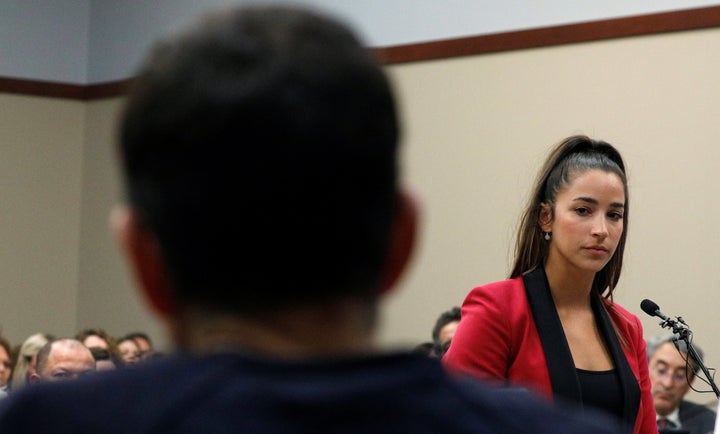 Before Nassar's sentencing hearing began on Jan. 16, Raisman tweeted that USA Gymnastics is "100 percent responsible" for the abuse, adding: "We must understand how this happened to make sure it never occurs again... The system has to change so that athletes are safe." 
Raisman was one of more than 150 women to deliver victim impact statements in court during Nassar's weeklong hearing. 
"Larry, you do realize now that we, this group of women you so heartlessly abused over such a long period of time, are now a force and you are nothing," she said in court. 
Nassar was sentenced last week on seven counts of criminal sexual conduct in the first degree. He had already been serving 60 years in prison on child pornography charges and awaits sentencing on three additionally counts of criminal sexual conduct in the first degree. 
"When I was little I only thought that I could be hurt by a stranger," Raisman told Us Weekly. "I mean, you have to teach kids that it could be someone that you're very close with and... we have to teach them grooming techniques so they understand the warning signs of a predator." 
Calling all HuffPost superfans!
Sign up for membership to become a founding member and help shape HuffPost's next chapter