Olympian Aly Raisman addressed serial sexual abuser Larry Nassar in court Friday with a powerful statement, calling the former USA Gymnastics team doctor "pathetic" for complaining about the length of his sentencing hearing and "a monster" for abusing the trust of his young patients.
"Larry, you do realize now that we, this group of women you so heartlessly abused over such a long period of time, are now a force and you are nothing," Raisman said. "The tables have turned, Larry. We are here and we are not going anywhere."
Nassar, who faces a sentence of at least 25 years for sexual abuse, delivered a six-page letter to the court on Thursday, saying it had become too difficult for him "mentally" to continue to listen to his victims.
"This isn't worth the paper it's written on," county Judge Rosemarie Aquilina responded. "There's no truth in here. It's delusional."
Raisman referenced the letter in her statement. "You are pathetic to think any woman would have any sympathy for you," she said. "You think this is hard for you? Imagine how any of us feels."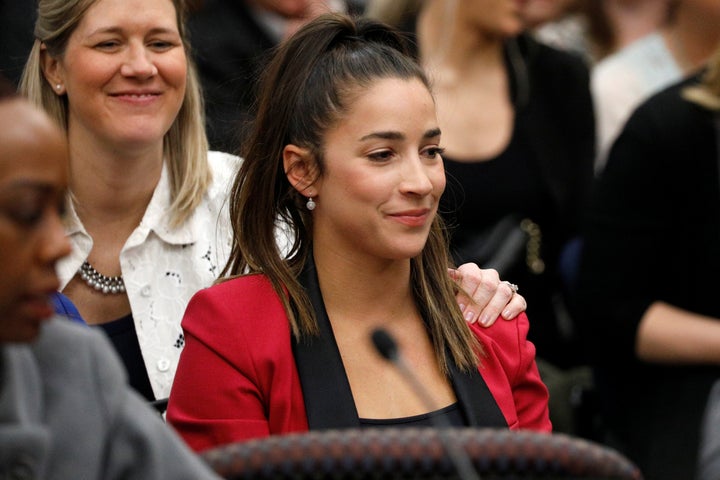 The star gymnast, who competed in the 2012 and 2016 Olympics, described how she felt "hearing a knock on the door" as "an innocent teenager in a foreign country" and finding Nassar.
"You made me uncomfortable and I thought you were weird, but I felt guilty because you were a doctor," Raisman said. She added: "I wouldn't allow myself to believe the problem was you."
She said Nassar assured her that his touching, which she described as "inappropriate," would be helpful, and that he "told on" young women who refused his treatment.
Nassar served as a team doctor for USA Gymnastics and Michigan State University until his firing in 2016. More than 140 women have accused him of sexual abuse. He pleaded guilty to 10 counts of first-degree criminal sexual conduct in November.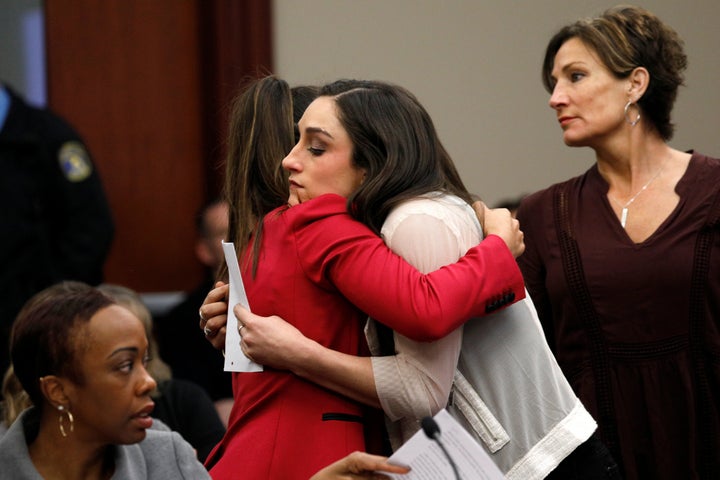 Raisman was joined on Friday by Jordyn Wieber, her teammate on the "Fierce Five" ― the name given to USA gymnasts at the 2012 Olympics. Other members of the Five, Gabby Douglas and McKayla Maroney, also have accused Nassar of abuse. Olympic gymnast Simone Biles has spoken out, too.
Wieber's statement was the first time she spoke publicly about Nassar.
"I'm angry with myself for not recognizing the abuse and that's something I'm struggling with today," Wieber said. She explained how the doctor used "grooming techniques," BuzzFeed noted, to make the young female athletes believe he was their friend.
"I thought that training for the Olympics would be hardest thing I would ever have to do. But the hardest thing I've ever had to do is process that I am a victim of Larry Nassar," Wieber said.
Raisman has spoken out repeatedly about Nassar. In her statement, she again slammed the U.S. Olympic Committee and USA Gymnastics ― which she declared to be "rotting from the inside." Both groups, she said, were "very quick to capitalize on my success," while failing to take action against Nassar and issuing "empty" statements.
"Talk is cheap," Raisman said, calling for an independent investigation into how Nassar was allowed to continue working with young athletes over multiple decades.
Raisman asked the judge to sentence Nassar to the maximum to that he might have time "replaying the words delivered by this powerful army of survivors."
The hearing is expected to continue into next week to allow more women a chance to speak.
Support HuffPost
The Stakes Have Never Been Higher
Popular in the Community