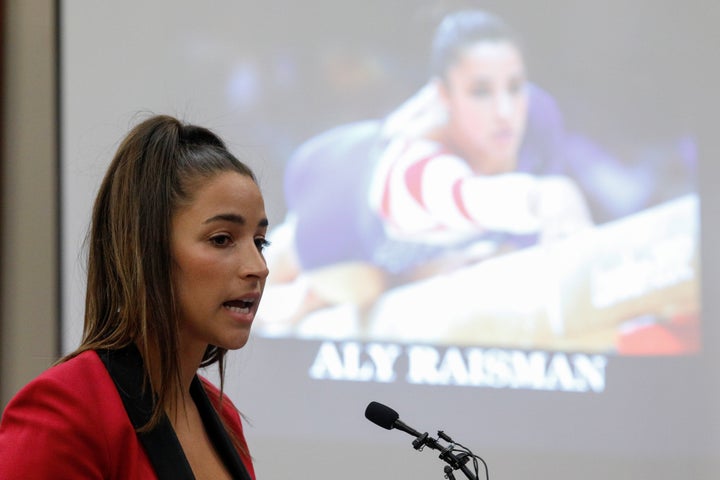 Olympic gymnast Aly Raisman filed suit against the U.S. Olympic Committee for failing to take action to prevent former USA Gymnastics and Michigan State University team doctor Larry Nassar from molesting hundreds of young athletes, according to news reports.
The lawsuit, filed Wednesday in California but announced Friday, accuses the committee of bungling its response to sexual abuse allegations against Nassar, who is now serving a long prison term for sex crimes.
"After all this time, they remain unwilling to conduct a full investigation, and without a solid understanding of how this happened, it is delusional to think sufficient changes can be implemented," Raisman said in a statement, according to NBC. "I refuse to wait any longer for these organizations to do the right thing. It is my hope that the legal process will hold them accountable and enable the change that is so desperately needed."
A USA Gymnastics trainer was sometimes present during treatment sessions where Nassar abused young athletes at the Karolyi Ranch, Raisman alleges in the suit, according to NBC News.
Raisman, in recent interviews, has accused the USOC of ignoring allegations against Nassar and threatening her not to tell how he molested her under the guise of treatment.
"I was told [by USA Gymnastics] to be quiet," Raisman told ESPN in January. "And I think that when somebody in high power is telling you to be quiet, right when they realized you are abused, I think that that is a threat. USA Gymnastics just said, 'We're handling this. We got this. Like, stop asking us questions.'"
Raisman, a gold medalist who competed at the 2012 and 2016 Olympics, was among more than 100 women who alleged Nassar sexually abused them. He pleaded guilty to child pornography and sexual assault charges and was sentenced to lengthy prison terms.
The USOC did not immediately respond to a request for comment. The group's CEO, Scott Blackmun, resigned on Wednesday after a cancer diagnosis.
"Under his leadership, USOC has focused nearly all its efforts on money and medals while the safety of our athletes has taken a back seat," attorney John Manly, who represents many of Nassar's victims, including Raisman, said in a statement.
Related
Popular in the Community