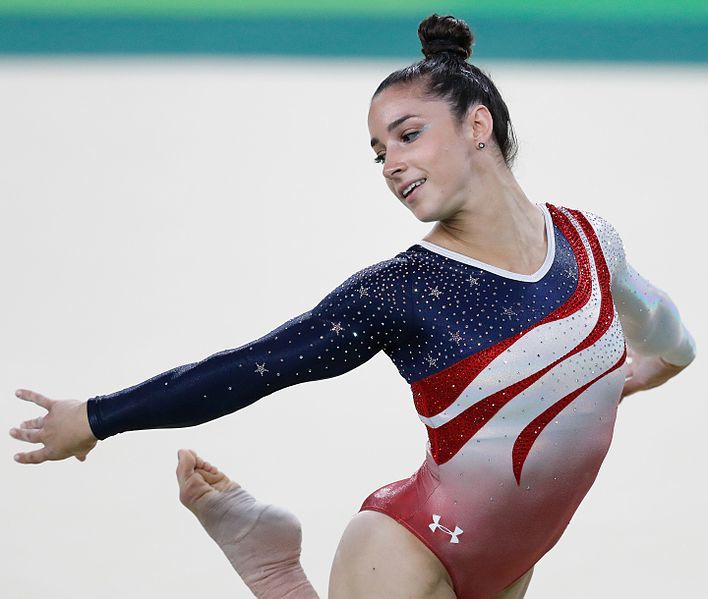 Over the last two weeks, the world has watched the performances of the U.S. women's gymnastics team with utter awe. These gymnasts have demonstrated unbelievable strength and skill while I've sat on my couch as a sedentary spectator. I've watched their art and athleticism with my mouth wide open. As they tumble and fly through the air, one-word questions of astonishment tumble out of my mouth: "What?" "Who?" "How?" I struggle to believe that these feats are possible, yet they are happening in Rio. These gymnasts are individually remarkable, so naturally, all five of them formed a team that was virtually unbeatable.
Aly Raisman was their team captain. She is an incredible gymnast and leader. After watching it all unfold, I have concluded that Aly Raisman is the most phenomenal silver medalist imaginable.
Raisman returned to the Olympics after winning the individual all-around gold during the London games in 2012. This year, it seemed that a repeat win was unlikely. Simone Biles entered the competition highly favored, and she did not disappoint.
But when I watched Aly Raisman perform her floor exercise routine, I was equally impressed. It became clear that any other year, she would surely win the gold medal herself. Watch her opening tumbling pass below. It's incredible.
Silver medalists can have it tough. A number of studies have demonstrated that bronze medalists are often happier silver medalists. Bronze medalists consider their alternative and realize they might not have had a place on the podium. Sliver medalists consider their alternative and realize they could have won the gold. This recognition can be painful.
In the midst of this, I have great admiration for Aly Raisman. She is strong, skilled, and immensely talented. In a year when Simone Biles could not be beaten, Raisman was graceful and generous. That relational posture demonstrates power and leadership. She and Biles have even become close friends. We watched them hold hands during competitions, support each other between their routines, and laugh hard together during NBC interviews.
Aly Raisman is phenomenal. She has showed us that second place can also demonstrate tremendous leadership.
Renee Roederer is an ordained PC(USA) minister and the founding organizer of Michigan Nones and Dones, a community for people who are "spiritually curious but institutionally suspicious." This community in Southeast Michigan includes people who are religiously unaffiliated (the Nones), people who have left established forms of institutional churches (the Dones), and people who remain connected to particular faith traditions but seek new, emerging visions for their expression.
Related
Popular in the Community