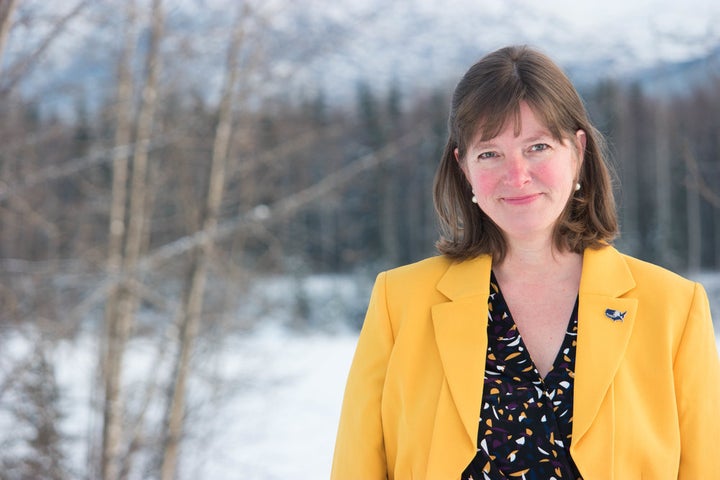 WASHINGTON ― Alyse Galvin, an education advocate and first-time candidate, won the Democratic nomination in the race for Alaska's lone congressional seat on Tuesday.
Galvin defeated Democrats Dimitri Shein and Carol Hafner, who has never even been to Alaska, and independent Christopher Cummings.
Galvin is an independent, but because of Alaska's unique campaign rules, she was able to compete in the Democratic primary. She will face Rep. Don Young (R) in November, who has held the U.S. House seat for a whopping 45 years.
It won't be easy challenging him. Never mind his staying power; this House seat is rated likely Republican by The Cook Political Report. He defeated his 2016 Democratic challenger by more than 14 points.
But Galvin has some distinct advantages. She has been outraising Young all year. She's socially progressive, but her independent status could appeal to a broad base since more than 50 percent of registered Alaska voters identify as undeclared or nonpartisan. And she's running at a time when Democrats nationally are expected to trounce in November, and as first-time female candidates are popping up around the country ― and often winning― as part of a backlash against Donald Trump's presidency.
Also of note: The Cook Political Report had rated Young's seat "solid" Republican before Galvin's primary win. On Wednesday, the nonpartisan newsletter updated its rating to "likely" Republican.
Galvin has been driving around the state in a 20-year-old RV holding roving town halls, setting up shop in parking lots and inviting locals in for cookies, hot chocolate and conversation.
She recently told HuffPost that she thinks her face time with Alaskans in far-flung towns is giving her an edge over Young. Plus, free cookies, come on.
"So many communities are like, 'You know, I can't remember the last time we've seen [Young],'" Galvin said.
This story has been updated to reflect The Cook Political Report's new rating for Alaska's House seat.
Popular in the Community