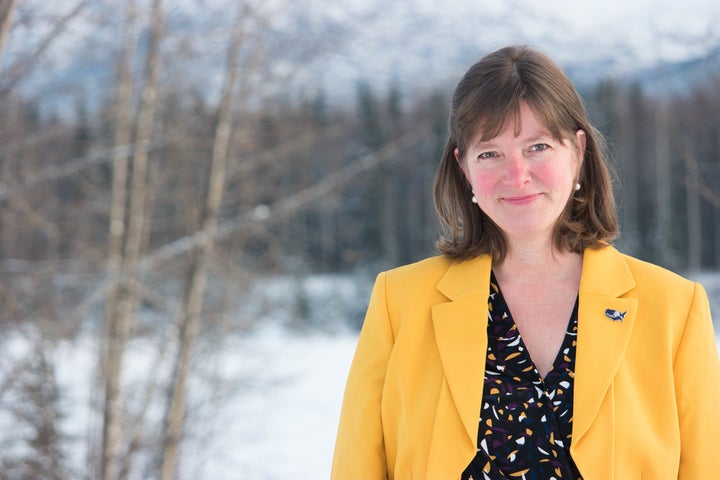 WASHINGTON ― It was early 2017, and Alyse Galvin was on a mission: Bring down Betsy DeVos' nomination for education secretary.
Galvin, a 52-year-old education advocate in Anchorage, Alaska, was horrified by DeVos' lack of experience. So she spearheaded a campaign to pressure the state's two senators to vote no. She and other educators launched a "Betsy DeVos Tie-Breaker Telethon" on Facebook Live, urging Alaskans to call in and share their thoughts on DeVos. They were flooded with negative feedback and displayed their results.
DeVos was ultimately confirmed. But she barely got through, and it was partly due to Galvin's efforts. Sen. Lisa Murkowski (R-Alaska) was one of two GOP senators to vote no, which forced Vice President Mike Pence to come in to break a tie vote. Murkowski said she made her decision after an outpouring of disapproval from Alaskans.
Now Galvin is in a different kind of campaign: The mother of four is running for Congress and taking on Rep. Don Young (R), who has held this House seat for 44 years ― making him the longest-serving member. The 85-year-old lawmaker, known for his charismatic and straight-up offensive persona, is an Alaska fixture.
Where to even begin with unseating someone like Young? Galvin, who is running as an independent and is a front-runner to take on Young in November, said in a recent interview that she has plenty of advantages.
"First of all, I'm there," she said with a smile, casually burning Young for his apparent absence in parts of the state. "So many communities are like, you know, I can't remember the last time we've seen him."
(Young spokesman Jerry Hood called it "disingenuous" to suggest Young is not visiting rural communities and said he travels the state extensively.)
To reach some of those far-flung towns, Galvin has been driving around the state in a 20-year-old RV holding "roving town halls," setting up shop in parking lots and inviting locals into the RV for cookies, hot chocolate and conversation. Most talks center on jobs and health care, she said, which reflects the grim reality that Alaska has the highest unemployment and highest health care costs in the nation.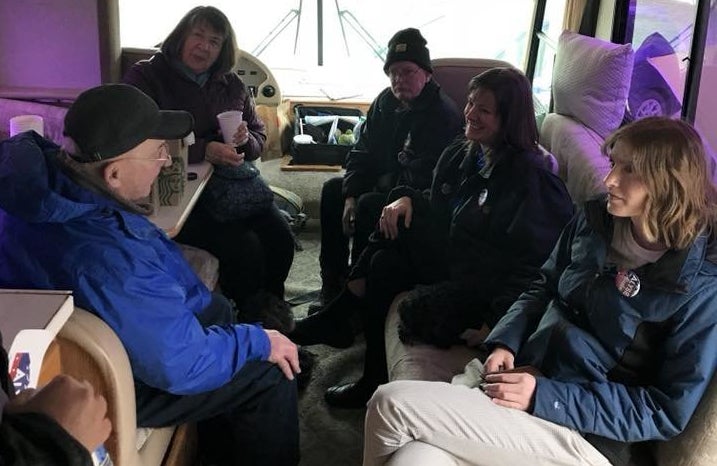 Back in Anchorage, Galvin is running a well-organized grassroots campaign fueled by more than 600 volunteers. Her donations are all from individuals, except for one from the state's largest teachers union, NEA-Alaska.
Notably, she's been out-raising Young all year. In the fundraising quarter that ended on June 30, Galvin raised $246,000 to Young's $177,000 ― more than any candidate in the race. In the quarter before that, Galvin raised $284,000 to Young's $103,000. But Young has more cash on hand than Galvin by about $200,000.
Galvin's inspired some creative fundraising, too. One woman offered to hold a garage sale for her, with the request that Galvin come by in her RV. (Is she going? "You bet I am!" she said.) An artist invited people to make Alaskan-themed plates and gave the proceeds to Galvin's campaign. A band of drummers held a concert for her, too.
"Let's make this fun!" she said, beaming with energy. "Let's make Alaskans better appreciate the good in good government. It's a fun opportunity for us. The people power is everything."
Galvin has got a good shot at winning the Democratic primary on Aug. 21, though she's not a Democrat. She's a pro-gun independent who supports drilling in the Arctic National Wildlife Reserve. But she is otherwise socially progressive ― she is pro-LGBTQ rights and pro-abortion rights, for example ― and because of Alaska's unique campaign rules, she can run as an independent on the Democratic ballot.
That means if Galvin wins the primary against her main challenger, Democrat Dimitri Shein, she will be the Democratic nominee as an independent.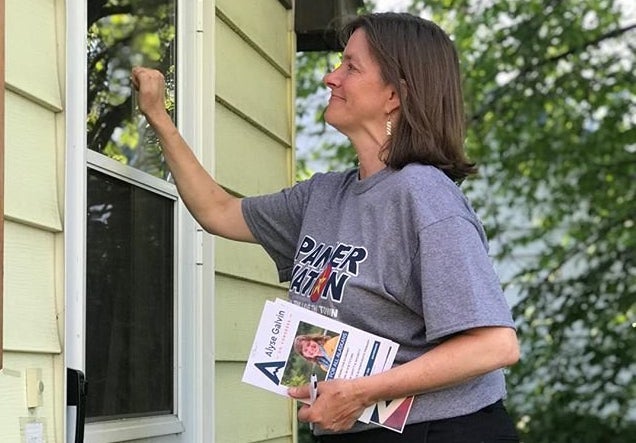 But if Galvin makes it to that point, that's where things get hairy. Never mind Young's staying power; his House seat is rated solidly Republican by The Cook Political Report. Young defeated his 2016 Democratic challenger by more than 14 points.
"Most people assume Young will win," said Dr. Amy Lovecraft, a political science professor at the University of Alaska-Fairbanks. "It's his race to lose."
"It's a fun notion that an up-and-coming, bright and motivated woman could take his seat, but I consider it a very, very long shot," said Stephen Haycox, an Alaska historian. "Young's arrogance and old guy antics play well in Alaska."
Still, it's hard to simply write off Galvin's campaign in the context of what's happening at the national level. Democrats are expected to sweep in November, and first-time female candidates are popping up in races all over the country ― and often winning ― as part of a backlash to Donald Trump's presidency.
Galvin's independent status could also resonate since, incredibly, more than 50 percent of registered Alaska voters are "undeclared" or "nonpartisan." She also simply represents change. The past few years have been brutal for Alaska budget matters, particularly in education, a topic that Galvin can own. The Me Too movement has also hit Alaska, and Galvin could certainly put a fresh spotlight on women's issues.
"Her biggest strength is that she would demonstrate a pushback on Young," said Lovecraft. "I would love to see their match-up. If she's got good advisers, she could really paint him into some corners. She could cast Don Young as an old fogey while she's ready to take us into the future."
I would love to see their match-up. If she's got good advisers, she could really paint him into some corners.

Dr. Amy Lovecraft of the University of Alaska-Fairbanks
Hood tamped down on the significance of Galvin raising more money than Young, noting that Young's 2016 Democratic challenger, Steve Lindbeck, had raised more than Galvin by this point in that race and still lost by a lot.
"Having said that, we take all challengers seriously," Hood said. "Congressman Young will campaign for re-election aggressively, regardless of who his opponent may be."
Ultimately, Galvin thinks her energy and willingness to meet people "where they are" is why she's had Republican, Democratic and independent voters tell her they'll support her campaign. She said people tell her all the time that they just appreciate that she can relate to their struggles. 
"What's important is that those who are leading are connected to what people are experiencing," Galvin said. "We really are all just independent weirdos."
Calling all HuffPost superfans!
Sign up for membership to become a founding member and help shape HuffPost's next chapter